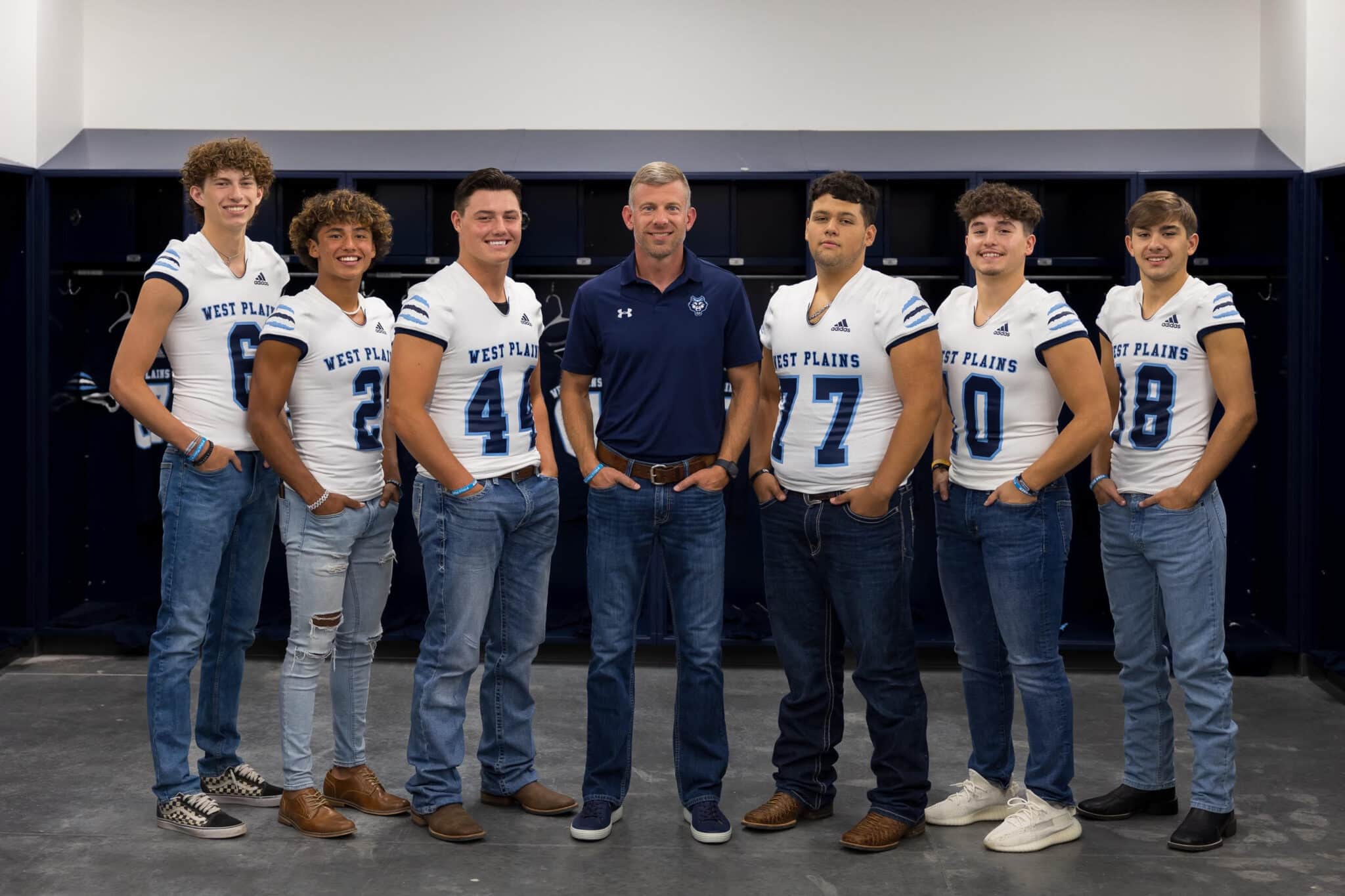 Last Monday morning, an Amarillo metro school officially began its first season as a varsity football program before classes even began on campus.
That in and of itself is a reflection of the ambition at West Plains High School, which officially opens this month as Canyon ISD's third and newest high school. In just about every way, the coaches and players who will take the field this season are in uncharted territory.
This will be the third head coaching stop for Adam Cummings, who coached for four years at Sundown and four years at Hale Center after a lengthy stint at Canyon High under longtime former coach Blake Bryant. West Plains is different from all of those places in just about every way.
For Cummings, this is his first head coaching job where there's just about no frame of reference when it comes to evaluating talent.
"This is a little different just because it's a new school," Cummings said. "The challenge of learning your kids and coaches is new. Everything's new. That's really the only thing that's different."
Cummings was officially hired in January from Sundown. His task has been to start the program from scratch.
What he thinks might help is that he's in proximity to previously familiar territory, even if the school and program are entirely new.
"The excitement of that was a big draw for me," Cummings said. "Just being back in Canyon ISD is nice. This is home for me.
"This is where I met my wife and had both of my kids. I was at Canyon for 10 years and just really enjoyed it."
What is definitely different about West Plains compared to any place Cummings, or for that matter, any other coach has been before, is the new car smell of the situation. That can also be said for the student-athletes who will suit up for the Wolves this season.
Most of the West Plains students in the school's inaugural year will come from Randall, which will drop down to Class 4A along with West Plains and Canyon to put the three CISD schools in the same athletic district this year except in football. A few of those with varsity experience will be on the field for the Wolves this fall.
They all had the option to stay at Randall for their senior year but opted to be part of something new at West Plains. That's what drew in Trae Ferril, who will play receiver and cornerback for the Wolves, one of several players likely to see action on both sides of the ball.
"It's all shiny and new and that's certainly appealing," said Ferril of switching schools. "I loved Randall but it was time for me to change. I'd been a Randall Raider for 12 years now but we'll see how this goes. This is a beautiful campus and the style is perfect.
"It's a completely fresh start. You really have to earn it. They don't know your name or know who you are."
Indeed, there is a distinct lack of familiarity within the program at the moment. What players there are with varsity experience are coming into an entirely new system with new coaches, who are still trying to ascertain exactly which athletes can play where.
Cummings says that's been the biggest challenge he's faced in formulating a system at West Plains so far. He says it's not really similar to any high school coaching experience.
"It's a little bit like a college environment where you've got kids coming in from different campuses and different backgrounds and you're trying to create a melting pot where they all fit together and are cohesive," Cummings said. "It's the same thing on the coaching staff. We're pulling guys from all over the state and to bring them all at one time on to the staff has been fun. It's an experience I've never had and hopefully will never have again."
Conversely for Jedd Phillips, it was a feeling of familiarity that led him to move to West Plains from Randall for his senior year. This will be his one chance to play with his brother Jensen, a junior, on varsity.
"My brother didn't have a choice but to come over here and I've always wanted to share the field with him," said Jedd, who will play receiver and safety. "He's a junior and he'll be able to play with us on varsity. That was a big factor in coming over here.
"Randall was a good three years of my life so it was kind of hard to come over, but right now I'm really liking it. I'm loving the coaches and the people over here had the energy, which is amazing."
While Ferril and Phillips will be finishing their high school football careers this fall, most of the other players who suit up for the Wolves will be trying to continue the tradition next year. That includes junior Dawson Hall, a fullback and defensive end who played on varsity last fall at Randall.
Hall and his new teammates have had to make adjustments heading into a program with no history and have had no choice but to hit the ground running.
"At first I was a little nervous for it but with these coaches they jumped right into it and so did we," Hall said. "We're excited to do it. Mistakes will come. How we overcome them is on us. What we've done so far is looking pretty good."
West Plains opens the season at home at Happy State Bank Stadium on Aug. 26 against Bushland, which appropriately, was the newest Amarillo metro high school until West Plains came along, having opened in the mid 2000s.
That will be the first indication of exactly where they Wolves stand in comparison to their varsity opponents. It will provide much-needed build up to their debut in a Class 4A Division II district alongside long-established schools Perryton, Borger, Levelland and Seminole.
Cummings isn't expecting the Wolves to immediately be world beaters, but refuses to sell his team short.
"There's things as far as growing pains and establishing our identity, but at the same time our standard's high," Cummings said. "We can't come into a situation thinking we've got one year. We're expecting to be competitive immediately. We've got to maintain that standard."
If West Plains were a professional team, the Wolves would be considered an expansion franchise since they have no track record. After not even having a viable campus at the beginning of 2022, West Plains is immediately competing as a varsity program before the end of this month.
Many new schools hire a football coach before they open, but often opt to play only a subvarsity schedule that first year. However, CISD athletic director Toby Tucker and the school board decided that West Plains would jump into varsity competition right away in every sport.
That might be a tough sell to a prospective coach, but Cummings is embracing it.
"Toby and I talked about that during the interview process," Cummings said. "It was really never an issue that concerned me. When I got here and saw our kids, we've got kids who work hard and have bought in, so it's not as big a concern as I thought it might have been when I was interviewing for the job."
Ferril wants opponents to pay dearly if they underestimate the Wolves this fall.
"I think if we can catch them off guard we'll be good," Ferril said. "Everybody wants to beat West Plains, but if you can catch (opponents) off guard and hit them in the knees, they'll fold every time."
Offensively, the Wolves will rely a lot on tempo, running the no-huddle NASCAR offense, similar to that which has won championships at Canadian. That could allow them to win a few shootouts if necessary.
If nothing else, the Wolves can establish an identity and send notice to opponents, present and future.
"People aren't taking us seriously for the team we can be," Phillips said. "They haven't really seen us work out and they're just underestimating us because we're a new team. They think we're just a bunch of people with no idea of what to do."
Cummings said there were good numbers during summer camps which enable them to start evaluating talent immediately. The Wolves figure to be younger than most of their opponents this season, and won't set their final roster until the week before their season opener.
West Plains doesn't have a tradition to live up to now. Cummings is more interested in establishing one.
"We're not passing a torch or taking a torch," Cummings said, "we're literally lighting it."