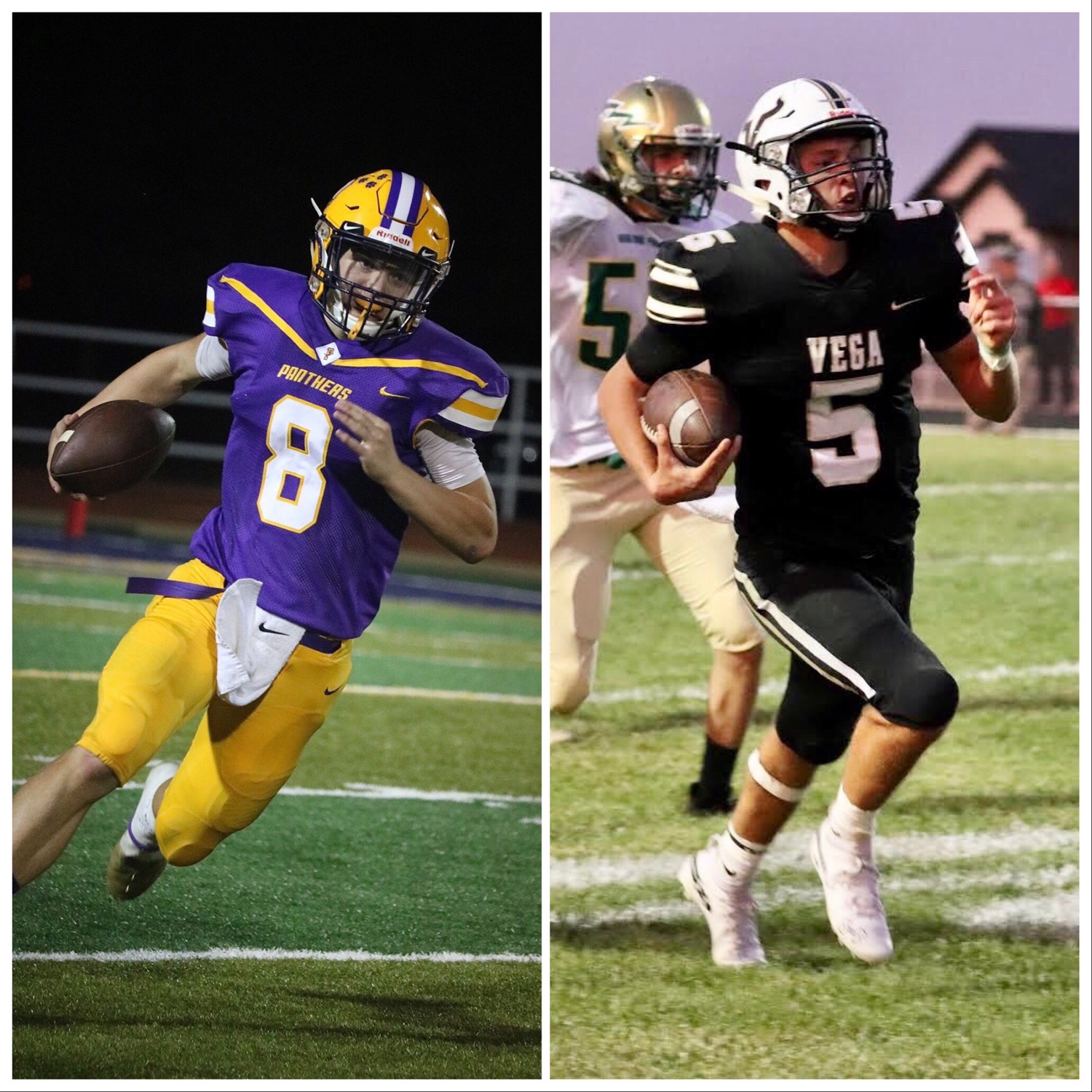 Panhandle faces off with Vega at 7 p.m. Friday at Longhorns Stadium. [Photos by Emily Jones & Johnette Stribbling]
The game: No. 6 Panhandle Panthers (3-0) at Vega (3-0).
When: 7 p.m. Friday.
Where: Longhorns Stadium, Vega.
The matchup: It's a battle of the unbeaten when Panhandle and Vega collide Friday night. Both teams enter the game with very sound offensive lines and Very potent offenses. The Longhorns lead the entire state in points per game at 65.6. Panhandle isn't shabby itself averaging 56.6 ppg. The question will be if the Longhorns can handle a physical, deeper Panthers team. Vega has yet to see an opponent of this caliber.
West Texas High and Wellington are both 2-1 this season. [Photos by Tucker Stroud & Mackenzie Teal]
The game:West Texas High Comanches (2-1) at No. 7 Wellington Skyrockets (2-1).
When: 7 p.m. Friday.
Where: Powell Field, Wellington.
The matchup:The Comanches made a statement when they rolled up 74 points on Gruver last week. No one may have played a tougher nondistrict schedule than WT High either. Playing Canadian, Stratford, Gruver and now Wellington, those four teams are a combined 9-3.
The Skyrockets are hungry to get back on the field after getting dominated at Abernathy. That doesn't happen often to a team like Wellington. The key to this game is The Skyrockets defense slowing down QB Avian Cruz. Cruz went off against Gruver with 372 rushing yards and six touchdowns.
The Lynx will try and stay undefeated taking on Stratford at 7 p.m. Friday. [Photos by Ernie Bowers & John Moore]
The game: Spearman Lynx (3-0) at No. 10 Stratford Elks (2-1).
When:7 p.m. Friday.
Where:E.L. Sam Bass Stadium, Stratford.
The matchup: Nobody is hungrier to prove themselves than the Spearman Lynx. Yes, Spearman is undefeated but have yet to prove itself to an opponent as worthy as Stratford. Expect heavy run attacks with both teams rushing it for more than 250 yards a contest. However, both are slinging it more than years past. Sophomore Brenen Thompson is one of the top young talents for Spearman. The explosive dual-threat QB has totaled 771 yards of offense with 15 touchdowns. On the otherside, Elks QB Walker McBryde has completed 71 percent (48 of 67) of his passes for 693 yards and eight TDs.
The Battle of Bell Street takes place at 7:30 p.m. at Dick Bivins Stadium on Friday. [Mackenzie Teal & John Moore/ Press Pass Sports]
The game: Randall Raiders (1-2) at Amarillo High Sandies (1-2).
When: 7:30 p.m. Friday.
Where: Dick Bivins Stadium.
The matchup: It's another edition of the Battle of Bell Street. Last season, Randall stunned Amarillo High with a 26-19 win at Kimbrough Stadium.
This year, both teams have taken bumps with 1-2 records. The Raiders offense has sputtered in back-to-back losses to Canyon and Hereford. The Sandies have seen their own inconsistency's on offense, but were able to put 36 points on Tascosa.
Expect this game to come down to defense and plays on special teams.
Canyon plays host to Caprock at 7 p.m. Friday at Kimbrough Stadium. [Ben Jenkins/ Press Pass Sports]
The game: Caprock Longhorns (0-3) at Canyon Eagles (3-0).
When: 7 p.m. Friday.
Where: Happy State Bank Field Kimbrough Memorial Stadium.
The matchup: Caprock hasn't backed off playing tough opponents, and will get another on in Canyon. It will be a game-time decision but Longhorns quarterback/ wide receiver Tarik Williams is probable for Friday's game. Williams has been out since the season opener with a leg injury.
Even with Williams, the Caprock defense is going to have to find a way to slow down a balanced Eagles attack. Canyon is averaging 473 yards a game, putting up 42.3 ppg.
Notable games
Lubbock Estacado (3-0) at Hereford (2-1), 7 p.m. Friday, Whiteface Stadium.
Levelland (1-2) at Pampa (2-1), 7 p.m. Friday, Harvesters Field.
Perryton (1-2) at Bushland (3-0), 7 p.m. Friday, Falcons Stadium.
Wheeler (2-1) at Highland Park (2-1), 7 p.m. Friday, Hornets Stadium.
Balmorhea (3-0) vs. McLean (3-0), 6 p.m. Friday, Coyotes Stadium, Borden County.