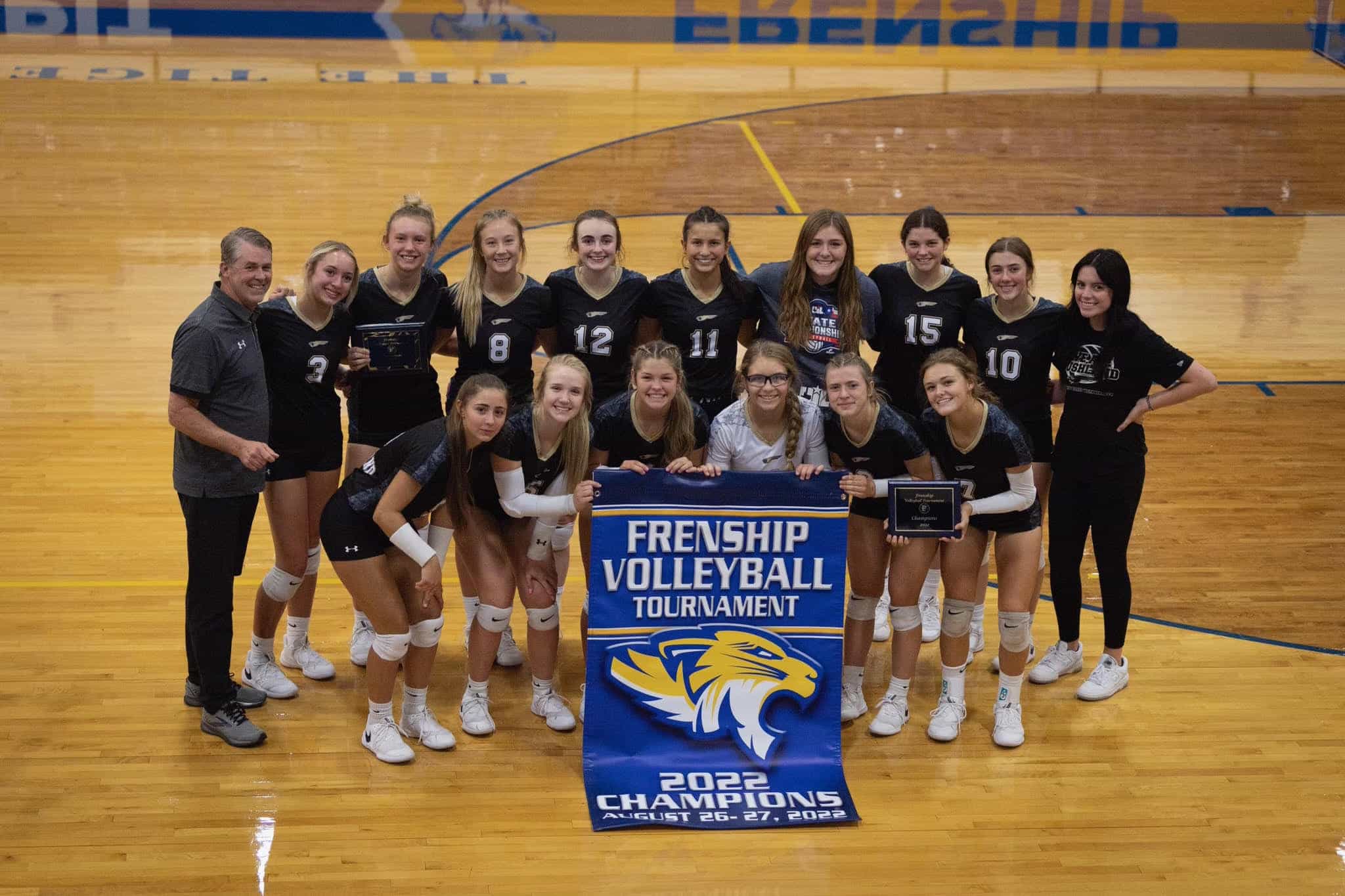 The Bushland Lady Falcons closed out their preseason tournament schedule in stellar fashion by winning the Frenship Tournament on Friday and Saturday.
The Lady Falcons (18-4 overall) went a combined 4-0 over the two days. On Friday, the Lady Falcons swept Abilene Wylie, 25-16, 25-19, 25-20, before getting their stiffest competition in Randall. Bushland had to grind, however, was able to beat the Lady Raiders, 25-21, 22-25, 25-18, 24-26, 15-11. On Saturday, Bushland rolled in both matches defeating Lubbock-Cooper 25-13, 25-19, 25-20, followed by a trouncing of Shallowater, 25-9, 25-16, 26-24.
Outside hitter Kaela Neie was named the MVP of the Frenship Tournament as the senior combined for 58 kills with three blocks over the four games. Teammate Madyson Eberly added 45 total kills with 12 blocks, and senior setter Logan Culpepper dished out 85 assists.
Despite the thrilling loss to Bushland, Randall (17-8 overall) had an impressive tournament. The Lady Raiders went 3-1 overall with victories over Midland Legacy, 25-12, 25-18, 25-16, then beat Dumas, 25-13, 25-15, 25-17, and ended the tournament sweeping Wichita Falls Rider, 25-13, 25-18, 25-16.
Randall outside hitter Jordyn Gove had an impressive outing to compliment what has already been a huge start to her season. Against Bushland alone Gove was unstoppable knocking down 31 kills to go with eye-opening 27 assists. For the tournament overall Gove had 68 kills and 63 digs.
Amarillo High won three games at the Volleypalooza Tournament in Austin. The Lady Sandies (16-8 overall) did earn wins against Weatherford (25-18, 25-18), Grapevine (26-24, 25-21), and Lake Creek (25-22, 19-25, 25-20).
Ryan Pennington led AHS combining for 47 kills, while teammate Sierra Cavalier added 42 kills of her own. Senior Jo Moffitt dished out a combined for 150 assists.
Hereford had another great showing going 3-1 at the Arlington Showcase to end its tournament season. The Lady Whitefaces picked up wins over Joshua (25-22, 25-20, 19-25, 24-26, 18-16), Mansfield High (14-25, 25-20, 25-14, 25-21), and Mansfield Summitt (25-6, 25-12, 25-12).
Camryn Blair combined for 55 kills over the four games. Teammate Emma Cooper added 82 digs. The Lady Whitefaces (18-5) play host to Bushland at 7 p.m. Tuesday night.
Highland Park placed fifth out of 24 teams at the Denver City Tournament on Friday and Saturday. The Lady Hornets (17-5 overall) had a 3-1 day on Saturday beating Idalou, 25-13, 14-25, 25-18, then swept Klondike, 25-15, 25-22, followed by a victory against Southcrest, 25-22, 21-25, 25-19.
Mercedes Harton led the Lady Hornets with 129 assists and 61 digs. Teammate Kyra Courtemanche combined for 55 kills with 25 digs, and Braylee Lewis tallied 70 digs and 10 aces.