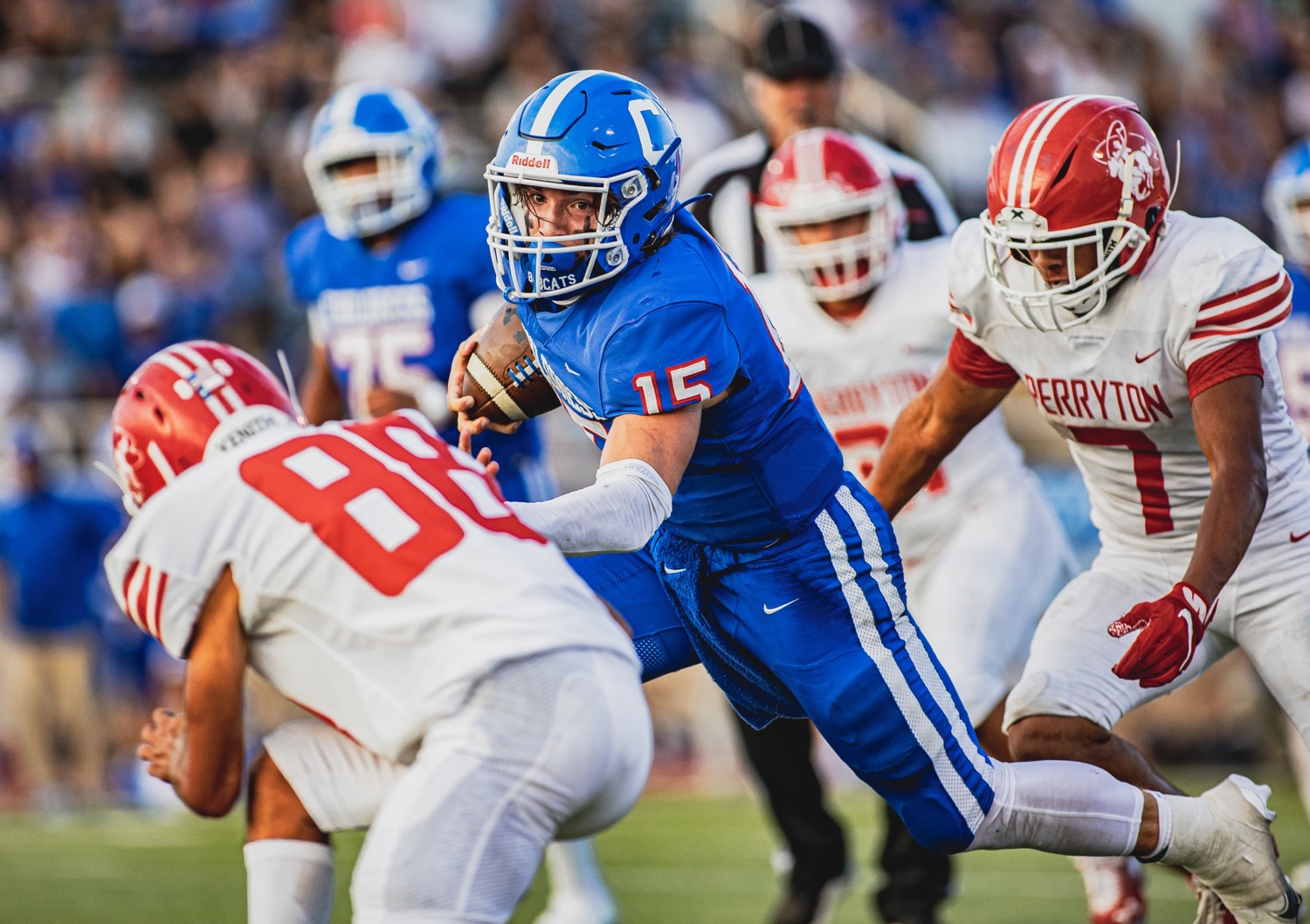 FILE— Childress quarterback Collin Bishop avoids a Perryton defender during a game earlier this season. [David Erickson/ Press Pass Sports]
Collin Bishop, Childress, QB, Sr.
Childress passed a big test going on the road and beating a talented Shallowater squad 30-28 on Friday. Bishop was a major catalyst in the victory picking a part the Mustangs defense completing 24-of-35 passes for an astounding 468 yards with four touchdown passes. Three of those scoring tosses went to teammate Lamont Nickelberry, who had a career night snagging nine balls for 219 yards.
Corey Stancell, Farwell, RB, So.
Stancell is becoming a staple on this list and for good reason. The bruising sophomore running back went over the 900-yard mark on the season thanks to a fantastic effort during a Steers route of Texico, N.M. Stancell found the end zone six times against the Wolverines, chewing up 221 yards rushing on 28 carries. Through four games, Stancell is amassed 942 yards on the season.
Ethan Cowan, Amarillo High, RB, Sr.
Cowan had his second straight game hitting the century mark helping Amarillo High to its biggest win to date, 31-14, over Class 6A Frenship. AHS used a heavy dose of Cowan feeding him 28 times, and he did the rest piling up 154 yards, including a 53-yard touchdown run.
Sam Anguiano, Pampa, QB, Sr.
Anguiano was money when it counted during Pampa's triumphant comeback win that left Randall stunned, 29-28, at Harvesters Stadium on Friday night. The Harvesters erased a 21-point fourth quarter deficit thanks to an explosive 22-point fourth quarter capped off by Anguiano's 38-yard strike to Jordan Lacy down the sideline with only 33 second to play. Anguiano ended the night with 128 yards passing, and 65 yards rushing.
Tascosa's Major Everhart looks for running room against San Angelo Central on Friday night. [Trevor Fleeman/ Press Pass Sports]
Major Everhart, Tascosa, RB, Sr.
It was quite the weekend for Tascosa's Division I prospect. Everhart touched the ball only five times in the Rebels route of San Angelo Central, however, made the most of every carry. The speedy senior finished the game with 155 yards, averaging 31 yards a carry, scoring two touchdowns with a long of 69-yards. Following the contest, Everhart hopped a flight for South Bend, Ind., for an official visit at Notre Dame's home game against Purdue on Saturday afternoon.
Luke Flowers, Canadian, RB, So.
The Wildcats got an unbelievable performance from Flowers as Canadian bounced back from a loss to Bushland by piling up the points against Perryton, 51-28. Flowers simply couldn't be stopped anytime the ball came to him rushing for 225 yards with two touchdowns, one of those for 59-yards. Flowers also snagged six catches out of the backfield for another 46 yards.
Jacob Bautista, Friona, RB-DB, Sr.
Friona remains as one of the 10 unbeaten teams across the Texas Panhandle in part to a huge second half that helped put away Dalhart, 54-33. Bautista fueled a punishing ground attack for the Chieftains finding the end zone four times, finishing his night with 170 yards on only 14 carries. If that wasn't enough, the senior was also stellar on defense racking up 15 tackles, six of which were solo.
Brayden Klafka, Spearman, QB-WR, Sr.
Decimated by injuries of late, the Lynx used a next man up mentality and Klafka rose to the occasion. The senior do-it-all standout played quarterback, and did whatever asked of him as his leadership helped lead Spearman past Vega 24-6. Klafka rushed for 110 yards with a touchdown, threw for 38 yards and a touchdown, then made seven tackles on defense with an interception.
Derrek Clements, Canyon, QB, Sr.
Canyon is quietly off to a 3-1 start earning another hard fought win against Caprock, 30-20, on Friday. Clements continued to show growth behind center completing 16-of-25 passes for 212 yards and two touchdowns with no interceptions.
Jordan Herndon, Clarendon, RB, Sr.
The Broncos stayed perfect on the year after hammering Hale Center 51-26 on Friday.
The Broncos offense is red hot scoring 100 points over the last two games. Herndon did his part and then some picking up 150 yards rushing with three touchdowns on only 11 carries. He also added another score on a receiving TD.