Palo Duro and Caprock square off in a District 2-5A Division I clash at 7:30 p.m. Friday. [Jonh Moore & Ben Jenkins]
The game: Palo Duro Dons (2-2, 0-0) vs. Caprock Longhorns (0-4, 0-0), 7:30 p.m.
When: 7:30 p.m. Friday
Where: Dick Bivins Stadium.
The matchup: It's the District 2-5A Division I opener, and a big one for the crosstown rivals. Caprock struggled going winless through a very strong nondistrict schedule. Palo Duro has been up and down during its nondistrict meetings.
With a district that has the likes of Abilene Cooper, Lubbock Coronado, Lubbock Monterey and Amarillo High, this game becomes extremely crucial. The winner gives themselves a chance at jockeying for playoff position while the loser will give themselves a hill to climb.
The Demons try to stay unbeaten on the road at Wichita Falls Rider. [Ben Jenkins & provided photo]
The game: Dumas Demons (4-0) at Wichita Falls Rider Raiders (2-2), 7 p.m. Memorial Stadium.
When: 7 p.m. Friday
Where: Memorial Stadium, Wichita Falls
The matchup: Eight quarters. That's how long it's been since the Dumas defense has allowed a single point. The Demons will have their handsfull trying to keep a very potent Rider offense off the board. The Raiders are averaging 33.2 points a game and 453 yards a game.
But coach Aaron Dunnam and his team love a challenge. They say defense always travels, and Dumas' defense is stingy. The key could be the balanced attack of quarterback Spencer Williams and the offense to get the job done.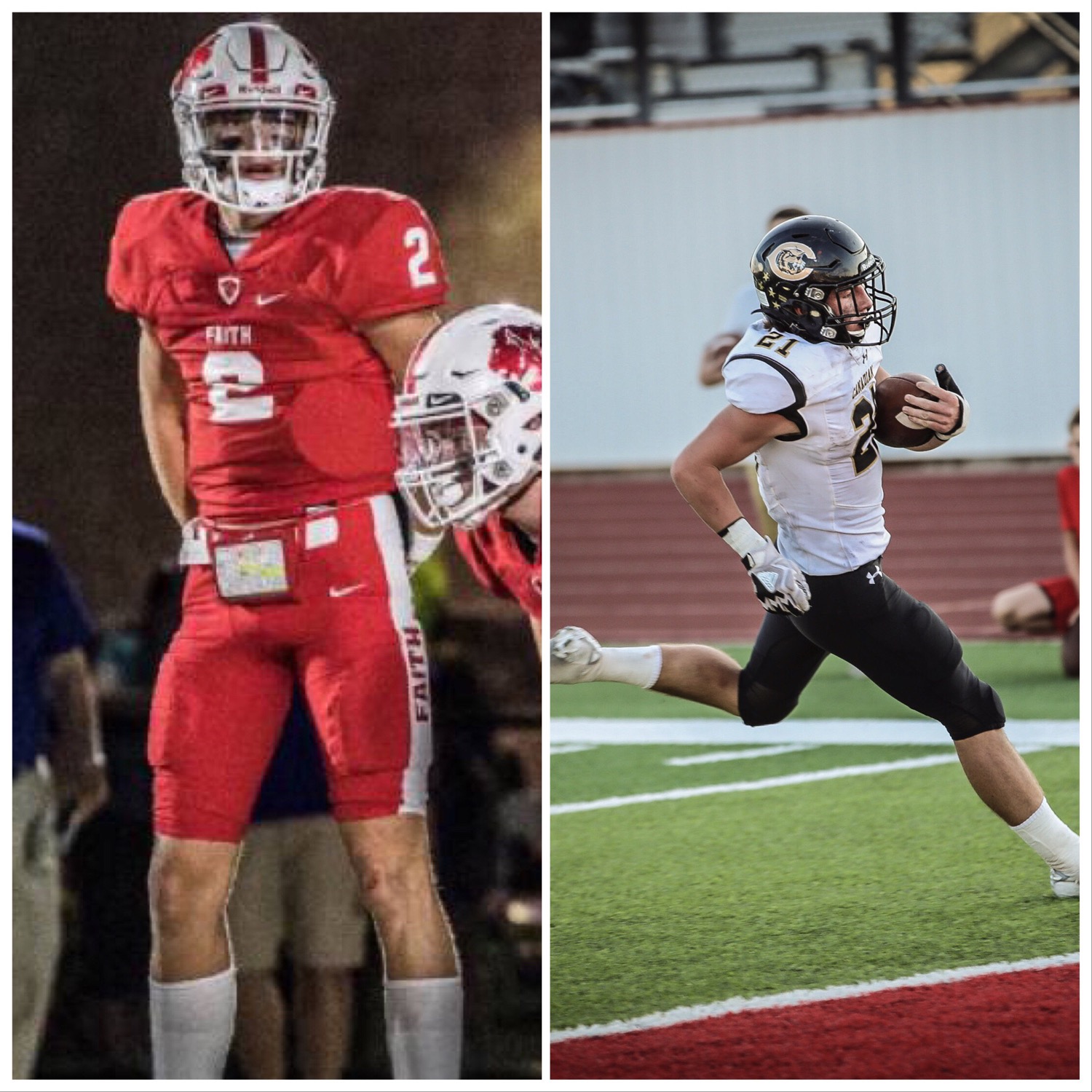 Lions quarterback Deuce Hogan, left, will go up against a Canadian defense allowing 150 yards a game. [Provided photo & Michael Kerrigan]
The game: No. 3 Grapevine Faith Lions (4-0) vs. No. 2 Canadian Wildcats (4-0), 2 p.m.
When: 2 p.m. Saturday
Where: Leo Brittan Field at Lions Stadium, Vernon.
The matchup: It's round two between two of the better unbeaten programs in the state. Canadian is ranked No. 2 in Class 3A Division II while Grapevine Faith is ranked No. 3 in TAPPS Division II.
Last season, the Lions handed the Wildcats their only regular season loss, 40-21.
Canadian is banged up in spots but its defense has been on its game, allowing 150 yards a game, and nine points a game.
However, the Wildcats will get their biggest test. Grapevine Faith is led by highly-touted QB and Iowa commit Deuce Hogan (6-foot-5, 210 pounds). Hogan (1,008 yards, 14 TDs this year) leads pro-style offense that averages 41.8 ppg.
Wellington's John Michael Holcomb, left, and the Skyrockets squares off with Panhandle's Wesley Jones and the Panthers. [Tucker Stroud & Emily Jones]
The game: No. 7 Wellington Skyrockets (3-1) at No. 5 Panhandle Panthers (4-0).
When: 7 p.m. Friday.
Where: Panthers Stadium.
The matchup: A lot of eyes will be on this matchup of state-ranked teams. Panhandle comes into this contest ranked No. 5 in Class 2A Division I. Wellington enters the game ranked No. 7 in Class 2A Division II.
Last year, the Skyrockets jumped all over the Panthers in a 44-14 win. But this season, Panhandle is a much deeper football team and explosive offensively, averaging 55 points a game. After a tough loss at Abernathy, Wellington bounced back last week shutting down a very good West Texas High squad. The Skyrockets will try and slow the tempo down but it will but up to their defense to slow down Panhandle QB Wesley Jones and running back Houston Heck.
Stratford and Hamlin are two of the Top-10 ranked teams in Class 2A Division II. [Ernie Bowers & Evan Ren]
The game: Stratford Elks (3-1) vs. Hamlin Pied Pipers (3-1),
When: 7 p.m. Friday.
Where: Antelope Stadium, Abernathy.
The matchup: Fans are getting to see a possible Class 2A Division II state semifinal in late September.
The No. 10-ranked Elks are eager to get a crack at state's top-ranked Hamlin Pied Pipers. Different from years past, is the Elks offensive dynamic. Stratford is balanced behind quarterback Walker McBryde. McBryde has thrown for 923 yards with 13 touchdowns in four games. He has the weapons to help as well. The versatile Iuden Romero had 500 combined yards rushing/ receiving while Brit McQuitty leads the ground attack with 298 yards on the year.
Hamlin counters with its own do-it-all standout Jevon Williams. Williams has totaled 477 yards of offense, and the Pied Pipers QB Braydon Williams has thrown for 850 yards.
Notable games to watch
White Deer vs. Borden County, 7:30 p.m. Thursday, Petersburg.
Tascosa vs. Brownsville Hanna, 5 p.m. Saturday, Anthony Field at Wildcats Stadium, Abilene.
Frenship at Randall, 7 p.m. Friday.
Dalhart at Friona, 7 p.m. Friday.
Bushland at Levelland, 7 p.m.