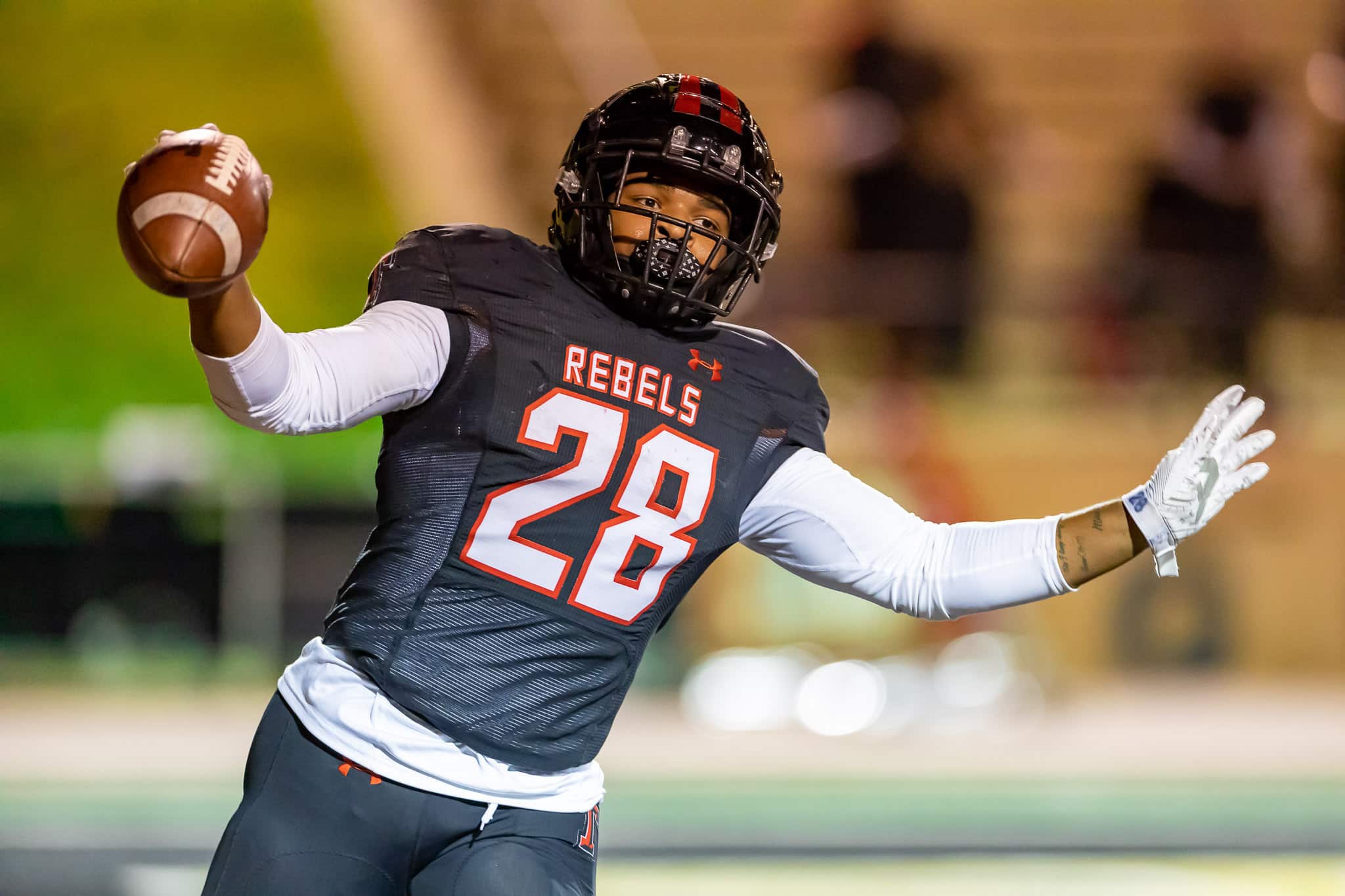 It seemed appropriate that the Tascosa Rebels played to type Thursday night at Dick Bivins Stadium to end the regular season and win their first outright district title in 34 years.
Using their customary prolific running game and hard-nosed defense, the Rebels showed why they're the top team in District 2-5A Division I against Lubbock Coronado. They never trailed and took the lead for good in the first quarter to roll to a 35-14 victory and clinch their first outright district crown since 1988 and cap an unbeaten district season.
As a result, Tascosa (9-1, 6-0 in district) will host a first-round playoff game next Friday at 6 p.m. at Bivins against either El Paso Ysleta or El Paso Hanks.
The victory over Coronado (3-7, 2-4) was an accurate snapshot which explained why the Rebels have gotten this far and are also on the verge of their fifth consecutive 10-win season. They were in control almost the entire way, even though they committed three unsportsmanlike penalties for 15 yards each in the second half.
"The victory feels great, the 9-1 feels great, the outright district championship feels great, but we've got to get better." Tascosa coach Ken Plunk said. "We've got to address some things, particularly the excessive penalties, but we can address those things in a positive manner, where if we lost it would be in a not so positive manner."
The Rebels scored two plays after the opening kickoff, as Tayden Barnes found a hole in the right side, sprinting 49 yards for a touchdown and a 7-0 lead. It was the first of two scoring runs in the first half for Barnes, who led the Rebels with a game-high 127 yards on 15 carries.
After holding the Mustangs on downs after losing a fumble inside their own 10-yard line, the Rebels' Keevin Ledoux punted, and it bounced and Coronado's Cam Manahan seemed to startle the Rebels by fielding the ball in the middle of them. It was so surprising that Manahan returned the ball 43 yards for a touchdown to tie the game 7-7.
Less than two minutes later, though, the Rebels recovered by marching to another touchdown, this one a 1-yard run by Hudson Farris for a 14-7 lead, and they never trailed again.
Midway through the second quarter, Tascosa's Avion Carter pounced on an errant shotgun snap by Coronado, giving the Rebels possession at Coronado's 20. Two plays later, Barnes scored on a 15-yard run for a 21-7 lead.
The Rebels didn't throw a pass until the final play of the first half, and threw only two for the game, as both fell incomplete. All of their 352 yards came on the ground.
"We've got to get where we're throwing it a little better and where we take some chances," Plunk said. "We won and the goal for us is going to be get out of it and win the game and that's what we did."
Treshun Wilson carried a bigger rushing load for the Rebels in the second half, as he scored touchdowns in the third and fourth quarters, the last one from 9 yards out 29 seconds into the fourth quarter to conclude Tascosa's scoring. Wilson joined Barnes in the 100-yard club with 101 yards on 16 carries.
Defensively, the Rebels held Coronado to 221 yards, and didn't allow the Mustangs into the end zone until quarterback Jett Carroll scored on an 8-yard run in the fourth quarter to end the scoring.
Lub. Coronado 7 0 0 7 – 14
Tascosa            14 7 7 7 – 0 
First Quarter
T – Tayden Barnes 49 run (Rual Lin Cung kick), 11:45
LC – Cam Manahan 43 punt return (Christian Sanchez kick), 7:09
T – Hudson Farris 1 run (Cung kick), 5:12
Second Quarter
T – Barnes 15 run (Cung kick), 6:05
Third Quarter
T – Treshun Wilson 31 run (Cung kick), 8:14
Fourth Quarter
T – Wilson 9 run (Cung kick), 11:31
LC – Jett Carroll 8 run (Sanchez kick), 8:06
                          Coronado     Tascosa
First Downs            12                            16
Rushing                  76                           352
Passing                  145                            0
Total yards            221                          352
C-A-I                   16-36-0                      0-2-0
Punts.-Avg.         6-47.2                     4-43.8
Fumbles-lost          1-1                          1-1
Penalties-yards     9-84                       5-72
Individual Statistics
Rushing – Coronado: Demarion Finch 8-23, Bricion Griffin 4-35, Carroll 13-18. Tascosa: Wilson 16-101, Barnes 15-127, Farris 7-20, Cassius Carter 5-20, Jonah Lucero 3-4, Micah Lewis 4-39, Zacory Fisher 2-1, Keevin Ledoux 1-42, Sam Fisk 1-(-2).
Passing – Coronado: Carroll 16-35-0-145, Russell Dills 0-1-0-0. Tascosa: Farris 0-2-0-0.
Receiving – Coronado: Jikiri McGrew 5-32, Jay'Kel McCutcheon 4-26, Griffin 3-34, Dills 2-6, Surreal Garrett 2-47. Tascosa: None.