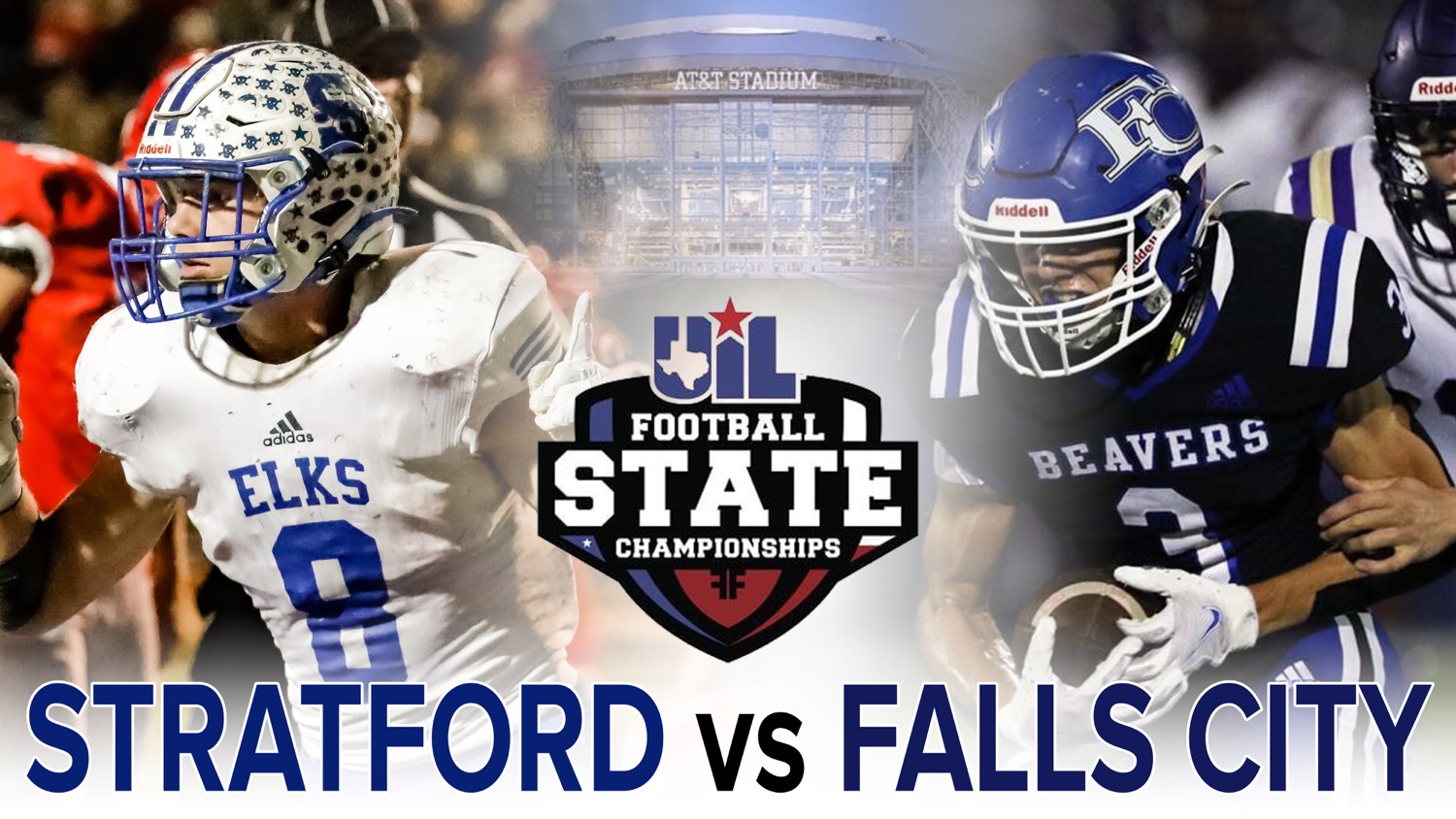 [Graphic by Brent Seals. Photos by Ben Jenkins and Kit MacAvoy/Victoria Advocate]
For the first time in 13 years Stratford is set to compete for a state championship.
The Elks dominated during the early 2000's winning three state titles in 2000, 2005, and 2008, under former head coaches Brad Thiessen and Eddie Metcalf.
Now it's head coach Matt Lovorn's turn to help bring the Elks home a fourth crown when Stratford (14-1) takes on Falls City in the UIL Class 2A Division II state championship game at 11 a.m. Thursday in Arlington's AT&T Stadium.
The Canyon graduate, who was an assistant under Metcalf, has kept the proud tradition of Stratford football alive during his seven years at the helm going 77-21, but this will be Lovorn's first time to coach the Elks on their biggest stage.
"It's obviously every head coaches dream to coach in this game," Lovorn said. "It's even more special to go to Arlington and Jerry World to do it. My wife Kelsey and I have talked about this moment a lot. We're just soaking it all in and enjoying this week.
"But I have to say, I wouldn't be here without my staff. I can be gone any day of the week, and this program runs so smooth. This staff has made me who I am, and who Stratford is."
Falls City (14-1) is making its first state championship appearance since 2013. The last time the Beavers made it to Arlington they were upended by another Texas Panhandle power in Wellington, 42-20.
Falls City gained a measure of revenge in last week's semifinal by stunning No. 1-ranked Mart last Friday, 24-20, thanks to a late 17-yard touchdown pass from quarterback Luke Shaffer Grant Jendrusch with 39 seconds left.
The Beavers had lost to the heavily favored Panthers the last three years in the semifinal. Falls City head coach Mark Kirchhoff said the victory was nothing short of thrilling.
"It was huge as far as the history behind it," said Kirchhoff, who is 162-60 at Falls City. "We tried to do we what we do best, and we hung around. We were able to put a drive together and won the game. It was a great victory for us."
Kirchhoff is in the second season of his second stint with Falls City. The veteran coach led the Beavers from 1996-2012, guiding the school to a 2010 state championship.
Like Stratford, Falls City is built on discipline, a powerful run game, and hard-nosed defense. For fans in attendance, this will definitely be a throwback game of sorts between two old school football teams.
"We see a lot of ourselves in Stratford," Kirchhoff said. "We're two physical teams that mirror each other in a lot of ways. They are built on hard work and toughness, and so are we. We're both not flashy, we both hustle, and try to beat you up."
Stratford's immaculate defense, which is allowing less that 110 rushing yards a contest, is spearheaded by its stellar defensive line that will be put to the test by Falls City's flexbone offense masterfully run by Shaffer. Shaffer has toted the ball for 768 yards with 16 rushing TDs, and has thrown for over 1,000-yards. Fullback Cole Thomas is a force up the middle leading the Beavers with 1,086 rushing yards and 13 touchdowns.
"Falls City is a dang good football team," Lovorn said. "They have a lot of size to them, and they love to run the football. They've had a ton of success, their quarterback knows everything about their offense and runs it perfectly. We just have to stay disciplined on defense, and not let Shaffer make the big plays."
Falls City's defense has the equal task of slowing down Stratford signal caller Cody Rinne. Behind Anthony Gonzalez and Tyler Smith on the offensive line, Rinne is having an MVP season to remember. Against Albany in last week's semifinal, the senior scampered for 175 yards with three touchdowns. Rinne has totaled for 1,915 yards on the ground this season with 34 scores, and is also capable or moving the pocket with his arm, and the dangerous ability to scramble at any moment.
"We'll need to execute like we have all year," Lovorn said. "They'll be keying on Rinne. He'll need to play his game, but Zane Burr, Dru Jones and Mauricio Duran will be huge factors. They give us multiple weapons in this game."
Stratford's resume
District 3-2A Division II champions
Region I champions
2021 Record: 14-1 overall
State championships: 2000, 2005, 2008
Fifth state title appearance
33rd playoff appearance
Stratford's road to state
Bi-district: Stratford 72, Wheeler 14
Area: Stratford 48, Seagraves 3
Regional semifinals: Stratford 56, Wink 21
State quarterfinals: Stratford 26, Wellington 6
State semifinals: Stratford 35, Albany 14
Falls City's resume
District 16-2A Division II champions
Region IV champions
2021 Record: 14-1 overall
State championships: 2010
Third state title appearance
35th playoff appearance
Fall City's road to state
Bi-district: Falls City 48, La Pryor 0
Area: Falls City 66, Rocksprings 20
Regional semifinals: Falls City 50, Eldorado 26
State quarterfinals: Falls City 34, Burton 20
State semifinals: Falls City 24, Mart 20