Emma Troxell powers down a kill between two Columbus defenders during a UIL Class 3A state semifinal in Garland on Thursday. [Matthew Smith/ For Press Pass Sports]
Bushland will officially defend its crown in hopes winning a second straight title at the University Interscholastic League Class 3A state volleyball tournament at the Curtis Culwell Center in Garland.
The Lady Falcons made quick work of a youthful Columbus team during a semifinal match Thursday that felt more like an opening round game of the postseason, 25-16, 25-11, 25-17.
Bushland (34-5 overall) advances to face Gunter (37-7) for the Class 3A state championship at 11 a.m., on Saturday.
"We took care of business like we needed to," Bushland head coach Jason Culpepper said. "We came out and played really well. Gunter played really well too.
"The state match will be a good one. It's great to get the chance to defend your title. It's a hard thing to do, but we've given ourself that chance."
The Lady Falcons took over from the start against Columbus (38-9) with great passing from setters Logan Culpepper and Millie Maupin. That allowed Bushland's offense to set itself up for big scoring runs, taking a commanding 15-7 lead in the opening set.
Bushland went on for a 25-16 first set victory thanks to a hitting percentage of .545.
The Lady Falcons continued the attack in the second set jumping all over Columbus 15-3, on the way to a 25-11 win.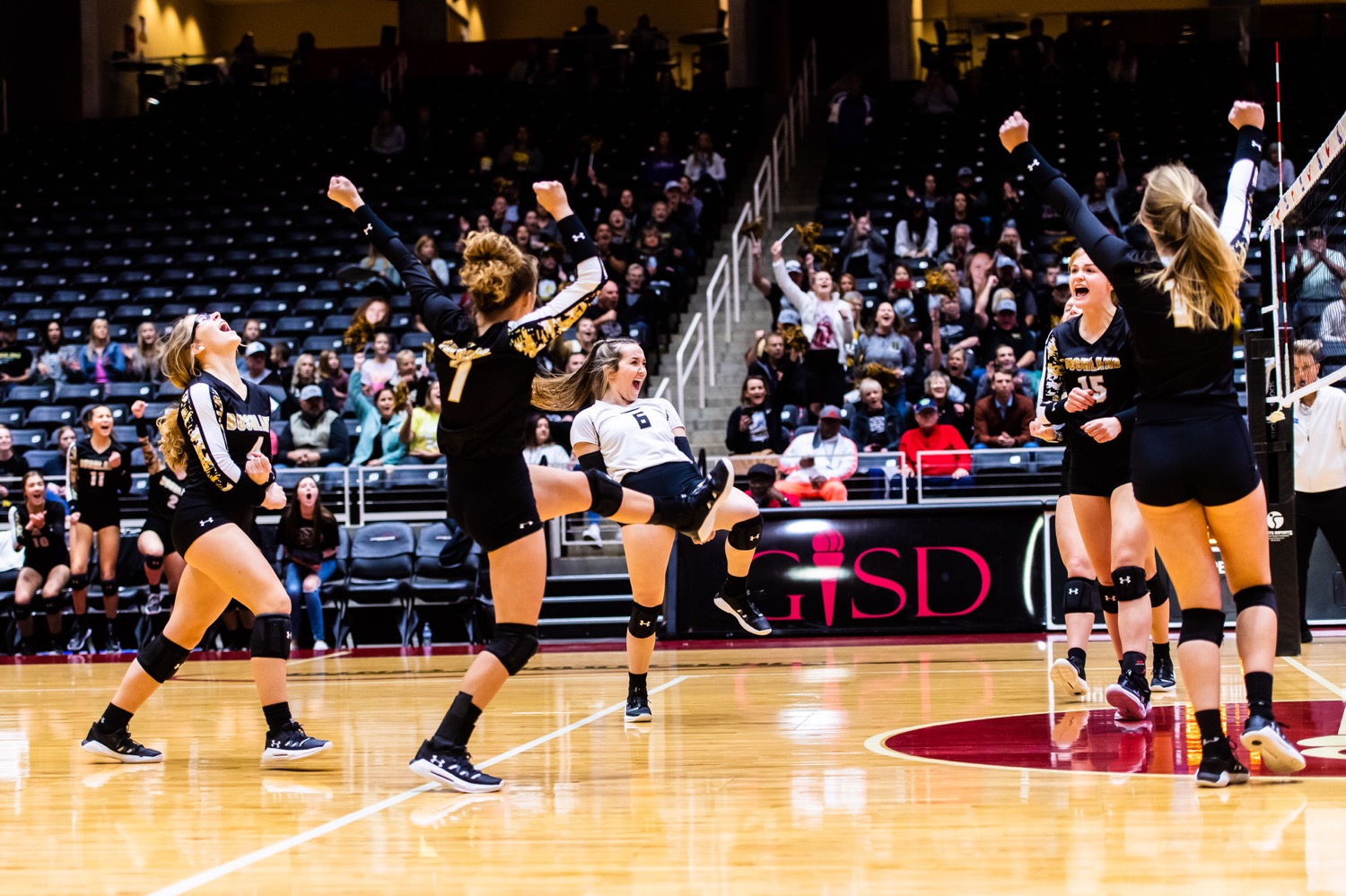 Bushland celebrates a point during a blowout win against Columbus during a UIL Class 3A state semifinal in Garland on Thursday. [Matthew Smith/ For Press Pass Sports]
"Our passing was really good," Culpepper said. "That really got our confidence going early. I thought we served it well, and I felt that gave them trouble. Everyone did their jobs for us in this match, and that's why we were successful."
Emma Troxell, Kaela Neie and Madyson Eberly combined for 37 kills. Troxell led the team will 14, Neie added 12, and Eberly finished with 11.
Eberly also tallied five blocks with Troxell getting four blocks, and Eberly earning five assists.
Culpepper and Maupin made sure those kills were in the right place Culpepper had a match-high 19 assists, followed by Maupin's 18. Defensively, Jada Permenter hit the floor a team-best 13 digs, followed by senior captain Jaycee Adams, who had 10.
"Jada played a great game for us," Adams said. "She was unreal defensively. Our entire team played good, and we never allowed them in the game.
"Now we get a chance to do what we've been working toward all year. That's repeat as state champions."
The Lady Falcons are making their 10th appearance at the state tourney. Not only will a win over Gunter give them back-to-back state titles, but would be a sixth in program history (2007-2008, 2013, 2016, 2020).
For full game stats of Thursday's semifinals, please visit https://www.uiltexas.org/files/athletics/state-volleyball/21vb3as2.htm