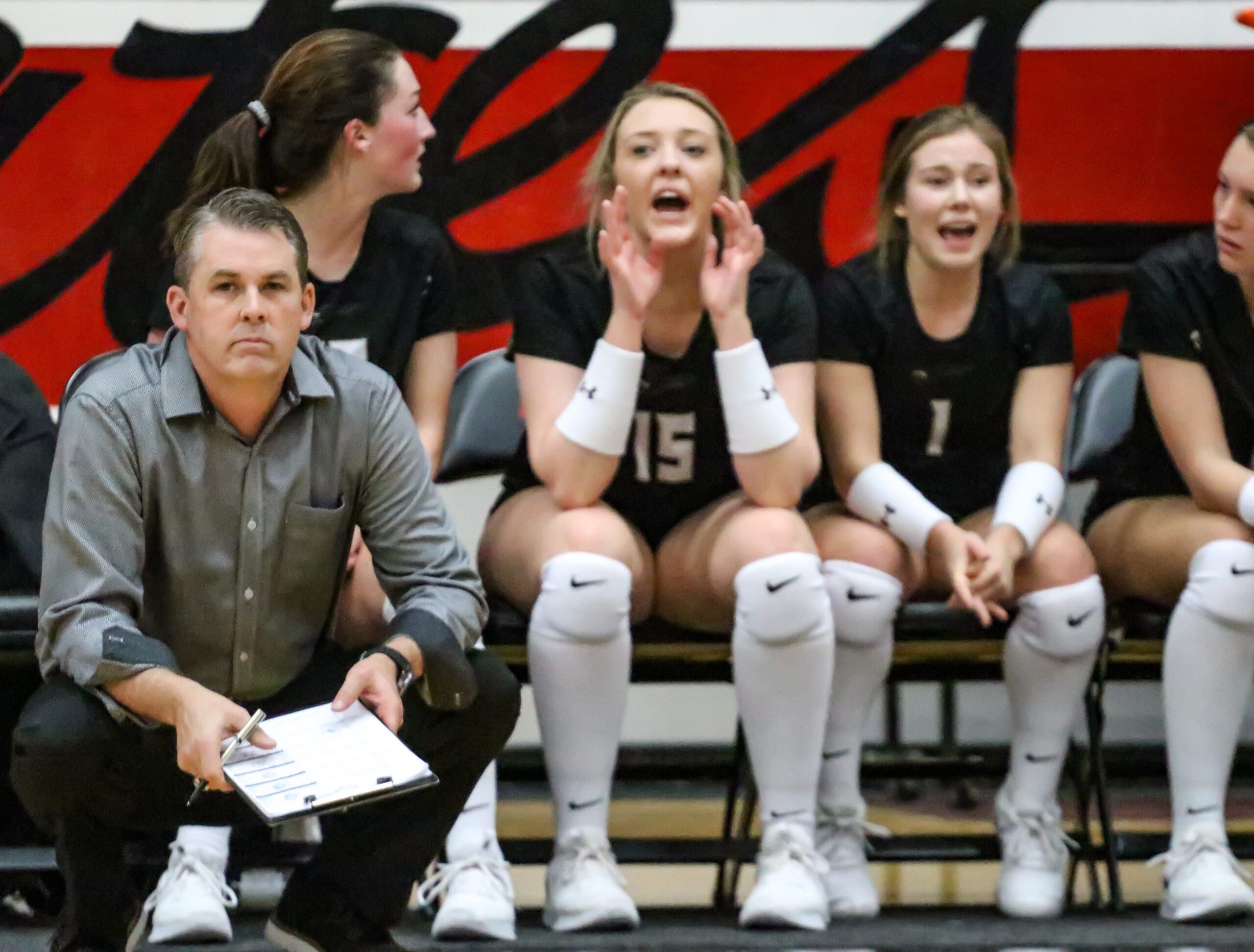 Jason Culpepper, left, led Bushland to the UIL Class 3A state volleyball tournament in his first season as head coach. This will be his sixth appearance at state in 13 years as a head coach. He led Randall to the state tournament five times. [Ben Jenkins/ Press Pass Sports]
Bushland's resume
2019 record: 46-1
District 1-3A: 8-0 (District chamions)
State appearances: 8
State championships:4 (2007, 2008, 20013, 2016)
Long before the 2019 Bushland Lady Falcons hit that first serve back in August opening their volleyball season, the message had been sent.
This team means business.
Bushland sixth-year athletic director Jimmy Thomas couldn't help but notice first-year head volleyball coach Jason Culpepper had 40-plus girls working out in the off season. program.
"Coach Culpepper has worked harder and longer than any volleyball coach I've ever seen," Thomas said. "Our girls were up here all summer with strength and conditioning and open gym.  Coach Culpepper has done a great job in all phases and has a done a great job in buying into the family philosophy of a coaching staff. I am glad he is here."
Culpepper and his Lady Falcons hope to put the icing on their phenomenal 2019 season – which has produced mind boggling numbers – the next three days during the 2019 University Interscholastic League Texas High School Volleyball Championships in Garland.
Bushland (46-1) meets Vanderbilt Industrial (36-11) at 11 a.m. Thursday in the Class 3A state semifinals in the Curtis Culwell Center at Garland. A win would advance the Lady Falcons into Saturday's finals against the winner of the semifinal match between Van Alstyne (36-4) and Lexington (34-13).
"This year has been a lot of fun," Culpepper said.
And, the year has seen a lot of success.
Led by its buy-in of a new system and leadership of five seniors in Ashton Rider, Berrilyn Boydston, Ansley Sims, Addyson Tiffin and Shaylee Laubhan, Bushland has rolled to a 46-1 record.
Included in those 46 wins is a 40-game winning streak and not losing a set since Aug. 27 in a five-set win over Class 6A Tascosa.
Bushland rolled to a District 1-3A championship with an 8-0 record, extending its district winning streak to 60 in a row dating back to 2011.
Culpepper made the move to Bushland from a successful run at Randall where he led the Lady Raiders to a state championship in 2009.
But the veteran coach – Culpepper has been to state eight times as a head coach and assistant coach – knew without the senior class on board this now roaring machine would have never started.
"These seniors from the get-go jumped in and tried to learn as much as they could," Culpepper said. "We put our program together from what I have run from my coaching time in Hereford, Dalhart and Randall. Just those things you need to make a program run and the seniors bought in.
"Once you get the seniors in there is no doubt everybody else jumps in. And they all jumped in. During those summer workouts when everybody was showing up, Coach Thomas was like, 'Man, we have never had 45 girls here for summer workouts.' At that point I knew we were in a good place."
That good place included qualifying for state by sweeping all five of its playoff matches 3-0. The highlight arriving by winning the Region I-3A Tournament with sweeps of Brock (25-17, 25-12, 25-15) and Boyd (25-22, 26-24, 25-15).
Culpepper said even though his team was 45 matches into its season, lessons were learned at regionals.
"Brock and Boyd were both really good matches," Culpepper said. "You always need to be tested heading into state. We had been playing really well going in. The scores might look like blow outs but they weren't. We were down to Boyd most of the second game. They made it 24-23 and we sided out to 24 all. Then pulled it out.
"What that did was give us momentum and confidence that if we are pushed we know how to fight back."
That fight starts Thursday in the spacious confines of the Curtis Culwell Center.
Culpepper lead Randall to the Class 5A state semifinals last year, his fifth state appearance with the Lady Raiders, losing a heartbreaking five-setter in the semifinal to eventual champion Humble Kingwood Park.
"State is different," Culpepper said. "You have to stay in your game. This coliseum is big. Things look different and when you make a few mistakes you have to let it go and work  for the next point. I think that's the key to everybody's success down here Hereford, Randall and us. For us to win we just have to stay in our game and concentrate on the next point."
Bushland is no stranger to success at state. The Lady Falcons own four state titles, the last arriving in 2016. Culpepper said to make it five, overcoming two talented players from Vanderbilt Industrial will be a must.
"They serve really well and they have a combo of setters/hitters," Culpepper said. "One setter sets backrow and the other hits outside left. Then when they rotate around they switch positions. Those two girls No. 2 (5-11 junior Lauren Williams) and No. 6 (6-0 senior Kylann Griffith) do a good job of controlling the game. If we can get some digs around those girls we have a good chance. We also need to get a big block up in the middle."
Vanderbilt Industrial will be tested by Bushland, which was led at regionals by senior setter/hitter Sims, who earned most valuable player honors.
"Ansley really played well and Addyson Tiffin is a leader by example player who had some really big swings for us," Culpepper said. "And then Berrilyn (Boydston) has been doing a really good job on the defensive side."
"I like everything about this team," said Culpepper, who also will be rooting for his two former teams in Randall and Hereford to bring home gold. "They have great team chemistry and comradery.
"They are good about joking with each other and good about taking care of each other. If someone is a little down, not having a good practice and Coach Culpepper is yelling out them a lot they bond together and fight back. That's really awesome."
Awesome? That's the perfect word describing Bushland this year from those summer workouts to Thursday's state semifinal.
Bushland Lady Falcons 2019 roster
# Player Ht. Year
1  Ashton Rider 5-1 Sr.
2  Berrylin Boydston 5-4 Sr.
3  Jacy Permenter 5-4 Jr.
4 Ansley Sims 5-8 Sr.
5 Taryn Schultz 5-7 Jr.
6 Jaycee Adams 5-6 So.
7 Logan Culpepper 5-6 Fr.
8 Millie Maupin 5-7 So.
9 Chandler Petty 5-7 Jr.
10 Kinley Rudder 5-8 Jr.
11 Hallie Conklin 5-10 Jr.
12 Kloie Rankin 5-9 Jr.
13 Harlee Wait 5-10 So.
14 Addyson Tiffin 5-11 Sr.
15 Shaylee Laubhan 5-11 Sr.
17 Kaela Neie 5-10 Fr.
Head coach: Jason Culpepper
Assistant coaches: Amber Parkhurst, Scott Sims
Statisticians: Lenea Anderson and Madison Eberly