The Randall Lady Raiders went 4-0 to win the Texan Bobcat Showcase in Justin on Saturday. [Provided photo]
EIt was an impressive way to open Haleigh Burns coaching era at Randall during the first tournament weekend for high school volleyball teams. The new Lady Raiders head coach and her senior-led team went 4-0 at the Texan Bobcat Showcase in Justin.Senior Brianna Ford was named tournament MVP with a combined 47 kills and 41 digs.
Tascosa has strong showing at Nike Classic
The Tascosa Lady Rebels are off to solid start to the year after a nice showing at the 2019 Nike ASC/ LISD Varsity Classic in Carrolton. Tascosa placed fifth with a 4-1 mark, improving to 6-1 overall.
Senior outside hitter Taryn Galt was named to the All-Tournament team by totaling 58 kills, 12 blocks and seven digs.
Tascosa visits rival Amarillo High at 7 p.m. on Tuesday.
AHS struggles at Marauder showcase
It was a rough opening weekend for new head coach Mike Moffitt and his Amarillo High Lady Sandies In Flower Mound. AHS (1-4 overall) went  0-4 against the likes of Flower Mound-Marcus, Grapevine, Labanon Trail and Lewisville Hebron.
Junior Ashlyn Vinyard was selected to the All-Tournament team with 49 kills, six aces, and 18 digs.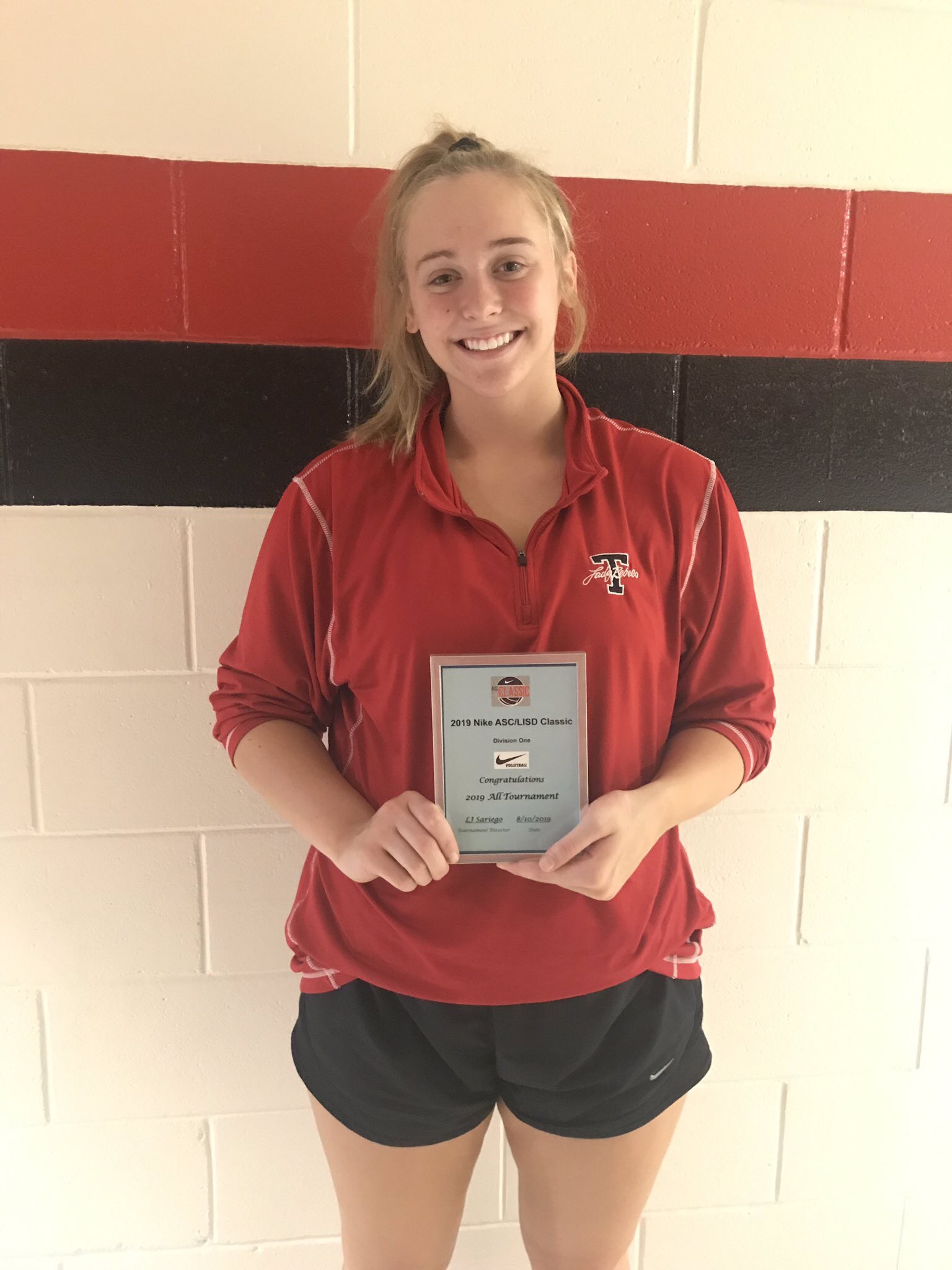 Tascosa's Taryn Galt had a big tournament at the Nike Classic in Carrolton. Galt earned All-Tournament honors for her steady play. [Provided photo]
Mansfield Tournament recap
Canyon, Dumas and Hereford all competed in the Mansfield Tournament.
Canyon ended the tournament with a 5-4 record, and are now 6-5 overall.
Senior Zoey Sparks had a solid weekend by racking up 53 kills in nine games. The Lady Eagles host CISD rival Randall at 7 p.m. on Tuesday.
Dumas (4-6 overall) went 3-5 overall for the weekend. Senior Sydnee Wackler finished with a combined 113 assists and 74 digs.
Hereford was also 3-5 in the tourney, and are 4-5 overall on the young season.
Bushland earns third in Abilene
It was a successful opening tournament debut for new head coach Jason Culpepper and his Lady Falcons.
Bushland (9-1 overall) went 7-1 and beat Lake Dallas to win third place. Berrilyn Boyston was named Libero of the tournament while Ansley Sims garnered Setter of the Tournament with a combined 160 assists.
Shallowater Tournament recap
Plenty of Amarillo area teams were involved at the Shallowater Tournament.
Highland Park placed fourth with a 4-3 mark. Sanford-Fritch went 4-2 and River Road was  3-4.
Emma Patterson had 42 digs and 3 aces for the Lady Hornets.
Lady Eagles middle blocker Zoe Fry combined for 78 kills and 19 blocks.
Isabel Carrillo led the Lady Wildcats with 12 kills.