[Graphics by Brent Seals. Photos by Ben Jenkins, Trevor Fleeman and Tom Carver.]
The Texas High School Volleyball season came to a close, and it was another fantastic year for the Texas Panhandle.
Here's a look at the 2020 Press Pass Sports Volleyball team.
Coach of Year: Jason Culpepper, Bushland
When Jason Culpepper took over at Bushland two years ago he knew he wasn't having to reinvent the wheel.
Culpepper knew the proud tradition the Lady Falcons program carried, but knew he could add his own wrinkle to things.
The word wrinkle maybe an understatement after seeing what the veteran coach has done in two short years. Culpepper is on an incredible run with the Lady Falcons, going 78-4 combined in two years, making two state tournament appearances, including a 32-2 record in 2020, leading Bushland to a UIL Class 3A state title this season which was Bushland's fifth state championship in program history.
"Our seniors were fantastic this year," said Culpepper, who won his second state championship as a head coach, and his first since 2009 at Randall. "They were driven to get better each game and win. Having to overcome what they did this season with everything going on, they were amazing."
The hard-nosed coach always expects his players to hold themselves at another level. That's the method to Culpepper's madness over his 19 incredible season. He demands discipline, and fundamentals. That's a huge catalyst to why Culpepper has put together an immaculate 669-164 overall record since 2001.
Randall graduate Aubree (Piper) Coleman, who played for Culpepper, was on the 2009 Randall state title team couldn't thank him enough for his coaching style.
"I always remember playing for him and looking at the growth and mind set," said Coleman, who is now an assistant volleyball coach at Amarillo High. "He is always looking at what worked, and if he could take on bigger challenges, and implement new things."
Lubbock-Cooper volleyball coach Karli Morrison, a former player for Culpepper at Dalhart, is still close with her mentor today. Morrison says it's Culpepper's competitiveness that has made him so successful.
"He's one of the most competitive people I know," Morrison said. "He's never been scared to hurt your feelings, and he'll tell you the honest truth. But at the same time he knows the game so well, and has so much knowledge that you want to learn from him."
Player of Year: Kinley Rudder, Bushland, Sr. OH
Bushland's Kinley Rudder nabs the second Press Pass Sports Volleyball Player of the Year honor after a powerful, dominating season from start to finish.
Rudder was the leader, and huge reason the Lady Falcons 32-2 overall, and brought home Bushland's fifth state championship in program history.
"She's one of the best players I've ever coached," Bushland coach Jason Culpepper said. "What makes her unique is being left-handed. Lefty's bring a different speed, a different spin she also can find a different gear when she wants. Her last three games were the best she ever played. She just played so hard and left it all on the floor."
Rudder's accomplishments speak for themselves. The hard-hitting senior ended her season with 439 kills, with a hitting percentage of .330. Rudder also added 178 digs, 52 aces, and 35 blocks.
"I couldn't have asked for a better season," Rudder said. "We have a great team, and I get to spend so much time with my best friends. But I knew this was my last year hear at Bushland, so I was leaving it all on the floor no matter what."
The West Texas A&M commit was the unanimous District 1-3A MVP this season, as well as the UIL Class 3A state tournament MVP. But being a part of a state championship was what mattered most.
"I couldn't ask for a better ending to my high school career," Rudder said. "Just getting to be with my teammates all the time, and we won a state championship. It was incredible."
Newcomer of the Year: Logan Culpepper, Bushland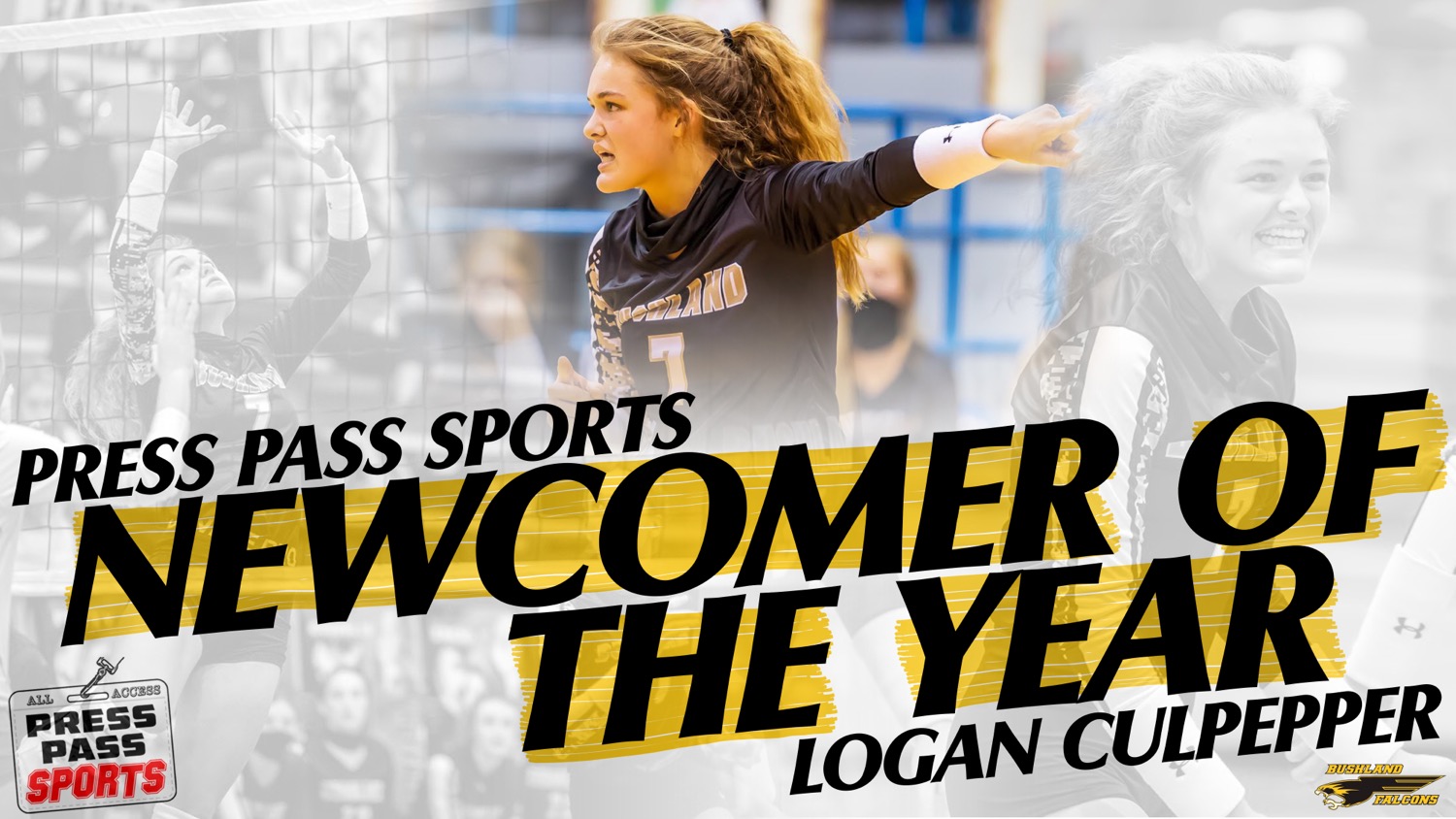 The daughter of Jason Culpepper soaked up every bit of her first year of varsity volleyball. Culpepper shows great volleyball IQ, and made a fantastic compliment to senior setter Taryn Shults. The sophomore not only set Kinley Rudder for Bushland's championship point in a state title sweep of Goliad, she also dished out 413 assist on the season, 112 digs, with 51 aces.
First-team
Currie Marusak, Amarillo High, Jr. OH
The three-year varsity player came into her own by dominating opponents in 2020. The District 3-5A MVP led the Lady Sandies to a district title and a trip to the regional semifinals, hammering down 354 kills, making 167 digs to go with 34 blocks, and 22 aces.
Kiar Parker, Randall, 6-foot, Sr. OH
Parker took the reigns as the leader of a Randall team that advanced to the Class 5A regional semifinals. Parker, a District 3-5A first-team selection, totaled 193 kills with 68 digs, 36 blocks and 25 aces. Parker will play for Angelo State next fall.
Taytum Stow, Hereford, Jr. MB
Stow capitalized off a breakout sophomore year with an incredible junior campaign. The
6-foot-3 force was named the District 4-4A MVP helped lead the Lady Whitefaces to a Class 4A regional semifinal appearance racking up 451 kills with an incredible .469 hitting percentage, adding 212 blocks on the year. This is her second straight year on the All-Press Pass Sports first-team.
Raylee Bain, Canyon, Sr.
The senior standout wrapped up her senior season with 259 kills to go with 32 blocks. Bain, a first-team All-District 4-4A selection did all she could to get the Lady Eagles to the Class 4A regional finals for the first time in over a decade.
Rainey Aven, Hereford, Sr.
Aven wrapped up a stellar four-year varsity career, leading a Hereford to a 25-2 record and a run to the regional semifinals this season. Aven ended her terrific senior campaign with 867 assists, averaging 33 assists per game, adding 156 digs and 61 aces.
Jaycee Adams, Bushland, Jr.
Adams thrived under second-year coach Jason Culpepper, helping the Lady Falcons to a 32-2 mark and a UIL Class 3A state title. The District 1-3A Libero of the Year hit the floor for an incredible 504 digs, adding 39 aces.
Second-Team
Ashyln Vinyard, Amarillo High, 5-11, Sr. Opposite
The District 3-5A Offensive MVP became a captain for a Lady Sandies team that made a push to the regional semifinals. Vinyard, a West Texas A&M commit, knocked down a total of 219 kills, had 37 blocks, and made a total of 33 digs.
Hallie Conklin, Bushland, Sr. MB
The powerful senior was huge at the net, and a great compliment to teammate Kinley Rudder. Conklin was named the District 1-3A Offensive Player of the Year for her outstanding effort racking up 40 blocks, 320 kills and 34 aces.
Bebe Irwin, Tascosa, Jr. MB
The 2019 Press Pass Sports Newcomer of the Year was a first-team All-District 3-5A selection. Irwin made big strides from her sophomore to junior year hammering 226 kills, with a swing percentage of .376, adding 63 blocks and 10 aces.
Zoey Sparks, Canyon, Sr. MB
The 6-foot-1 dominating middle finished her senior year with 64 blocks and 201 kills. For her fantastic effort, Sparks was a first-team All-District selection for a Canyon team that made the Class 4A regional finals.
Tynna Mojica, Pampa, Sr. OH
Pampa made it three rounds deep into the Class 4A playoffs for a second straight year, and the veteran Mojica was a key cog for that reason. The first-team All-District selection made 298 kills with 50 blocks for a talented
Taryn Shultz, Bushland, Sr. S
Shultz wrapped up a stellar three-year varsity career as one of the backbones to a tradition-rich Bushland teams that won its fifth state title in program history. Shultz was District 1-3A Setter of the Year with 612 assists, 205 digs to go with 71 aces.
Miranda Acosta, Hereford, Jr. L
Acosta improved so much from her sophomore to junior season she was recognized as the District 4-4A Defensive Player of the Year. During the Lady Whitefaces run to the regional semifinals, Acosta did everything she could hitting the floor for 391 digs with 16 aces.
Honorable mention
(In team order from Class 5A-1A)
Maddie Kellogg, Amarillo High Sr. LBrielle Worley, Amarillo High, Jr. OH
Taylor Irving, Randall, Jr. L
Merritt Snell, Randall, Sr. S
Desiree Sotelo, Randall, Sr. OH
Abrey Galt, Tascosa, Jr. S
Liv Sims, Tascosa, Jr. OH
Ryne Roden, Canyon, Jr. S
Nickilah Whatley, Hereford, So. MB
Abree Elsheimer, Dumas, Jr. OH
Brenley Rodriguez, Dumas, Jr. MB
Celest Ostercamp, Pampa, Sr. L
Hallie Sieck, Pampa, Sr. S
Madyson Eberly, Bushland, So. MB
Kaela Neie, Bushland, So. OH
Kenzlee Carroll, Childress, Jr. L
Grace Foster, Childress, Sr. MB
Adah Henderson, Childress, So. MB
Bethany Berngen, Dalhart, Sr. MB
Rhiana Todd, Dalhart, Jr. MB
Nevaeh Rodriguez, Highland Park, Jr. OH
Shay Keel, Sanford-Fritch, Sr. OH
Bella Price, Sanford-Fritch, Jr. MB
Calli Griffin, West Texas High, Sr. OH
Emma Jimenez, West Texas High, Jr. L
Haley Hurst, Miama, Jr. S
Abby Skidmore, Miami, Jr. DS
Milana Evers, Wildorado, Sr. S
Jessica Merrell, Wildorado, Sr. OH