[Graphic by Brent Seals]
"Coach" Koetting
Chris Koetting knew he wanted to be a coach even before graduating high school at Panhandle High in the mid 1980s. "I just remembering watching our coaches at Panhandle and it seemed like they were having so much fun," Koetting said. "I can remember them in the locker room laughing. I've always loved sports and now being around all these coaches, it's almost like being brothers. Those coaches at Panhandle made me want to be a coach."
And Koetting certainly has coached. Koetting started his career as an assistant at Perryton in 1992 and since being named Canadian head coach in 2010 his Wildcats are 143-18, winning three Texas high school state football championships.
Koetting's coaching stops
Year School Title
1992-93 Perryton Assistant
1994-2001 Lockhart Assistant
2002 Hereford Assistant
2003-2009 Canadian Assistant
2010-current Canadian Head coach
Overall record: 143-8
Playoff record: 43-8
State championships: Three
A state championship?
Chris Koetting and his Canadian Wildcats football coaching staff, like many staffs across the state of Texas, entered the 2020 football season with a ton of questions.
Number one, obviously, would be playing during a world-wide pandemic.
But on the yearly checklist were the simple questions like: Where do we need to improve? Is this player going to be able to handle his new role? Will we find that team chemistry when mixed properly turns a good team into a great team?
"We definitely had some spots we were unsure of and had some little concerns like a quarterback that was coming off a year out with an injury, some of our d-line, linebackers and wide receivers," said Koetting entering his 11th season as the Canadian head coach and 18th overall with the Wildcats. "But really, as a staff, we felt like we could win a state championship with the people we had. We had some really talented players."
Win a state championship is exactly what the 2020 Canadian Wildcats did claiming a 35-34 wild ride of a Texas Class 3A Division II state championship game over Franklin.
Canadian senior quarterback Josh Culwell not only recovered from the season-ending injury of a year ago, he added the icing to an all-state type season by connecting with Wildcat receiver Reagan Cochran on a 52-yard touchdown pass with 34 seconds remaining against Franklin for the dramatic winning score in Arlington's AT&T Stadium.
For guiding the Wildcats to the 2020 Texas Class 3A DII state championship, Koetting is the 2020 Press Pass Sports Football Coach of the Year.
In 11 years as the Canadian head coach Koetting has compiled an unreal record of 143-18 – that's averaging 13 wins a season – with this year being his third state championship.
Canadian rolled to a 15-1 record, exorcised the demon that is Gunter 33-6 in the state semifinals, and many a night during the non-district and district seasons had the starters on the bench by halftime winning by scores like 81-6, 78-0, 73-14, 70-0 and 63-13.
"With this group we really didn't hardly have a bad practice all year," Koetting said. "What a pleasure that was for our staff. When you are practicing well each day, you are getting better. And I think we did. We just kept getting better. And I'll be honest, it surprised me a little how good this group got and one reason was their practice habits.
"Like I said, I did always think we had a chance to win it all. But at mid-season I was thinking we are really playing at a high level week-in and week-out no matter who we are playing."
The one hiccup on the Canadian record was a 28-21 loss to Iowa Park early in the season. The Wildcats had the game in hand midway through the third quarter pitching a shutout, but in the September heat Canadian simply wore out with fatigue and Class 4A Iowa Park pulled off the fourth-quarter comeback win.
Pout? Grumble about what ifs? Call Iowa Park lucky? None of that for Koetting.
The loss was a lesson learned, a lesson that would pay off in beating Franklin in that intense championship slugfest.
"It was early in the year and was really hot out, like 95 degrees," Koetting said. "We came out hot and gassed them but in the same process we gassed ourselves. In about the fourth quarter we were out of gas. We couldn't stop them and we couldn't get a first down. This helped us throughout the year. Because we realized we needed to rotate more guys in and play more people to be able to play in a game like that. And it developed a lot of our guys into better players."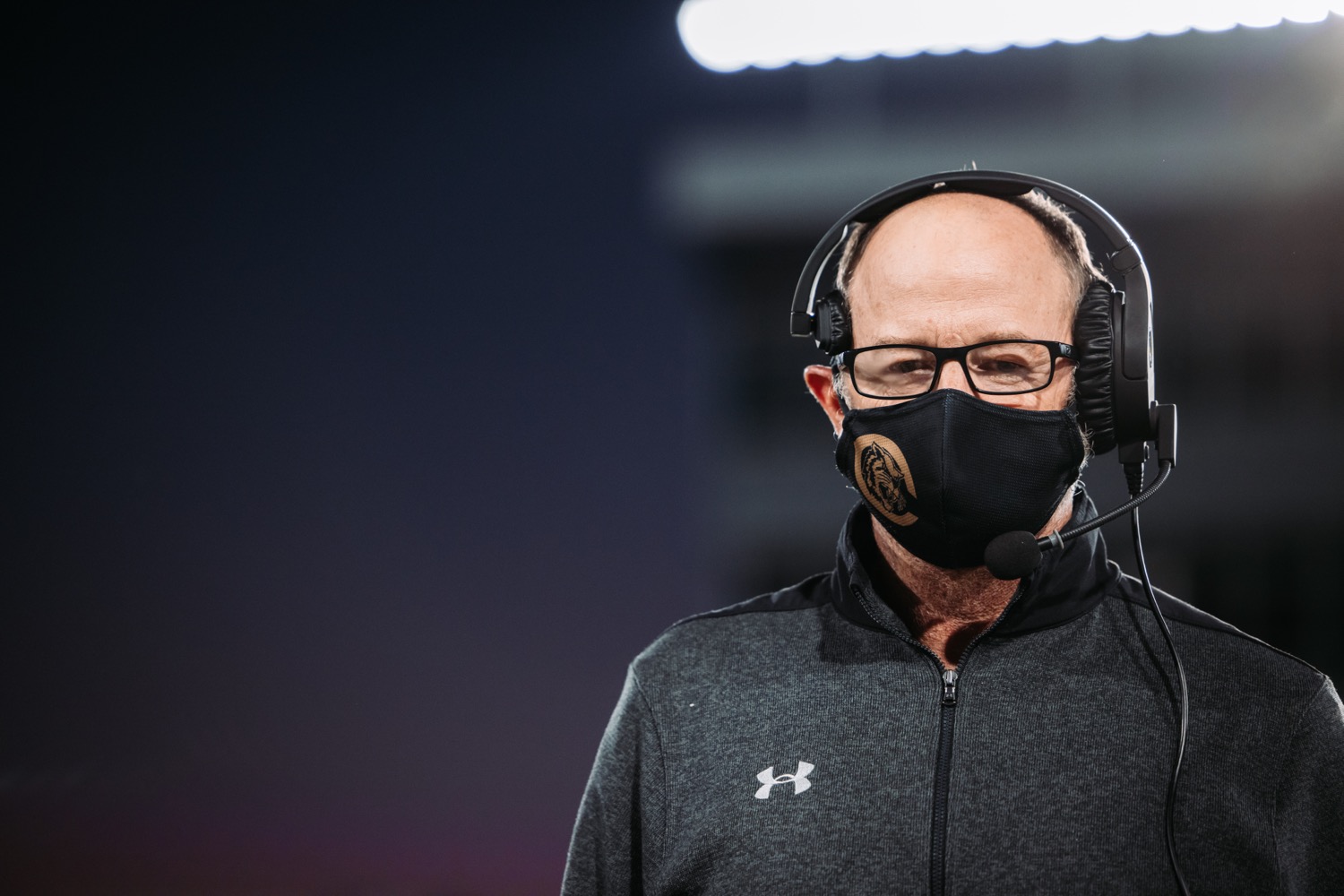 Canadian coach Chris Koetting has a remarkable 43-8 playoff record. [Trevor Fleeman/ Press Pass Sports]
Still, even though Canadian was on friggin' fire riding a 12-game win streak – the closest of those 12 wins a 33-point victory over Bushland – into the state semifinals against Gunter, these 'Cats still had something to prove.
Defending state champion Gunter had literally stopped Canadian an inch short of victory on the final play of the 2019 state semifinals slipping away with a 27-20 victory.
This year would mark the fifth-straight season a Canadian-Gunter state semifinal matchup would be held, no doubt a rivalry formed and Gunter holding a 3-1 edge in the previous four games.
Canadian rolled Gunter that day in Abilene 33-6, dominating in all phases of the game, leaping a hurdle and the catalyst for the 2020 state title.
"The way the Gunter game ended the year before I think our players really wanted a chance to get back and beat Gunter," Koetting said. "That was a huge deal for them to go win that game after what had happened. When we got that done we all felt good."
And it all ended good for the Wildcats, even though it took surviving an epic fourth quarter against Franklin that saw 34 points scored, two ties, and two lead changes in the final 72 seconds.
Franklin took its last lead 34-28 with 72 seconds to play on a 37-yard halfback pass play.
Canadian didn't flinch.
"The thing I'll remember most about the season is that last touchdown we made against Franklin," Koetting said. "It didn't look good for us at times there. I felt like though there was so much calm at the end of the game. None of the coaches were going crazy, none of the kids were going crazy, they just stayed calm. The style of offense we play we can score fast."
Hayden Merket has been an assistant at Canadian for 19 years. Merket is respected across the state for his knowledge, his composure in the heat of the moment, and simply being one heck of a football coach.
Merket said Koetting obviously knows his Xs and Os, but his ability to maintain respect for his opponents, build a culture where players can achieve excellence, put all ego aside allowing his assistants to do their thing, elevates his coaching skills to a special level.
"Of course, this year was like no other," Merket said. "But what I think you could say about Chris, and what makes him the coach that he is, he never lowers his expectations regardless of the circumstances, no matter who or who isn't available on a weekly basis.
"He never takes an opponent lightly and always has the big picture in mind. He also allows his coaches to coach and trusts who he has working for him. That's who he is all the time. A pleasure to work for and a great friend of mine."
Koetting said having to coach Covid style will always make the 2020 season unique. But 2020 will always hold a prime position in his heart.
"Each one of those state championship wins is special in it's own right," Koetting said. "Man, it's hard to win one. It takes a lot of hard work. It takes kids being unselfish and coaches doing a great job. Our kids were so unselfish and worked so hard. And then I can't say enough about our coaching staff. They are really good at knowing football, but they are just as good at being role models and mentor to this kids and that's a big part of our winning this year. A big part."