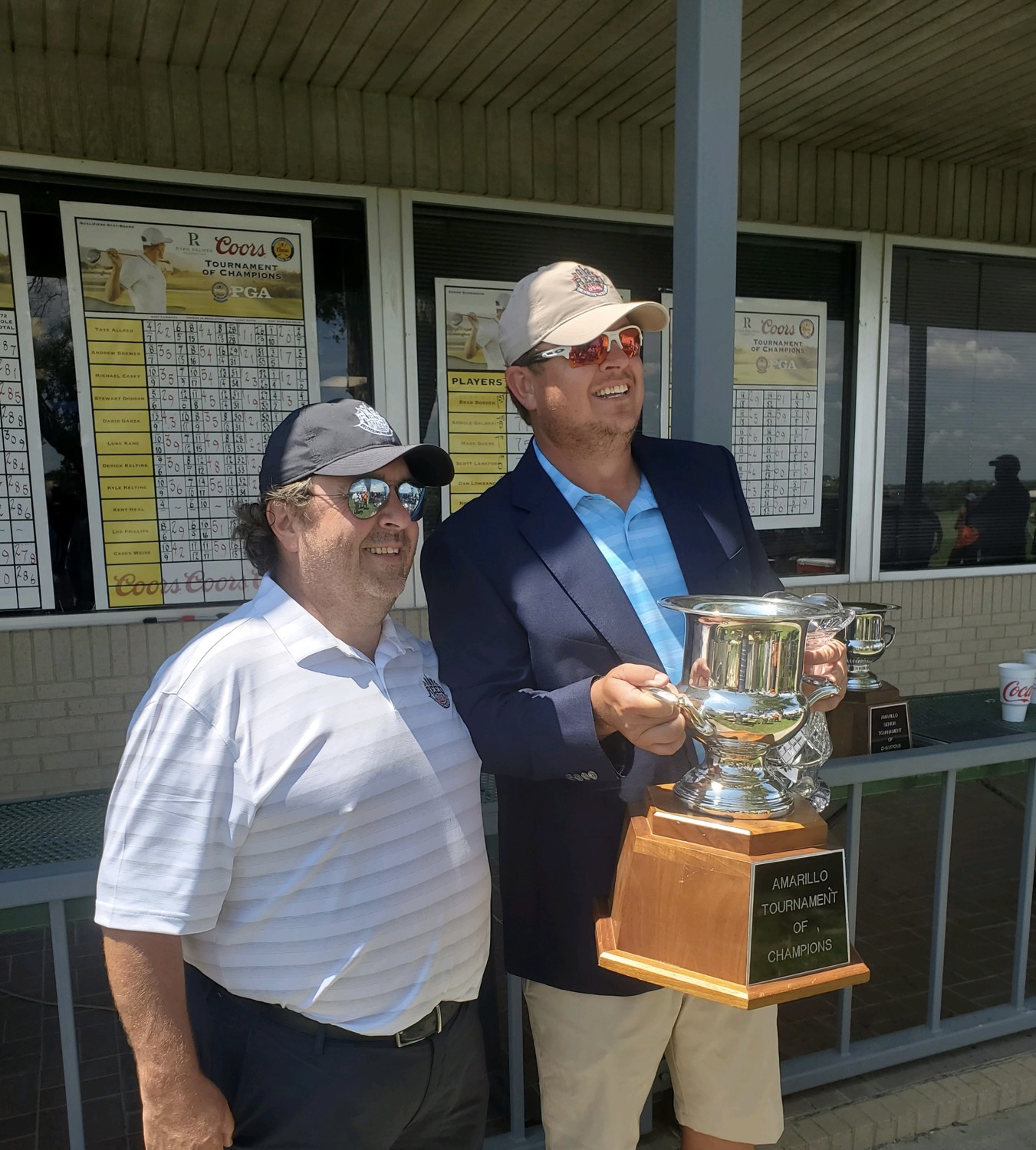 Les Phillips, right, poses Coors Reed Beverages CEO, Chris Reed, after winning the 27th annual Coors Tournament of Champions on Sunday. [Phil Woodall/ Press Pass Sports]
By Phil Woodall
Borger native Les Phillips led wire-to-wire and was the only golfer to post four sub-par rounds en route to victory in the 27th Annual Coors Tournament of Champions that concluded Sunday afternoon.
He fired a 4-under par 69 in his final round Sunday at the Ross Rogers Mustang Course to defeat defending 2019 TOC Champion Andrew Brewer by three shots.
Phillips led Brewer by four after three rounds at 5-under par and increased the lead to six after his 10-foot eagle putt at the par five second hole, while Brewer three-putted for a par. After the front nine the lead was five and ballooned to six after a Brewer bogey at 12. However, the 23-year old Canyon High graduate caught fire with three consecutive birdies on holes 15-17.
But the veteran 43-year old Borger High grad and former University of North Texas golfer parred out to capture the first TOC championship for a Borger player.
"After playing in this one time, you definitely want to play again, and to win it is amazing," Phillips said."
The key for Phillips was shooting 1-under 70 on the opening round at Amarillo Country Club. Two years ago he shot 82, but was 7-under over the next three rounds to finish ninth in a 12-man field.
On Sunday Phillips had the eagle, two birdies, and just one bogey and for the other three rounds he recorded 14 birdies and nine bogeys.
"My putter was amazing all week," Phillips said. "And I had zero mistakes off the tee box this week."
The other contenders had various problems that led to bogeys, double bogeys and triple bogeys, but Phillips' play was very steady with a 1-under 70 at Tascosa Golf Club Tascosa Course and 3-under 69 at Comanche Trail Arrowhead.
Was this victory as satisfying as the final round 64 in 1995 at the prestigious Texas-Oklahoma Junior Golf Tournament in Wichita Falls?
"It's hard when you peak at 17," Phillips said. "I'd say it is pretty much the same, and there were more people here. There are so many good players here and each with a special talent."
Phillips' victory automatically puts him in the 2022 Coors TOC.
In the ninth edition of the Coors TOC Senior Division former West Texas A&M men's golf coach Brad Borden successfully defended his 2019 championship with a one-shot victory over Mickey Wilson.
Borden had a one-shot lead after a 5-under 67 Saturday at Comanche Trail Arrowhead and Wilson's 68. Sunday at Mustang. Borden led by three after six holes on an eagle at No. 5 and a Wilson bogey at No. 6.
At the turn the lead was back to one, but at the 12th hole, Borden birdied and Wilson bogeyed.
The lead was to back to three, and on the par 5 16th hole a Wilson birdie and a Borden par tied it up at six-under. On No. 17 both players missed birdie putts. On No. 18 Wilson's third shot approach went over the green into the thick rough, and Borden was on the green from 18-feet. Wilson chipped past the hole by 12-feet and missed the par putt. All Borden had to do was get down in two putts, and he did to become the third two-time winner, along with Kyle Kelting and Daniel Higgins. He is also the second back-to-back champion since Kelting in 2014-2015.
"Mickey is a really good player and had some bad breaks," Borden said. "I didn't have my 'A' game today, but I got it around and I am so fortunate to win."
The 53-year old will have a chance to three-peat next year in the 2022 Coors Senior TOC.