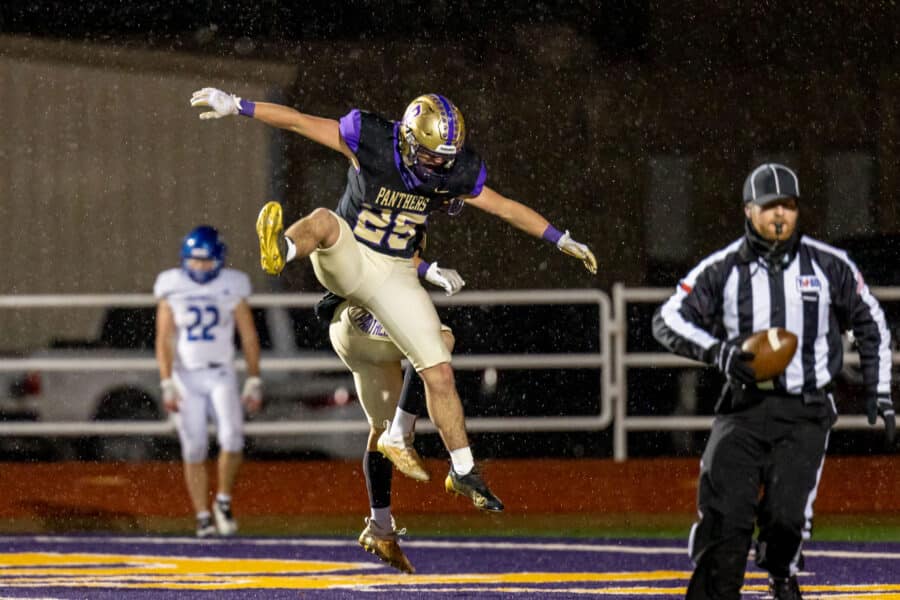 PANHANDLE – With the No. 2 playoff seed from District 1-2A Division I at stake Friday night, it was no surprise that Panhandle and Farwell came out swinging, with both teams landing plenty of roundhouses early.
As things wore on, though, Panhandle proved to have a stronger chin and the ability to land blows from both sides.
After a first half in which both offenses operated in high gear, Panhandle was able to stymie Farwell on back-to-back possessions to open the second half. Not only that, but the Panthers scored touchdowns after both stops, which proved to be the impetus for a 47-25 victory.
That gave Panhandle (8-2, 4-1 in district) the second seed in the playoffs beginning next week. The Panthers will face a District 2-2A Division I opponent next Friday at 7:30 p.m. at Happy State Bank Stadium.
In the end, the win reflected the approach the Panthers have taken during a tough schedule both in and out of district.
"We've tried to treat any game different than any other game," Panhandle coach Dane Ashley said. "Our motto this year has been 'It's all about us' so we focus on what we do regardless of our opponent. I think we've done a nice job the last few weeks of throwing and catching the football and that keeps people on their heels as far as the tempo we play with."
There was plenty for offensive afficionados to like about this game, which produced 953 yards of total offense. Both Panhandle and Farwell (8-2, 3-2) had two runners apiece go over 100 yards, and in both cases the running back led the way followed by the quarterback.
The difference was, Panhandle senior quarterback Landyn Hack made the biggest impact on the field as he's done so often in his four years as a Panther. It's appropriate that in his final home game on his 18th birthday no less that Hack had a signature performance.
In the first half Hack was on target, completing 10-of-14 passes for 237 yards and a pair of long scores to fellow senior Cooper Neil. Hack also ran for 127 yards and two touchdowns on 19 carries.
"I feel like (Farwell) anticipated us to run the ball on the outside but one of our biggest advantages is speed," Hack said. "You've got to get the ball out on the edges and sling it around. I love it. It was 50-50 and gives my legs a little break sometimes."
In the second half, the Panthers went more to their running game, taking advantage of a short field to take a two score lead after leading 20-19 at the half.
However, shortly after recovering a fumble deep in Farwell territory, the Panthers did go back to the air. Hack hit Neil with a perfectly thrown 29-yard scoring pass to make it 27-19.
That capped a big night for Neil, who had four catches for 193 yards and three touchdowns.
"Going into the game we knew they were going to come down on our slot receivers so their safety would have to cover me over the top," Neil said. "Honestly I just outran 'em. I was just open the whole time. That honestly felt amazing."
The following possession, Panhandle took over at the Farwell 34-yard line after a Farwell punt (the first by either team) went only nine yards. Two plays later, Wyatt Brookshire dashed in from 27 yards out to make it 34-19.
It was the first of two touchdowns in the second half for Brookshire, who ran for 152 yards on 21 carries.
Farwell answered back on the next possession on a 53-yard scoring run by Corey Stancell to cut it to 34-25. But that was the last score for the Steers.
"Things just snowballed and we've got to get where we can handle a little adversity and that's something we're not good at yet," Farwell coach Darren Kelley said. "(The Panthers) have scored big plays all year. We've just got to do a better job of going downhill and wrapping up."
Quarterback Alec Actkinson and Stancell carried Farwell on the ground. Stancell ran for 205 yards and three touchdowns on 20 carries and Actkinson ran for 136 yards on 22 carries. He started the scoring with a 16-yard run for a 7-0 lead.
Only 39 seconds later, though, Panhandle answered with a 75-yard touchdown bomb from Hack to Neil to cut it to 7-6. Farwell took a 13-6 lead with 16 seconds left in the quarter on the first of two 2-yard scoring runs by Stancell.
Two plays after the ensuing kickoff following Stancell's second touchdown, Hack hit Neil with a quick out and Neil did the rest, taking it 56 yards for a touchdown. Hack kicked the extra point to give the Panthers a 20-19 lead.