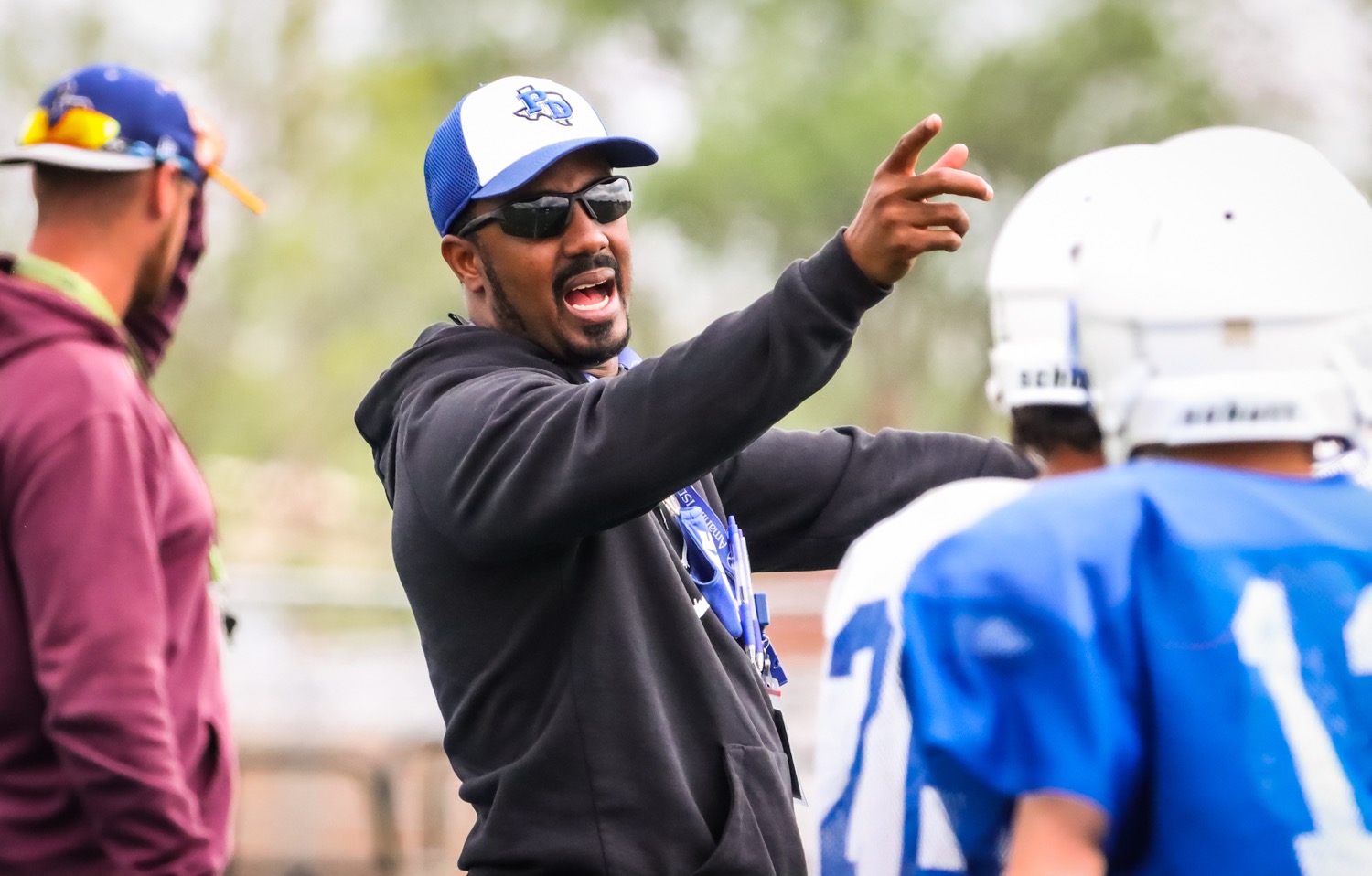 Palo Duro first-year head coach Eric Mims calls out directions during spring workouts last week. [Ben Jenkins/ Press Pass Sports]Editor's note: Press Pass Sports will breakdown the three Amarillo ISD school's participating in spring football.
May 3: Tascosa's spring report
May 10: Amarillo High's spring report
May 17: Palo Duro's spring report
2020 resume
Head coach: Eric Mims, first year at Palo Duro; first year overall.
Record: 2-7, 2-4 in District 2-5A Division I.
Returners
Offense: 6
Defense: 5
Spring game: 6 p.m. Tonight, Dick Bivins Stadium.
Micah Wesley is expected to see a more significant role on defense for the Dons this fall. [Ben Jenkins/ Press Pass Sports]
Breakdown
The Dons are starting over with another alum at head coach, as Eric Mims takes over from Chris Fisher. Mims, in his first head coaching job, inherits a challenge, as Palo Duro enters this season with a six-year playoff drought. There are good numbers to work with to at least start building a foundation, as the projected leaders on both sides of the ball are juniors. What everybody has had to do is learn to adapt to a new system, which Mims brings with him after being the offensive coordinator in Duncanville's perennially powerful program. That might mean several players moving to new positions or even the other side of the ball to get all the best athletes on the field. The biggest move is probably moving receiver Avery Randle permanently to quarterback to exploit his playmaking ability.
Head coach Eric Mims: "We started our season Feb. 1 when I got here and we put in tons of hours in the weightroom. Our plan was to get bigger and get stronger. That's an important part of football, but you can be a stronger team and a faster team and still not be very good in football, so we have to get out on the grass and develop skills football specific, learn schemes and how to work together as a team and a unit. It's been a productive spring for us."
Junior linebacker Kameron Brown is a talented prospect to keep an eye on for the Dons in 2021. [Ben Jenkins/ Press Pass Sports]
Players to watch
Avery Randle, 5-10, 170, QB, Jr.
Randle has shown promise as a dual-threat quarterback, which should be a plus in PD's new offense. Mims is hoping he can set the tone behind center and help the Dons learn new habits over the next two years. If Randle can take advantage of space and get the ball to other players who can do the same, the transition should be fairly smooth. Mims considers Randle one of the best athletes in town
Kameron Brown, 6-0, 170, LB, Jr.
Brown was one of the leading playmakers on defense last season as a freshman. This spring he has shown that ability consistently and will anchor the middle of PD's defense. Yet, his overall athletic ability will also get him some reps on offense, probably at running back, but he figures to be on the field almost every play on defense, where he's most needed.
Micah Wesley, 5-10, 150, LB, Sr.
Wesley brings the most experience to the Dons defensively and pairs nicely with Brown on the outside in a hybrid linebacker-safety position. His relative lack of size didn't keep him from making plays against the run or the pass, and he'll be one of PD's most active players on that side of the ball.
Palo Duro wide receiver King Tallant is an up and comer to watch in the fall for the Dons. [Ben Jenkins/ Press Pass Sports]
Rising stars
King Tallant, 6-1, 175, WR, So.
There can't be a player in Amarillo with a better name, and by virtue of it, more to live up to than Tallant. The most promising newcomer last season for the Dons on offense, Tallant showed the ability to make plays as a freshman and could give opposing secondaries fits for the next three seasons.
Rylee Brown, 6-5, 240, OL, Sr.
Brown brings some much-needed size up front for the Dons offensively at tackle, and Mims says he's emerged as a leader in the spring and should bring a physical element up front which enables them to run their schemes and provides protection for Randle.
Parrion Ware, 6-0, 250, DT, Jr.
On the other side of the line, Ware should be the leader for the Dons inside at tackle who will control the line of scrimmage and allow Brown and Wesley to make some plays while also showing the ability to put pressure on the quarterback.
2021 schedule