Shallowater's Bree Brattain (23) attempts to block Canadian's Mattie Boyd's shot during a Class 3A regional quarterfinal contest at the Caprock Activity Center on Saturday. [Tom Carver/ Press Pass Sports]
Canadian gave Shallowater everything they wanted and then some, but in the end the Fillies are the No. 1-ranked team in Class 3A for a reason.
Defending state champion Shallowater took the Lady Cats best shot in Saturday's regional quarterfinal, but were able to distance themselves for a 55-47 victory in front of an electric crowd at the Caprock Activity Center.
Shallowater remains undefeated at 26-0 on the year, and pushes its eye-opening win streak to 35 straight games dating back to last season.
Canadian, the District 1-3A champions, saw a fantastic year come to a sad halt at 24-4.
"There's a reason they are the defending state champions," Canadian coach Aaron Marks said. "This region is unbelievably good. This was two great programs meeting, and it's sad someone had to go home in the third round."
The Fillies struck early going on a 9-0 run to build a 15-8 second quarter lead. Canadian never found itself intimidated, answering Shallowater with a 16-4 run over the final four minutes of the quarter highlighted by a Tinley Pennington 3-point play off a layup and a foul with under a minute to go to help Canadian lead 22-19 at the break.
However, the second half is where the Fillies started their strength behind guard and last years state tourney MVP, Bree Brattain.
Shallowater opened the lead up, 39-31 after three quarters. In the final frame, Brattain showed why she's the best player in all of 3A.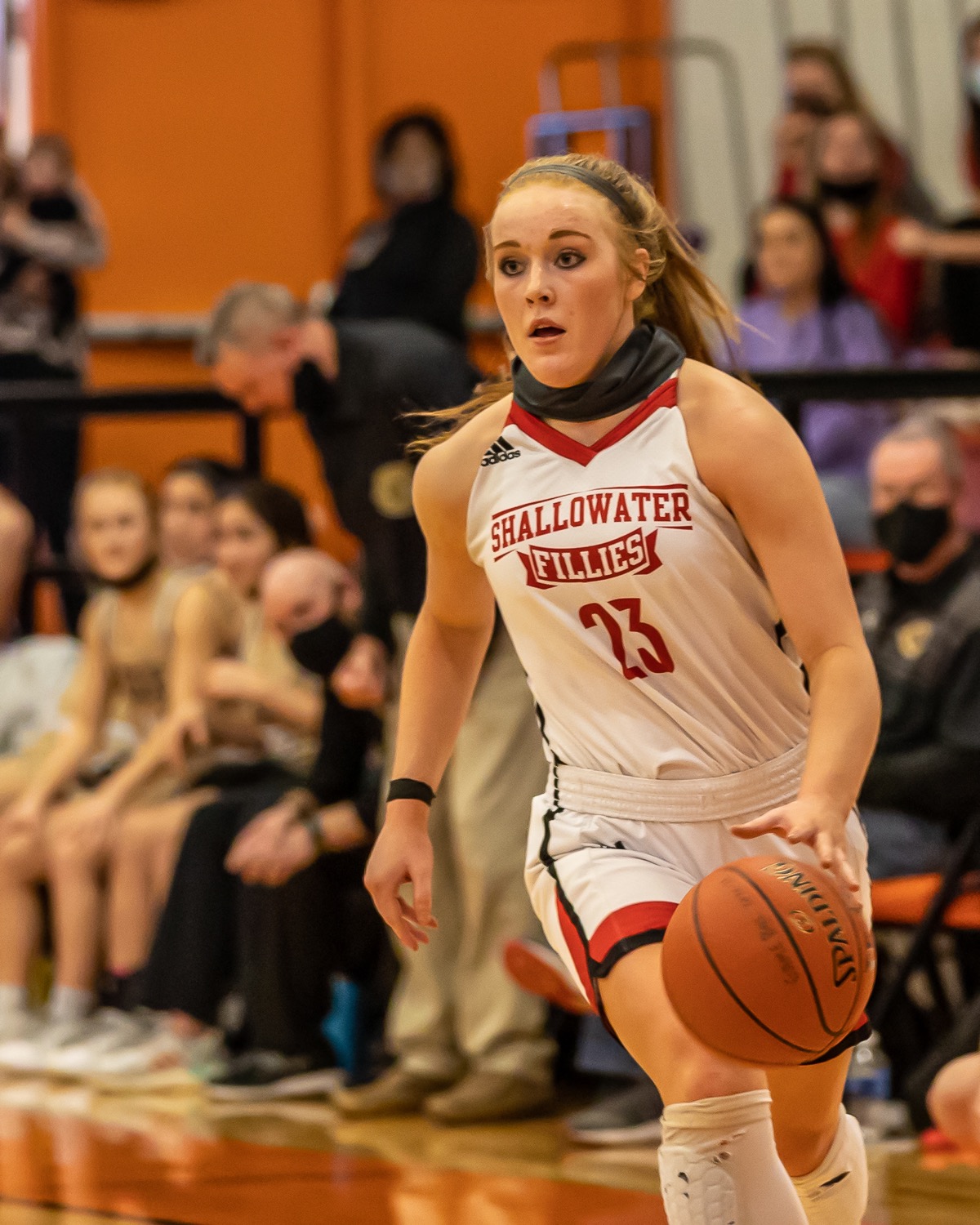 Shallowater's Bree Brattain scored 14 of her game-high 25 points in the fourth quarter against Canadian. [Tom Carver/ Press Pass Sports]
After being held in check to only two points at half, Brattain, a junior, went off for 14 of her game-high 25 points in the final eight minutes.
"We just had to turn it on," Brattian said. "We knew we had to give it everything we had. Canadian was a really good team, and I feel our energy went up in the fourth. We played with a complete team effort."
Marks echoed Brattain's comment.
"We had them down four and they didn't even blink," Marks said. "They rebound relentless, they are too good to be giving up second chances. We had too many mistakes against a team of their quality."
Tynli Harris chipped in nine points for Shallowater. Junior post Mattie Boyd led Canadian with 17 points.
The Fillies will now advance to the regional semifinal to await the Jim Ned-Bowie winner.
Canadian 8 14 31 47
Shallowater 8 19 39 55
C— Mattie Boyd 17, Jasmyn Moreno 8. S— Bree Brattain 25, Tynli Harris 9. Records: Canadian 24-4; Shallowater 26-0.
Tascosa advances past El Paso Chapin
A four-day wait didn't frustrate the Tascosa Lady Rebels as they downed El Paso Chapin 65-49 in a Class 5A area round game in Odessa.
This contest was originally scheduled for Tuesday but due to the cold temperatures, and snow this past week, the game was pushed to Saturday.
The Lady Rebels led throughout, pulling away in the second half by outscoring Chapin 38-28 in the second half. Freshman Avery Carter was ignited Tascosa scoring a game-high 19 points. Teammate D'Kiera Johnson followed with
18, as Jessalyn Gonzales poured in 11.
Tascosa improves to 14-12 overall and will now meet Plainview 18-8 in the regional quarterfinals at 6:30 p.m. Tuesday at the Canyon Middle School. The Lady Rebels and Lady Bulldogs split in two meetings during the District 3-5A season.
Tascosa 13 27 40 65
EP Chapin 11 21 29 49
T— Avery Carter 19, D'Kiera Johnson 18, Jessalyn Gonzales 11. EPC— Celaya 11, Moreno 10. Records: Tascosa 15-12; EP Chapin 16-3.