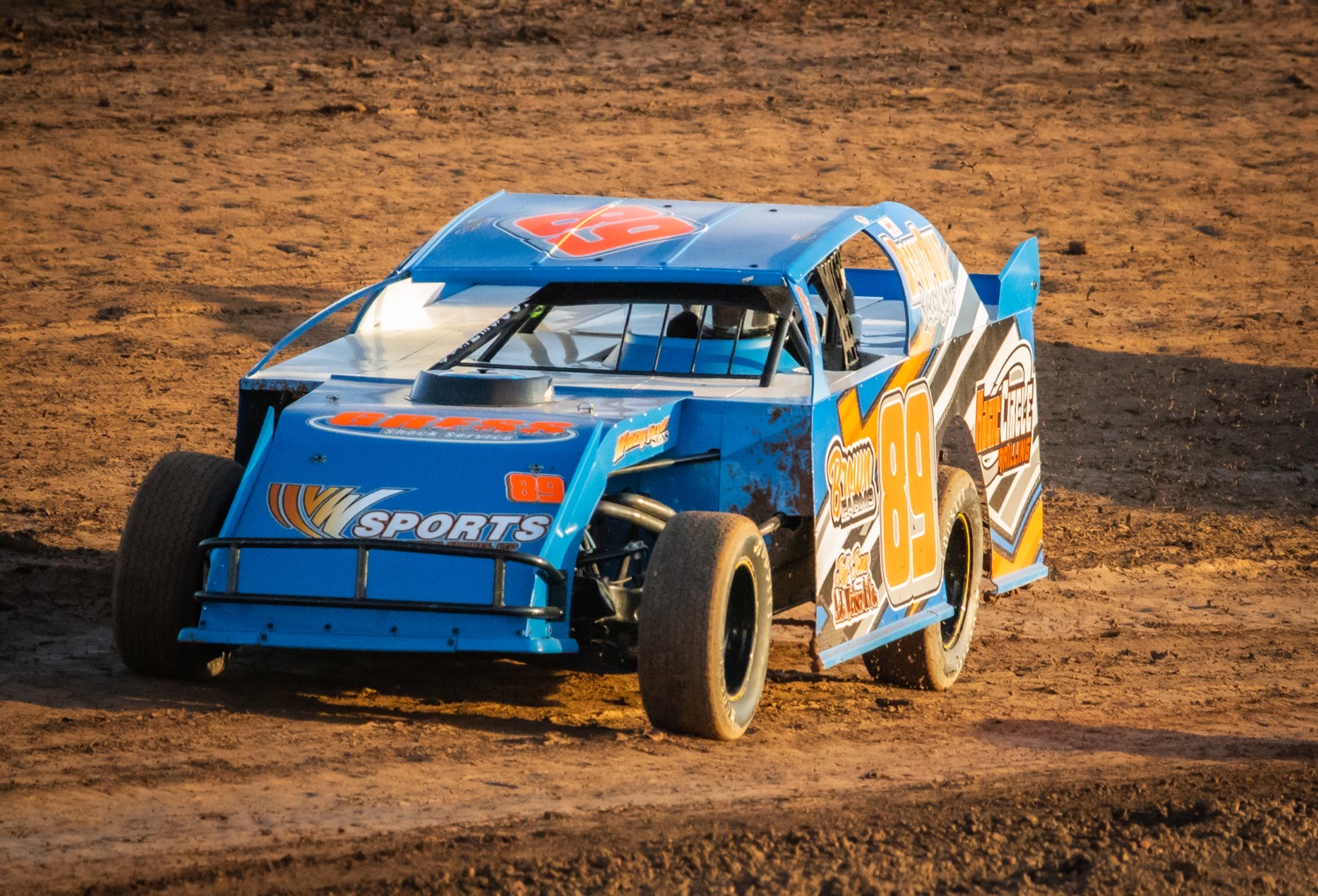 Amarillo's Koty Kowalewski heads toward a win in his heat in the limited modified class during the opening night of the season at Route 66 Speedway on Saturday evening. [Ben Jenkins/ Press Pass Sports]
By Lee Passmore
After a 2020 season shortened by Covid-19, a full season of racing opened Saturday night at Route 66 Speedway featuring a new class in front of a nearly full house.
A crowd of well over 1,500 was on hand as the area's first night of racing this year on the United States Racing Association circuit got underway. Despite a stiff wind which blew in as night fell on the track, the fans gathered for the heats and main events across six classes showed they were eager to witness the start of a full season by sticking around for most of the evening.
If the opening night results were any indication, this promises to be an exciting season at Route 66. Of the winners in the first competition of the season in the five established classes, none of them were track champions from last season, which could make this a wide open competition in each class in the Saturday evenings to come this spring and summer.
While competition at Route 66 naturally has a local focus, only half of the six winners on opening night were from Amarillo. Brock Hall prevailed in the limited modifieds, Trey Hale won in limited late models and Robert Layton took the street stock class.
Jake Bubak of Arvada, Colo. won the winged sprints and Monte Bolton of Wilson won the modifieds.
The new class added this season is the tuner class, featuring drivers who are new to the sport. It contained what might have been the most exciting finish of opening night, as David Thompson of Mesquite edged Bondy Cannon of Mineral Wells by half a car-length for the checkered flag.
Racing will continue next weekend at Route 66 and will run every Saturday night with the exception of two weekends through Championship Night on Aug. 28.