UTPB quarterback Kameron Mathis, right and his brother Kory, celebrate a Falcons win. Kameron ended his four-year career at UTPB on Saturday. [Provided photo]
Kameron Mathis ended his collegiate career on the best of notes by making the most in his final start at the University of Texas Permian Basin.
Mathis led the Falcons to a 70-14 blowout of Texas A&M-Kingsville Saturday, helping UTPB to its first four-win season since the program started football in 2016.
Mathis, a Bushland graduate, went 10 of 13 for 183 yards with three touchdown passes against the Javelinas. He also ran for 103 yards on 11 carries with another score.
Mathis helped start the Falcons football program under coach Justin Carrigan. He was the first starting quarterback in the school's history, and won the first two games for the program in 2016.
Throughout Mathis' four-year career he saw time in and out as the starting quarterback, however always stayed the course while exemplifying his role as a great teammate.
Through the good times or the tough ones, Mathis always had the respect of his coaches and teammates, earning a leadership and captain role this senior season.
Mathis ended his career playing a total of 36 games with 23 starts. Mathis threw for 4,807 yards with 38 touchdowns, and ran for 324 yards with eight TDs.
Mathis took to his social media account Sunday to express his love for UTPB, and what playing college football meant to him by saying, "It's been a ride".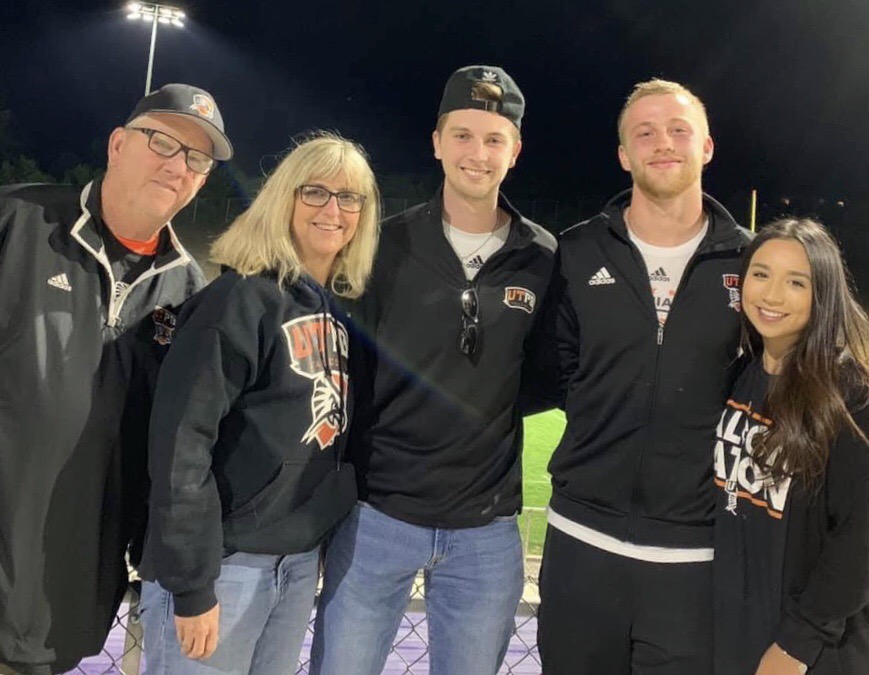 Kameron and his family pose for a photo. [provided photo]
‪"God has blessed me with so much in my time at UTPB, and I'm so grateful to have been a part of building this football program from the ground up. From being the first starting QB in school history, to being a "mentor" to the young guys that have come since, I have thoroughly enjoyed being a Falcon. It hasn't always been easy, but it has all been well worth it."
"The Permian Basin is such a special place, and it is filled with the greatest people you'll ever meet. I've had the time of my life the last four years repping the Orange and Black. I can't say thank you enough to all the family, friends, and fans who have given me endless support throughout this journey. It has been a rollercoaster ride, but I want to thank the ones who have believed in me every second of the way. As I think back on last night and the last four years all together, I can honestly say that everything I went through was well worth it. All the trials I experienced has made me into the man I am today, and I'm so proud to say that I finished the race without quitting. God is so great, and I'm so thankful to be a UTPB Falcon."
Mathis graduates with a Kinesiology degree from UTPB on Dec. 14.
Mathis, and his fiancé, Dee Gaona, are set to be married, Dec. 28.