Clarendon's Jmaury Davis, left, and Lamarcus Pengiar high-five during the Broncos Class 2A state championship game against Grapeland at the Alamodome in San Antonio on Saturday morning. [Matthew Smith/ For Press Pass Sports]
SAN ANTONIO— It was a storybook ending for a first-year coach and a team full of underclassmen.
In what's become a theme at the Alamodome during the state championships over the past few days, the Clarendon Broncos used an exciting finish to cap off its first Class 2A state championship in school history downing the Grapeland Sandies in a thrilling 64-60 victory Saturday morning.
The Broncos led for 26 minutes of the game but found themselves trailing 60-59 after a Cadarian Wiley and one with 47 seconds to play, but the Broncos caught a break.
After turning the ball back over to the Sandies with 40 seconds left, Grapeland guard Riley Murchinson dribbled the ball off his foot out of bounds giving Clarendon life. On the ensuing possession down the floor, guard Lamarcus Penigar drove to the basket and would go to the line for two shots after being fouled. Penigar missed the first attempt, but made the second knotting up the contest, 60-60 with 30 ticks left.
This is where the tide turned for Clarendon. Murchinson took the inbound off the free throw and dribbled up court, however, Penigar made a steal and dashed to the other end for a layup giving Clarendon a 62-60 lead with 10 seconds to go.
"I was so excited on the steal I almost jumped on the layup early," said Penigar, who had eight points despite sitting most of the second half with foul trouble. "I thought I was going to get chased down but It was exciting to make that shot and help my team."
Grapeland had one final chance. Following a timeout, Johnny Lamb drove down into the Clarendon lane but was called for a charge on Broncos post Jmaury Davis, giving the Broncos the ball back with 4.7 seconds to go. Clarendon then iced the historic victory on a full court pass from Cayden D'Costa to Donovan Thompson, who was left for an easy layin, extending the lead to 64-60, and giving the community of Clarendon its first ever title.
"I'm so excited for this team," Clarendon coach Boston Hudson said. "I love it for my assistant Alton Gaines. He's a huge part of what we do and he's a Clarendon staple. We battled our tails off, and here we are. We just won the school's first title in school history."
Hudson, a 25-year old Canadian graduate, is in his first season running the Broncos program after leaving Wheeler last season. Hudson knew the expectation and challenges it'd take to get the Broncos to this point but welcomed it with open arms. But his favorite memory from this appearance was getting to share it with his parents, Johnny and Nita, who were both in attendance on the front row behind the Clarendon bench.
"This means everything to me," Hudson said. "It was awesome to have my family here, and mom and dad behind me. They encourage me so much, and always are there for support."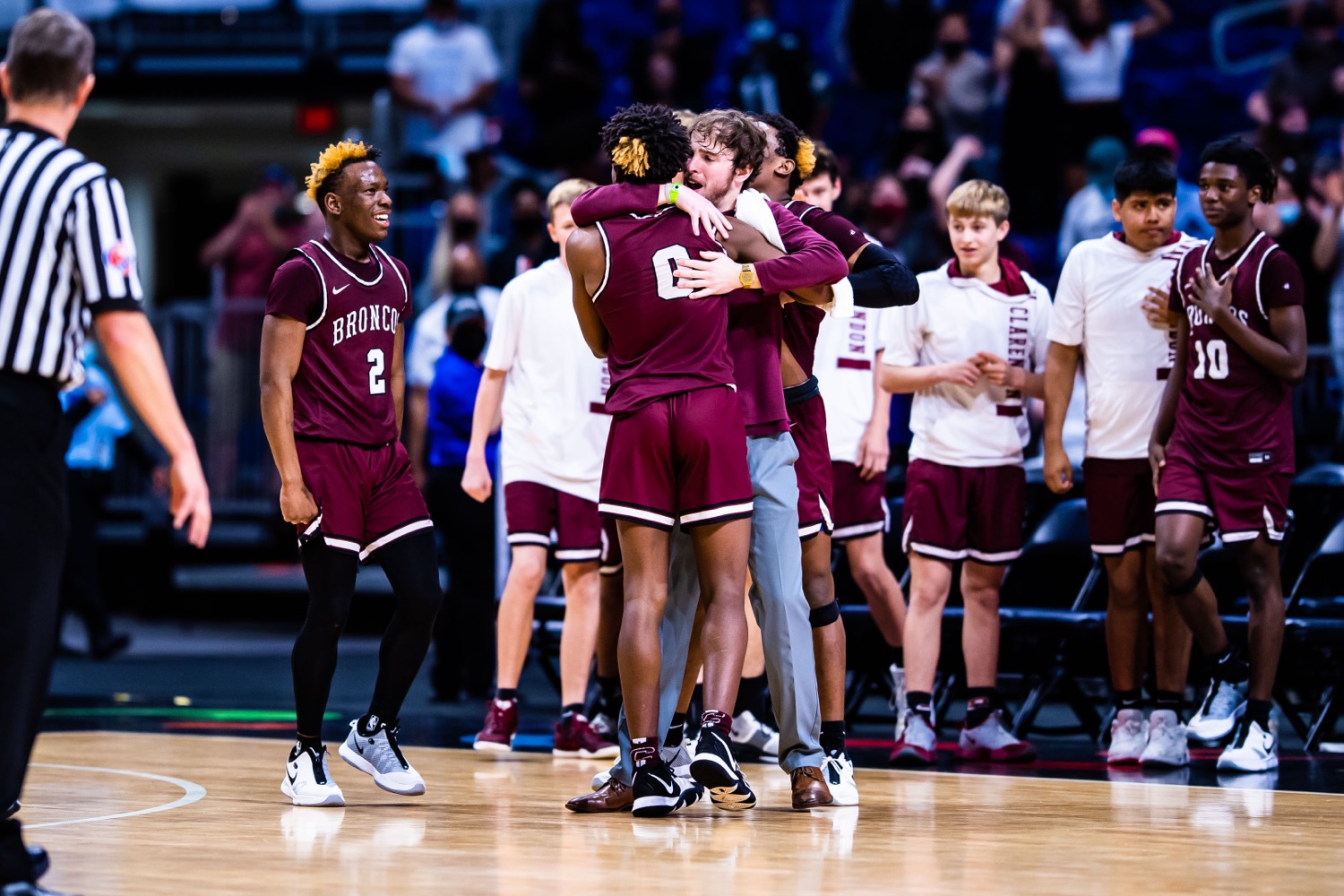 Clarendon coach Boston Hudson hugs player Jmaury Davis after the Broncos beat Grapeland, 64-60, to capture the school's first ever state championship. [Matthew Smith/ For Press Pass Sports]
Clarendon, which finishes its unbelievable season at 26-4 overall, was seemingly in control countless times throughout. The Broncos led 22-14 in the second quarter, only to see the Sandies (29-2) chip away and take a 31-30 lead in the third quarter. Grapeland took over the momentum 44-41 in the final minute of the third quarter, until Clarendon snatched it back when Sylvester Ballard tipped a rebound in and was fouled for a 3-point play. Moments later, Thompson knocked down the game's only 3-point shot to beat the buzzer, as Clarendon went back on top 47-44. That was the way the entire second half played out before the Broncos made the huge plays when it counted in the final seconds.
"We made history," Davis said. "We kept our composure and we weren't going to let being down bother us. We just did what we did all season and that's play together."
Davis ended a terrific season with a terrific performance scoring 13 points with eight boards. Thompson was named the game MVP knocking down 19 points on with five boards.
"This is a team MVP award," Thompson said. "We did this together. No way I could do it without them."
Key stats
Clarendon and Grapeland were a combined 1-of-16 from beyond the arc.
Clarendon led for 26:04 in the game, and its largest lead was eight.
Clarendon scored 11 points off Grapeland turnovers including Penigar's steal and layup with 10 seconds left in the game.
The contest saw four ties with 11 lead changes.
Class 2A state championship
Alamodome, San Antonio
Clarendon (26-4): Jmaury Davis 6 1-6 13, Donovan Thompson 8 4-4 21, LaMarcus Penigar 2 4-6 8, Jordan Herndon 3 0-0 6, Cayden D'Costa 1 2-4 4, Sylvester Ballard 5 2-4 12, Lyric Smith 0 0-0 0. Totals: 25 13-24 64.
Grapeland (29-2): Cadarian Wiley 5 3-10 13, Riley Murchison 1 0-0 2, Keizion Ashford 8 3-8 19, Michael Dancer 1 0-0 2, B.J. Lamb 6 7-8 19, Jax Vickers 0 0-0 0, Lakerina Smith 0 0-0 0, Johnny Lamb 0 0-0 0, Omarian Wiley 2 1-3 5. Totals: 23 14-29 60.
Clarendon 18 30 47 64
Grapeland 12 26 46 60
3-point goals: Clarendon 1 (Thompson 1), Grapeland 0. Total fouls: Clarendon 21, Grapeland 23. Fouled out: Ashford, B.J. Lamb. Technical fouls: None.