District 1-3A
Bushland is dominating 
The Bushland Lady Falcons put a stamp on another perfect district season by easing past River Road 25-10, 25-6, 25-7, on Tuesday night.
The No. 1-ranked Lady Falcons (35-4) complete District 1-3A at 8-0, but much more importantly push their incredible district win streak to 82 straight games dating back to the 2011 season. The back-to-back UIL Class 3A state champions now get to start another streak when they open the playoffs next week. Bushland has won 14 straight playoff matches dating back two years.
Madyson Eberly led Bushland with 12 kills and two blocks, followed by Kaela Neie's 10 kills. Kenzie Sims dished out 18 assists with Logan Culpepper tallying 12 assists and Jada Permenter registered 17 digs.
With the loss, River Road (14-19) ends the regular season at 3-5 in district and will be the fourth and final seed. Dalhart, which beat Dimmitt on Tuesday night, 25-20, 25-16, 25-8, ended their regular season at 15-18 overall but 4-4 in the league to get the third spot. Friona (19-14, 5-3) will be the No. 2-seed.
District 4-4A
West Plains nabs third spot 
Coming into Tuesday night West Plains and Pampa were tied for third with a seeding-game looking imminent, however, the muddy waters cleared in a hurry on Tuesday night.
West Plains will be the outright No. 3-seed out of District 4-4A thanks to a sweep of Borger and a Pampa loss at Dumas.
The Lady Wolves had no problem in their final regular season match downing the Lady Bulldogs 25-19, 25-11, 25-13. Jayli Franklin had 15 kills and nine digs with Brooklyn Garcia chipping in 10 kills.
West Plains finishes a stellar first season at 31-8 overall and 9-5 in district. Pampa (25-14, 8-6) will be the No. 4-seed after suffering a sweep on Tuesday at Dumas, 25-21, 25-19, 25-16.
Randall finishes district unblemished
The No. 9-ranked Randall Lady Raiders ended the regular season handling Perryton 25-10, 25-10, 25-9, at home Tuesday.
The District 4-4A champions finish off a heck of a run going a perfect 14-0 in the league and enter the Class 4A playoffs with a record of 33-8 overall.
Brooke Henderson knocked down 10 kills with five digs against the Rangerettes. Teammate Tori Lorwry added six kills and three aces.
It took five-sets, but No. 14 Hereford was able to hold off rival Canyon on Tuesday with a 25-19, 23-25, 23-25, 25-16, 15-10, victory.
Hereford heads to the postseason with a 33-8 overall record and will be the No. 2-seed out of District 4-4A at 12-2.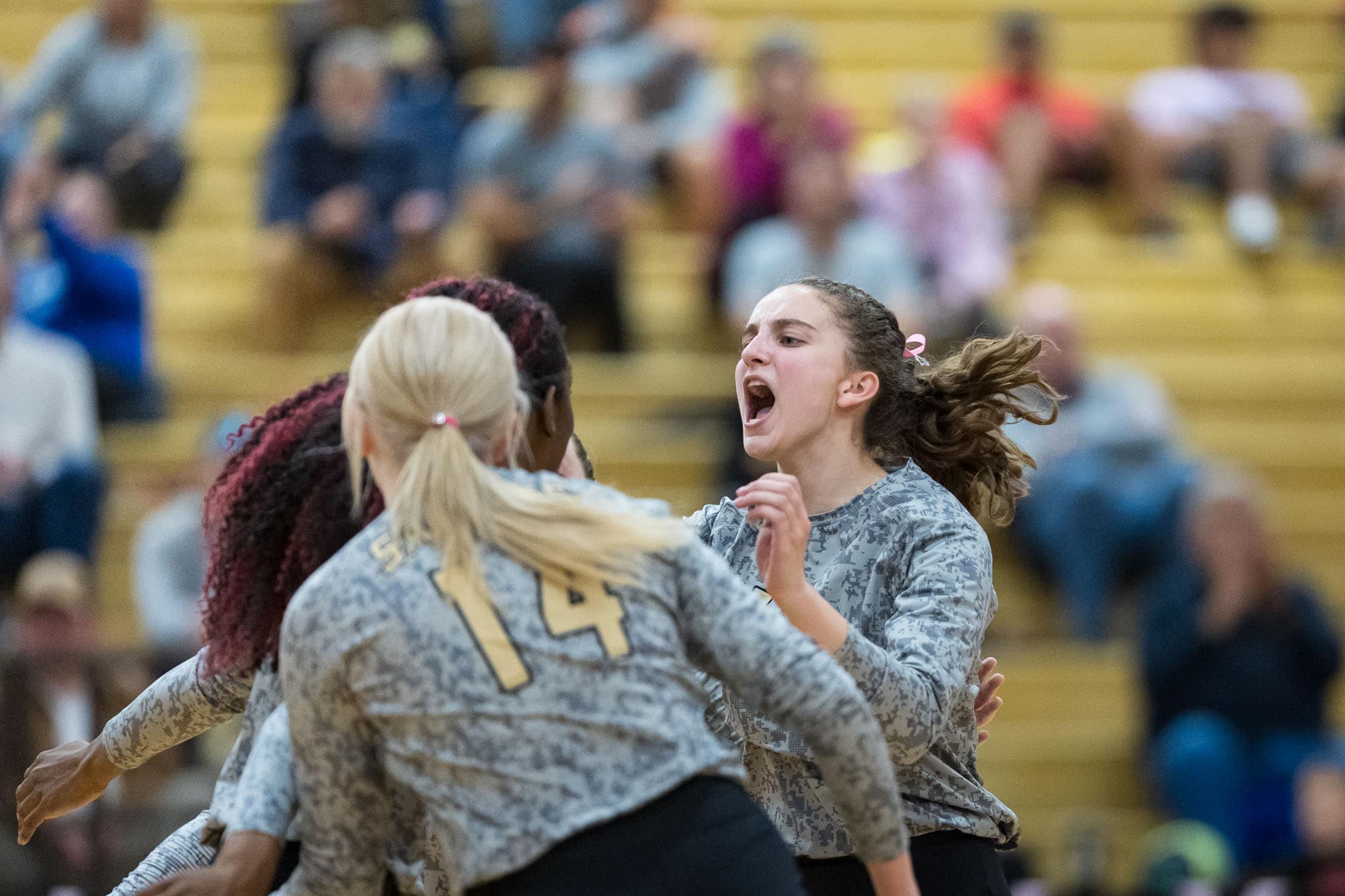 District 3-5A
AHS cruises on Senior Night
Amarillo High ran its district win streak to 31 straight games by wrapping up the regular season with a Senior Night sweep of Plainview 25-19, 25-16, 25-11.
The No. 13-ranked Lady Sandies close out District 3-5A at a perfect 8-0, and head to the Class 5A playoffs as the districts No. 1-seed at 31-9 overall.
Senior Jo Moffitt, the daughter of AHS head coach Mike Moffitt, celebrated her final home game in grand fashion. Moffitt never lost a district match in her career going 31-0. On Tuesday against Plainview, Moffitt did what she does best by handing out 22 assists, added seven digs and had three aces.
Caprock sweeps Palo Duro
Already claiming the No. 3-seed out of District 3-5A, the Caprock Lady Longhorns wanted to finish the regular season on top and did so by sweeping rival Palo Duro on Tuesday at home, 25-15, 25-9, 25-18.
Caprock revs up for the playoffs with a 22-17 record and finished the league going 4-4. Lilliana Rangel registered 23 assists in the win over the Lady Dons with four digs. Olivia Hurnes beat the defense for 10 kills and had two blocks.
Palo Duro (15-20) finishes district at 1-7 and will play Plainview (13-26, 1-7) for the fourth and final spot in a seeding game on Saturday in Tulia with a time to be determined.
District 1-2A 
Highland Park rolls, Sanford-Fritch takes third spot
Highland Park solidified a strong district season with a cruising sweep over West Texas High 25-14, 25-13, 25-16.
The No. 9 Lady Hornets cap off a district run at 8-0 and head to the playoffs at 32-7 overall. West Texas High (14-16, 5-3) is the No. 2-seed. Kyra Courtemanche led Highland Park in the victory with 15 kills and six blocks.
Sanford-Fritch nabbed the third spot out of District 1-2A by sweeping Memphis 29-27, 25-17, 25-16. The Lady Eagles finish the regular season at 15-16, 4-4. Vega will be the four-seed at 10-20 overall.
District 1-1A
Miami earns Co-District championship 
The Miami Lady Warriors did what they needed to do by taking down Kelton 25-7, 25-5, 25-8.
Mercedes Hartwig had nine kills in the win. Teammate Bella Lynn Calvert was solid with 19 assists and an eye-opening seven aces.
Miami (14-19 overall) finishes as Co-District 1-1A champions at 7-1 with Wildorado (12-12). The two teams will have a seeding-game for the top spot at 2 p.m. Saturday at Highland Park High School. Fort Elliott (4-4) is the No. 3-seed.
H.S. District scores
District 2-3A
Idalou def. Childress 25-12, 25-22, 25-21
Shallowater def. Littlefield 25-11, 25-13, 25-12