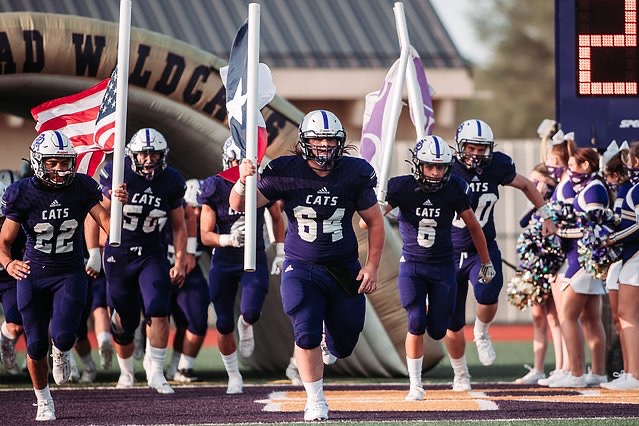 The River Road football team runs on to the field last Friday to face Wellington. [Trevor Fleeman/ Press Pass Sports]
Friday's games
Class 4A
Canyon (3-0) at Borger (0-3), 7 p.m. Borger is no doubt improved from a year ago under second-year Coach Duane Toliver. But there is no doubting Canyon is ranked No. 10 in the state for a very good reason. Canyon is that good. … Canyon 42, Borger 13.
Levelland (2-1) at Dumas (3-0), 7 p.m. Levelland has scored 46 and 47 points in its two losses. But points will be tough to come by in Dumas as one of the best 4A teams in Texas makes it 12 in a row at home. … Dumas 38, Levelland 14.
Hereford (1-1) at Lubbock Estacado (0-3), 7 p.m. The Herd has had two weeks to prepare for this one with no game last week. But this is the wrong week to play a ticked off Estacado (12-1 last year) team. … Estacado 35, Hereford 17.
Denver City (2-1) at Pampa (3-0), 7 p.m. How bout those Harvesters? Led by QB Studebaker Pampa is averaging 44.3 points per game. This could be a shootout. … Pampa 44, DC 25.
— Lance Lahnert
Last week: 3-0 (1.000)
Seasons: 10-2 (.833)
Class 3A
Dalhart (1-2) at Friona (3-0), 7 p.m. These two teams have traded wins the past couple of years. Dalhart is a physical, disciplined football team. The Chieftains are also a team that can match that physicality and run the ball extremely well. … Dalhart 27, Friona 20.
Dimmitt (0-3) at Lub. Roosevelt (3-0), 7 p.m. The Bobcats are still looking for their first win, while the Eagles have been one of the surprised undefeated teams on the South Plains. … Roosevelt 35, Dimmitt 14.
Wheeler (2-1) at H. Park (0-3), 7 p.m. For the second time in three weeks the Mustangs come to Amarillo to face off with a team from Class 3A. It didn't work out at River Road, but this time Wheeler gets the W. … Wheeler 28, Highland Park 16.
Muleshoe (1-2) at Tulia (3-0), 7 p.m. The Hornets are unbeaten but have struggled to score points of late. The Mules are a much improved team behind surprising QB Zach Hasley. … Muleshoe 20, Tulia 14.
River Road (1-2) at Lamesa (0-3), 7 p.m. A long road trip home will feel much better after a victory. Expect QB Lance Welps to have a big night. … River Road 34, Lamesa 7.
Vega (2-1) at Spearman (3-0), 7 p.m. This is a great tune up for the Lynx before opening district next week. The Longhorns put up the points at Panhandle, but can they slow down Spearman's multiple weapons. … Spearman 38, Vega 24.
Class 2A
Bushland (1-2) at Stratford (2-1), 7 p.m. A tough nondistrict schedule doesn't get any easier for the Falcons. The Elks are talented and always tough at home, but Bushland's depth will prevail. … Bushland 36, Stratford 22.
New Deal (2-1) at Bovina (1-2), 7 p.m. Can the Mustangs defense keep them in the game against a talented Lions bunch is the question. … New Deal 30, Bovina 20.
Hale Center (3-0) at Clarendon (3-0), 7 p.m. Dalhart grad and Owls head coach Jeff Smith has his squad rolling at 3-0. But can Smith's team withstand a long road trip and a Broncos team that loves to wear you down. … Clarendon 27, Hale Center 18.
Wellington (2-0) at Gruver (0-3), 7 p.m. It's a Homecoming of sorts for first-year Gruver head coach Lee Brandon who faces a Wellington team where he spent the past six years as defensive coordinator. Brandon knows the Skyrockets in and out, but slowing them down is a different story. … Wellington 40, Gruver 14.
S. Fritch (0-3) at Memphis (2-1), 7 p.m. The Eagles are due after a tough loss to Tulia last week. I'm calling a road win against the Cyclones for coach Houston Moos and his crew. … Sanford-Fritch 20, Memphis 13.
Sunray (3-0) at WT High (1-2), 7 p.m. This is the Bobcats biggest test of the season to prove they are for real. Both teams have shown they can score points, so this matchup comes down to who's defense makes the plays. … Sunray 34, WT High 27.
Hooker, Okla. (0-2) at Booker (0-2), 7 p.m. We'll see if the Kiowas get on track off a bye week. … Hooker 26, Booker 14.
— Kale Steed
Last week: 16-0 (1.000)
Season: 46-6 (.884)
Class 1A
Kress (3-0) at Happy (3-0), 7:00 p.m.​ This is not the Kress team of old, and if Happy slouches, they could get blindsided. I expect the Cowboys to keep their bearings. … Happy 63, Kress 31.
Claude (1-2) at Groom (2-1), 7:30 p.m.​ The Tigers have found their groove coming into Week 4, as Claude continues to find their identity… Tigers win it. ​… Groom 67, Claude 36.
Wildorado (3-0) at Follett (3-0) 7 p.m.​ It's time to find out whether or not the Mustangs are the real deal. Follett has a stellar offense and the Wildorado defense has impressed so far. Which breaks first?. … Follett 67, Wildorado 35.
Hedley (2-1) at Hart (0-2), 7:30 p.m. ​The Owls failed to stay perfect last week in Vernon, but they get back to winning this week. … Hedley 44, Hart 20.
McLean (1-2) at Lefors (0-3), 7:30 p.m. ​Mclean got its first taste of victory in Week 3, I think they keep things rolling this week on the road. … McLean 48, Lefors 37.
Lubbock Titans (1-2) at Miami (1-2), 7 p.m. ​Its been a rollercoaster start for the Warriors. They need some consistency and I believe it starts with a home victory over the Titans. … Miami 55, Lubbock Titans 49.
Nazareth (1-2) at Paducah (1-2), 7:30 p.m. ​The Swifts are on the wrong end of an 0-2 run in the last two weeks. This is a long road trip, but Nazareth will be ready. … Nazareth 68, Paducah 55.
White Deer (2-1) at Spur (0-1), 7:30 p.m. ​The Bucks have a lot to prove as one of the top-ranked teams in the state. The Bulldogs may be on the receiving end of a lot of proof. … White Deer 56, Spur 20
–– Tommy King
Last Week: 6-3 (.667)
Season: 19-7 (.731)