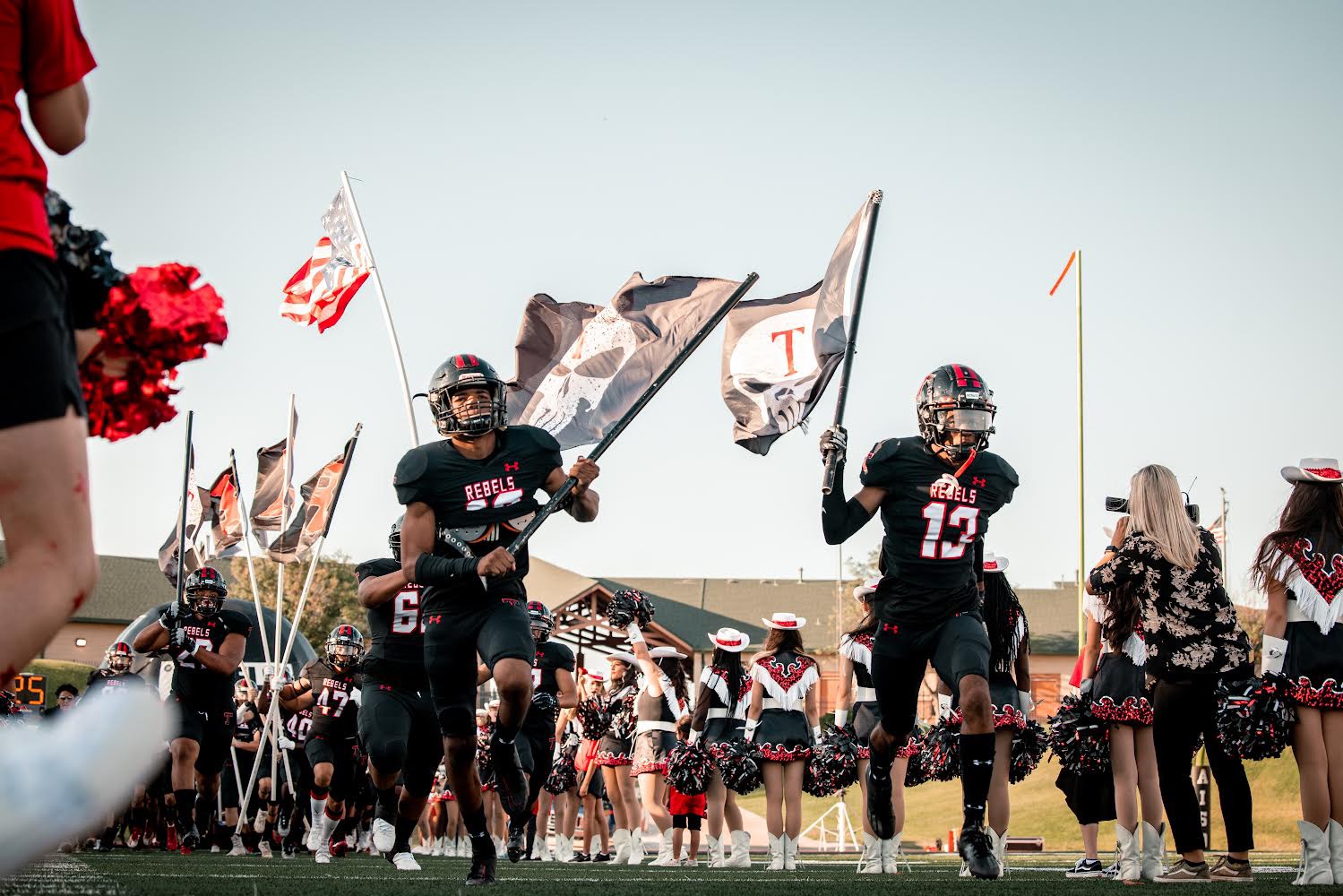 The Tascosa Rebels run out on the field for a non-district game against Abilene High last Friday at Dick Bivins Stadium. [Trevor Fleeman/ Press Pass Sports]
Thursday's games
Class 5A
Randall (1-0) at Caprock (0-1), 7 p.m.
The Raiders looked so good winning The Goat game,
QB Burd was sensational, making my pick look lame.
Meanwhile, Caprock struggled against The Herd,
So this week the Horns emotions will be stirred.
Burd and Co. will put The Rock defense to the test,
In this game, Randall will be best. … Randall 24, Caprock 13
Class 1A
Darrouzett (0-1) vs. Chillicothe (0-1), 7 p.m., at Groom.
These are teams fighting for their first win after being shutout in Week 1. The Eagles have the experience so they get the edge. … Chillicothe 38, Darrouzett 30
Patton Springs (1-0) at Wildorado (1-0), 7 p.m. The Mustangs are on a roll and they aren't going to let the Rangers slow them down. … Wildorado 56, Patton Springs 20
White Deer (0-1) at Follett (1-0), 7 p.m.
The Panthers are the overall favorite going into this matchup, but the Bucks are holding in some frustrations after a tough showing in Week 1. … Follett 68, White Deer 52
Lefors (0-0) at Claude (0-1), 7:30 p.m.
Claude got down early last week but started a rally late behind its speedy running back, Javon Lee. I think the Mustangs take a step in the right direction in this one. … Claude 48, Lefors 20
Friday's games
Class 5A
Palo Duro (1-0) at Plainview (0-1), 7 p.m.
Oh my, my, look what Coach Mims got done,
His Dons end a lengthy drought, winning in Week One.
Now it's off to Bulldog Land and a mad Plainview,
Because losing on the last play sucks, that's so true.
Dons RB Tre'Shawn Monroe won't be denied,
So here we go, the Dons 2-0 riding North Side pride. … Palo Duro 28, Plainview 24
Midland High (1-0) at Amarillo High (0-1), 7 p.m.
Ouch, is all you can say about AHS last Friday night,
Losing 37-7 to Legacy means it's time the Sandies fight.
This Midland can't carry Midland Legacy's jocks,
Still, beating up on EP Montwood kinda rocks.
The Sandies offense must step up their game,
So I see this AHS home opener ending in no shame. … Amarillo High 24, Midland High 17
Tascosa (1-0) at Midland Legacy (1-0), 7 p.m., Grande Communications Stadium, Midland
This one is can't miss Texas HS football,
5A Tascosa and 6A Legacy are going to brawl.
Both are 1-0 and play under the nickname Rebels,
Both play football at the highest of levels.
Can Legacy stop the Tascosa triple option offense?
Naw. This one will be full of smack talk and intense. … Tascosa 35, Legacy 31
— Lance Lahnert
Last week: 2-2 (.500)
Season: 2-2 (.500)
Class 4A
Burkburnett (0-1) at Canyon (0-1), 7 p.m.
Both teams are looking for their first wins, albeit after quite differing opening weeks. Canyon fell to rival Randall thanks to a fourth quarter touchdown, and Burkburnett lost 55-7 to Aubrey. Home field advantage gives Canyon, and first-year coach Todd Winfrey, their first big win. … Canyon 41, Burkburnett 14
Lubbock Estacado (1-0) at Dumas (0-1), 7 p.m.
Dumas returns home after a rough opening loss to Class 5A power Wichita Falls Rider. The Demons will face an athletic Estacado squad who won a defensive struggle against Greenwood. Look for something similar in this one, with the juice of the home opener carrying Dumas. … Dumas 17, Estacado 13
Bushland (0-1) at Hereford (1-0), 7 p.m. Second-year Bushland coach Josh Reynolds takes his team to face the school where he was an assistant. Bushland is coming off a 31-3 thumping at the hands of powerful Brock while Hereford won a 13-7 defensive struggle at Caprock. Both teams will score more this time, with Bushland scoring a little more. … Bushland 21, Hereford 16
Dalhart (0-1) at Pampa (0-1), 7 p.m.
Another matchup between teams looking for their first wins. Dalhart couldn't get much going offensively in a 27-6 loss to Perryton while Pampa's late rally fell short in a 35-28 loss at Elk City, Okla. Returning home will help Pampa immensely and give the Harvesters and new coach Cody Robinson their first victory. … Pampa 38, Dalhart 13
— Lee Passmore
Last week: 2-2 (.500)
Season: 2-2 (.500)
Class 3A
Borger (1-0) at Friona (1-0), 7 p.m.
Who can carry on the momentum from impressive season-opening wins? This game also features two talented tailbacks in Borger's Cameron Chambers and Chieftain senior Jacob Bautista. … Borger 26, Friona 21
Perryton (1-0) at Childress (1-0), 7 p.m.
The Rangers are coming off a big victory at Dalhart, but the Bobcats are a dangerous team that can score in multiple ways. … Childress 34, Perryton 17
Iowa Park (0-1) at Canadian (1-0), 7 p.m.
The Hawks handed the Wildcats their only loss last season before Canadian caught fire on the way to a state title. Canadian has won 15 straight since, but haven't forgotten the L to IP. … Canadian 28, Iowa Park 21
Dimmitt (0-1) at Olton (1-0), 7 p.m.
The Mustangs will be tough to beat at home as the Bobcats continue to figure it out. … Olton 37, Dimmitt 16
Highland Park (0-1) at Hale Center (0-1), 7 p.m.
Here's a battle between teams looking for their first wins. The Hornets didn't get much going on offense going against Vega. The Owls will be without star QB Hunter Thompson due to injury. … Hale Center 26, Highland Park 16
Muleshoe (1-0) at Lamesa (1-0), 7 p.m.
The upstart Mules are coming off a very sound win against Sundown last week. Let's see if they keep the momentum rolling. … Muleshoe 27, Lamesa 17
River Road (1-0) at Wheeler (0-1), 7 p.m.
The Wildcats did everything but put the ball in the endzone during a tough home loss to Lubbock Roosevelt. If coach Bryan Welps teams cleans up the mistakes, and utilizes their size, the drive home will be a happy one. … River Road 30, Wheeler 14
S. Fritch (0-1) at Spearman (0-1), 7 p.m.
The Lynx took their lumps last week at Stratford, but it's a new week with a chance to break out the new turf with a bounce back Homecoming victory. … Spearman 41, Fritch 12
Brownfield (0-1) at Tulia (1-0), 7 p.m.
How bout them Hornets. Last week Tulia's defense completely shut down Floydada. Will the Hornets sting the Cubs for a 2-0 start? Odds look good. … Tulia 26, Brownfield 13
Class 2A
Booker (0-1) at Texhoma, Okla., (0-1) 7 p.m.
There's no such thing as a moral victory, but the Kiowas showed vast improvement playing within a touchdown of Wheeler last week. This is another game that Booker should be in till the end. … Booker 20, Texhoma 18
Farwell (1-0) at Bovina (1-0), 7 p.m.
These two rivals are separated by only 11 miles so no doubt this will be a heated battle. Does Bovina have the firepower to stay with the Steers physicality is the question. … Farwell 33, Bovina 19
Vega (1-0) at Boys Ranch (0-1), 7 p.m.
The storied Oldham County championship resumes its 60 plus year rivalry under the lights of the gorgeous setting of Roughriders Stadium. … Vega 40, Boys Ranch 16
Clarendon (1-0) at Ralls (0-1), 7 p.m.
This was a close contest last season with the Broncos edging it out late. This time around expect the Clarendon run game to he hard for the Jackrabbits to handle. … Clarendon 35, Ralls 13
Gruver (1-0) at Panhandle (0-1), 7 p.m.
It was a total opposite start for these two programs last week. The Panthers are eager to get back on the field and get the taste out of their mouth from a loss to Childress. The Greyhounds are coming in wanting to prove they are to squad reckon with. … Panhandle 28, Gruver 24
Memphis (0-1) at Crosbyton (0-1), 7 p.m.
The Cyclones find the win column after a disappointing start last week to Electra. … Memphis 19, Crosbyton 7
Shamrock (1-0) at Munday (0-1), 7 p.m.
The Irish make it a 2-0 start with another dominating W. … Shamrock 38, Munday 12
Stratford (1-0) at WT High (0-1), 7 p.m.
No one was more impressive in Week 1 than the Elks after a thrilling win against Spearman. This one may not be as dramatic. … Stratford 42, WT High 12
Hooker, Okla. (1-0) at Sunray (1-0), 7 p.m.
Sunray erased a 14-point deficit at Sanford-Fritch last week for a comeback victory, and now have its eyes set on a 2-0 start. … Sunray 24, Hooker 13
Wellington (0-1) at New Deal (1-0), 7 p.m.
How bout the Skyrockets hanging with a Duncan, a Class 5A school from Oklahoma last week. The Lions are probably a tougher opponent, and if Wellington isn't healthy it's a could be a struggle. … New Deal 28, Wellington 20
— Kale Steed
Last week: 15-5 (.750)
Season: 15-5 (.750)
Class 1A
Valley(1-0) at Petersburg (0-1), 7 p.m.
The Patriots survived week one despite missing some key pieces. Petersburg now without its injured star Kaden Parraz will struggle moving forward. … Valley 64, Petersburg 31
Paducah (1-0) at Groom (1-0), 7 p.m.
After getting overpowered by Happy in Week 1, the Tigers look to their speed to come out on top of the Dragons. … Groom 76, Paducah 63
Nazareth (1-0) at Happy (1-0), 7 p.m.
Happy has the upper hand in football when it comes to this rivalry, but Swifts offense will allow them to hang around. … Happy 58, Nazareth 35
Hedley (1-0) at Silverton (0-1), 7:30 p.m.
The battle of the Owls is here again. Hedley took this one last season 34-28, but this season should see Hedley win by a bigger margin. … Hedley 47, Silverton 21
McLean (1-0) at Miami (0-1), 7:30 p.m.
It's the inaugural formerly coached by Clint Linman Bowl, where we find two teams struggling to find a new identity. Miami gets the nod in this one. … Miami 48, McLean 30
— Tommy King
Last week: 8-2 (.800)
Season: 8-2 (.800)