Dumas coach Aaron Dunnam holds up the Class 4A Division I area round trophy after the Demons beat Seminole, 23-15, on Thursday night in Plainview [Tommy King/ Press Pass Sports]
PLAINVIEW—It wasn't the prettiest of performances but at the end of the night a win is a win and that's all that matters to the Dumas Demons.
Dumas battled Seminole as well as the elements of a heavy second half mist to come away with a 23-15 Class 4A Division I area round victory at Greg Sherwood Memorial Bulldog Stadium in Plainview.
This is a win that rewrites the record books for the Demons, who are 12-0 for the first time in school history.
No Dumas team before them had ever been 12-0. It's also the first time that the Demons advance into the third round of the UIL Texas High School playoffs since the 1996 season.
"The goal was to win the football game and we did," said Aaron Dunnam, who is 20-3 in two seasons as the Dumas head coach. "We're in some pretty uncharted waters right now. Every victory we can add to our record, we need to be extremely proud of."
Dumas moves on to the regional semifinals where they'll face its toughest opponent to date in District 4-4A Division I champion Decatur at 7 p.m. Friday, Nov. 29, at PlainsCapital Park-Lowrey Field in Lubbock.
The Eagles (12-0) blistered Clint Mountain View in their area round game Thursday, 69-0.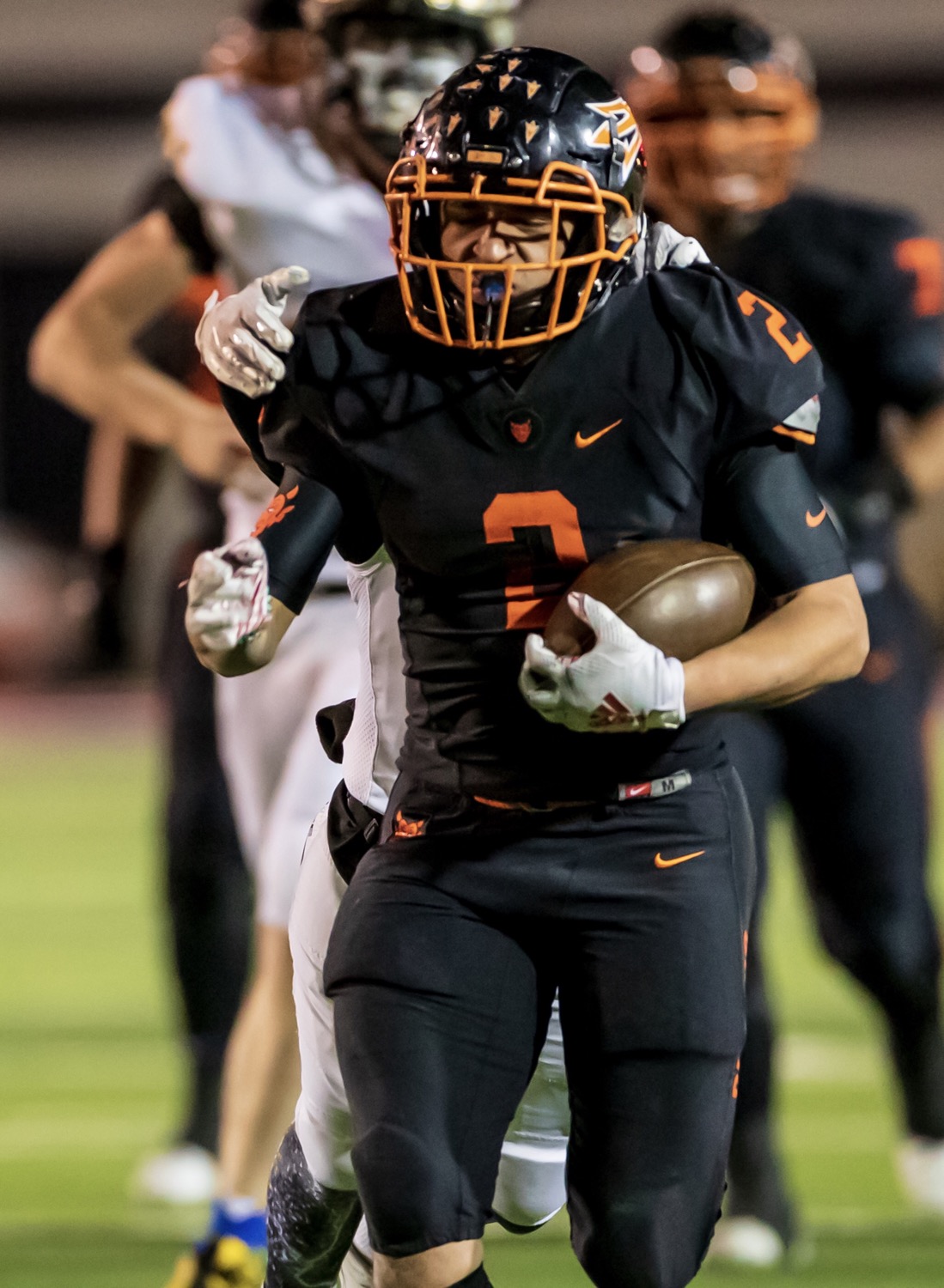 Dumas running back Cito Rodriguez finds running room against Seminole: [Tom Carver/ Press Pass Sports]
Dumas, which never trailed, seemed to have the game locked down against the Indians (8-4) during the latter stages of the fourth quarter. The Demons held a 23-7 lead, milking the opening six minutes off the fourth quarter clock. Dumas drove down to the Seminole 20-yard line, however, took a costly holding penalty and a sack that backed them up near their midfield.
Punter Ah Lee Yart came on to punt, but his kick was blocked, allowing Seminole's Bryce Lopez to scoop and score from 28 yards out. Following a 2-point conversion, the Indians had new life, down 23-15 with 5:09 to play.
Dumas got the ball back and again drove to the Seminole 20. Just like the previous drive, Dumas stalled, but this time Dunnam sent Yart out for a 37-yard field goal. Yart had been clutch, hitting three field goals earlier in the contest, but his 37-yard attempt into the wind fell short, with 2:42 remaining,
The Indians option offense sputtered most of the night against a stingy Dumas defense, and though they had one final chance, the Demons shut the door on any comeback forcing Seminole to go four and out deep in its own territory.
"We had some failures in the special teams," Dunnam said. "We were on the field just like this last week. I'm just proud of our defense to hold them and get some stops to win the ball game."
The Dumas defense held Seminole to 148 yards, with 84 yards coming on a busted play that resulted in a second quarter touchdown by running back Jason Mejia.
Quarterback Spencer Williams was 8 of 12 for 98 yards and added a rushing touchdown for Dumas. Teammate Jacob Mares ran for 136 yards on 15 carries.
Yart finished 3 of 5 on field goals, connecting from 24, 42 and 37 yards out.
Dumas 23, Seminole 15
Seminole 7 8 — 15
Dumas 3 10 10 — 23
First Quarter
D—Ah Lee Yart FG 24, 5:33
Second Quarter
D—Spencer Williams 1 run (Yart kick), 11:01
D—Yart FG 42, 8:26
S—Jason Mejia 84 run (Kaycen Andrews kick), 7:35
Third Quarter
D—Jacob Mares 56 run (Yart kick), 8:19
D—Yart FG 37, 2:44
Fourth Quarter
S—Bryce Lopez 28 blocked punt return (Andrews run), 5:09
Seminole Dumas
First downs 8 17
Rushing 113 198
Passing 35 98
Total yards 148 296
C-A-I 3-11-1 8-13-0
Punts-Avg. 5-32.4 1-32.0
Fumbles-lost 2-1 1-1
Penalties-yards 2-28 3-35
INDIVIDUAL STATISTICS
RUSHING—Seminole: Damion Espino 9-35, Jarrett Bagwell 4-(-13), Cy Cramer 1-7, Mejia 8-93, Makii Adams 5-6, River Powers 5-(-23), Aiden Ward 1-8. Dumas: Cito Rodriguez 9-50, Victor Chavez 2-12, Mares 15-136, Williams 16-28, James Bednorz 1-1, Team 1-(-29), Damian Orozco 1-0.
PASSING— Seminole: Bagwell 3-9-1-35, Powers 0-2-0-0. Dumas: Williams 8-12-0-98, Brayden Boggs-Rushing 0-1-0-0.
RECEIVING— Seminole: Kaedyn Wade 1-11, Andrews 1-9, Dago Esquivel 1-15. Dumas: Mares 2-18, Damian Orozco 2-19, Louis Ortiz 1-4, Kyle Stroebel 2-50, Rodriguez 1-7.