Dumas lineman Dalton Leven lifts running back James Bednorz (8) after a touchdown catch against Fort Stockton during a Class 4A Division I area round game at PlainsCapitol Park at Lowrey Field in Lubbock on Friday night. [John Moore/ Press Pass Sports]

Dumas rolls over Fort Stockton
For the second week in a row, the Dumas Demons gave up early ground in their game against Fort Stockton at Lubbock's Lowrey Field.
And for the second week in a row, they made up for it, big time.
Dumas gave up an early touchdown to Fort Stockton, but dominated after that. The Demons closed the game with 31 unanswered points and cruised to a 31-6 victory to advance to next week's regional round.
There, the Demons (9-2) will face Wichita Falls Hirschi (10-2) at 3 p.m. Friday in Plainview.
Dumas has developed a habit of falling behind in the first quarter in the first two rounds of this year's postseason. In the bidistrict round, the Demons gave up 17 points to Decatur to start the game but roared back for a 45-24 victory.
They didn't face as big a deficit against Fort Stockton (9-3), although the Panthers took a 6-0 lead on Dominic Aguilar's 2-yard run four minutes into the game. Dumas answered back four minutes later on a 23-yard field goal by Victor Morales which was only the beginning of the run.
The Demons took the lead for good on a 3-yard scoring run by quarterback Brayden Boggs-Rushing early in the second quarter. He had a hand in all of the Dumas touchdowns, as he ran for 92 yards and two touchdowns on 11 carries and threw two touchdown passes.
After giving up an early touchdown, the Demons were stingy defensively, giving up only 157 total yards.
Dumas 31, Fort Stockton
Dumas 3 14 7 7 — 31
Fort Stockton 6 0 0 0 — 6
Class 3A Division II
Running back Keeton Githens turns upfield for running room during Canadian's Class 3A Division II area round game against Sonora on Friday night in Slaton. [Alan Hale/ Press Pass Sports]
Canadian trucks Sonora
Canadian is starting to find its stride at just the right time during an absolute dismantling of Sonora, 56-13, in a Class 3A Division II area round game Friday night at Tigers Stadium in Slaton.
After limping into the postseason on a two-game losing streak, the defending state champions, have found life putting together back-to-back playoff wins to advance to the regional semifinal round for a ninth straight year.
Canadian (9-3) moves on to Thanksgiving Day weekend to battle Abernathy (11-1) at 2 p.m. Friday at Dick Bivins Stadium. The Antelopes knocked off Ballinger, 45-28, in their area round contest Thursday.
Believe it or not the Wildcats and Broncos (7-5) were tied, 7-7, at the end of the first quarter. That's before Canadian caught fire scoring 28 unanswered points to go up 35-7 before Sonora knew what hit them. The Wildcats used the duo of sophomore Luke Flowers and freshman Keeton Githens, who ate up most of the team's 331 rushing yards.
Githens went for 80 yards on nine carries scoring a career-high three touchdowns. Flowers was excellent once again, totaling 148 yards on 20 carries for a score, and returning a 42-yard punt return for a TD.
Quarterback Camren Cavalier was efficient completing 11-of-16 passes for 97 yards, while tacking on 54 rushing yards for a pair of touchdowns.
The Wildcats defense did its job holding Sonora to 193 total yards, including a Wyatt Davis 15-yard pick six in the opening minutes of the third quarter.
Canadian 56, Sonora 13
Canadian 7 35 14 0 — 56
Sonora 7 6 0 0 — 13
Class 3A Division I
Whitesboro pulls away from Bushland
Bushland saw its season come to an end falling to Whitesboro, 41-21, in a Class 3A Division I area round game at Fair Park Stadium in Childress.
Bushland took a 7-0 second quarter lead on a 13-yard pass from Brian Merrell to Baylor King.
The Bearcats answered on the ensuing possession when quarterback Mac Harper hit Jacob Hermes down the sideline. Hermes went up and over the Falcon defender at midfield, turned on the jets to sprint into the endzone for a 76-yard score. After a 2-point conversion, Whitesboro went up 8-7 midway into the second. Disaster then found Bushland on the next play. Marrell tried to hit a slant, however, found Bearcat defender Torran Naglestad, who jumped the route, taking the interception back for a touchdown extending Whitesboro's advantage, 15-7.
Bushland trailed 21-14 at half, only to see the Bearcats explode in the third quarter outscoring the Falcons 20-7 for the eventual 41-21 final.
Whitesboro (8-4) moves on the regional semifinals to face Shallowater (10-2) at 1 p.m. Friday at Abilene Christian University.
Bushland, the District 2-3A Division I champion, ends the year at 8-4.
Indians use big second half to maul Muleshoe
Muleshoe put a scare into No. 1-ranked Jim Ned, but in the end the defending Class 3A state champions were too much, using a huge second half to down the Mules, 49-20, in a Class 3A Division I clash at PlainsCapitol Park at Lowrey Field in Lubbock on Friday.
Jim Ned (12-0) advances for a regional semifinal showdown with No. 2 Brock (12-0) in a battle of unbeatens at 2 p.m. Friday at Gordon Wood Stadium in Brownwood.
Muleshoe ends its best season in four years at 6-6.
The Mules hung around in the first half. Down 21-6, quarterback Zach Halsey connected to Irvin Torres on a 15-yard pitch and catch, as Muleshoe went into halftime trailing, 21-14.
The second half was a different story. The Indians turned it on offensively scoring 28 unanswered points to run away convincingly.
All-State running back Xavier Wishert torched Muleshoe for an incredible 312 yards rushing on 34 carries with four touchdowns. Quarterback Tate Yardley threw for 128 yards on 8-of-16 passing for a pair of scores.
Muleshoe's Brennen Davis snagged five passes for 74 yards and two TDs.
Jim Ned 49, Muleshoe 20
Muleshoe 6 8 0 6 — 20
Jim Ned 7 14 14 14 — 49
Class 2A Division II
Gruver's Ridge Holland turns a corner against New Home during a Class 2A Division II area contest Friday night at Happy State Bank Stadium. [Ben Jenkins/ Press Pass Sports]
Gruver hands it to New Home
Gruver came up clutch in the second half to eventually get away from pesky New Home for a 34-12 victory in the Class 2A Division II area round at Happy State Bank Stadium in Canyon on Friday.
The Leopards (8-4) showed a lot of fight throughout the first 24 minutes of this matchup, trailing 13-6 at halftime.
The Greyhounds were able to come alive in the third quarter giving themselves some breathing room on a Ridge Holland 15-yard scamper opening the lead up, 20-6.
In the fourth quarter, Gruver started wearing New Home down with its physical offensive line, and punishing run attack. Edgar Lopez broke loose on a 76-yard score to make it, 27-6, followed by a Pratt McLain TD to put the nail in the coffin at 34-6.
Holland ignited the offense rushing for a game-high 123 yards on 20 carries and a touchdown. Lopez tallied 99 yards on only three touches including his 76 yard TD run.
Gruver (10-1) advances to the regional semifinals to square off with Wellington in an all Texas Panhandle regional semifinal at 4 p.m. Friday at Happy State Bank Stadium in Canyon.
Wellington out muscles McCamey
Wellington is regional semifinal bound
The Skyrockets built a 20-0 first half lead on McCamey, and never looked back for a 36-14 dominating Class 2A Division II area round win on Friday in Littlefield.
It's the second year in a row Wellington has ended McCamey's season.
The Skyrockets (8-3) move into the regional semifinal round for an 11th straight year, and will now face a familiar for in Gruver (10-1) at 4 p.m. Friday at Happy State Bank Stadium.
The Skyrockets defense was exceptional holding a McCamey offense that averaged close to 50 points a game to two scores, and 254 total yards.
Wellington's offensive line handled the Badgers the entire way. Thanks to the play up front, the Skyrockets blistered McCamey for 400 of their 447 yards on the ground. Senior standout Marc Ramirez jump started the offense with two first quarter touchdowns, and snagged a 10-yard TD pass from Creighton Killian in the second quarter that gave Wellington the 20-0 lead. In the second half, Barrett Phillips did the damage with a 52-yard touchdown scamper.
Ramirez finished with 188 yards rushing on 21 carries with a pair of scores. Phillips tacked on 111 yards on only nine carries with a TD.
Killian added 101 yards rushing with a score, and threw for another touchdown.
Wellington 36, McCamey 14
Wellington 14 6 8 8 — 36
McCamey 0 0 14 0 — 14
Class 2A Division I
Panhandle's season comes to an end
The Panhandle Panthers saw their six-game winning streak as well as their season come to an end at the hands of Cisco, 69-21, in a Class 2A Division I area contest on Leo Brittain Field at Lions Stadium in Vernon on Friday.
The Panthers, the District 1-2A Division I champions, end their season at 6-6 overall.
The Loboes (10-2) are headed to the regional semifinals to battle, New Deal (11-1) at 2 p.m. Friday in Colorado City.
Panhandle had trouble slowing down Cisco. The Loboes chewed up the Panthers defense for 664 rushing yards led by Hunter Long. Long toted the ball only 14 times for 334 yards, averaging 23.9 yards a carry, with three touchdowns. Teammate Trent Huston added 146 yards on 10 carries with three TDs of his own.
Panhandle's Malachi Preston finished with 86 yards rushing with a score.
Cisco 69, Panhandle 21
Panhandle 7 0 0 14 — 21
Cisco 21 27 14 7 — 69
Class 1A Division I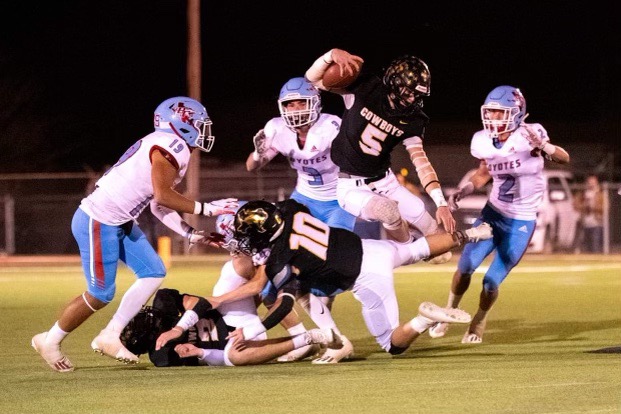 Happy's Pace Bressler hurdles a teammate during the Cowboys Class 1A Division I regional semifinal against Borden County on Friday in Lockney. [Larry Martinez/ Texas 1A Fan]
Happy finally beats Borden County
The proverbial 900 pound gorilla has finally jumped off the backs of the Happy Cowboys. Led by a strong rushing attack, and bend but don't break defense the Cowboys upended Borden County, 61-35, in a Class 1A Division I regional semifinal matchup Friday night in Lockney.
Happy's victory was their first over the Coyotes after losing four straight playoff games since 2015.
The Cowboys (9-3) scored on their first play of the game as Pace Bressler galloped 44 yards for the first of his five touchdowns to put Happy up 8-0. Happy never relinquish the lead but saw the Coyotes (6-6) stay close throughout and recover a fumbled kickoff return with 13.5 seconds left in the third inside Cowboy territory trailing 39-35. Borden County was poised to take the lead, but Happy's defense stepped up and held the Coyotes on downs at the Cowboy 24-yard line. Bressler then made Borden County pay plowing his way in two plays later for a 25-yard score putting Happy up, 45-35, with 8:21 left in the game. Happy got stingy in the fourth holding the Coyotes scoreless while the offense tacked on two more scores to secure a victory.
Bressler led the Cowboy rushing attack with 273 yards rushing on 21 carries and was 3-of-3 through the air for 60 yards and a score.
Happy moves on to the state quarterfinals for a rematch with District 1-1A rival, Valley at a time and place to be determined. The Patriots (9-3) won the regular season meeting, holding off Happy, 70-68, in Week 9.
Valley upends Spur
The Valley Patriots pulled off a slight upset defeating the Spur Bulldogs, 66-54, on Friday night in Ralls.
This was a close game throughout as both teams traded blows the first three quarters. The contest was tied, 46-46 early in the third quarter before Valley took off scoring 20 unanswered points for a commanding 66-46 lead.
Credit the running game for the Patriots high-powered offense. It was the duo of Jaxon Edwards and Blake Beard that combined to amass 455 yards and six touchdowns. Edwards piled up five scores on 237 yards with 17 carries, while Beard piled up 218 yards on 13 totes, and a TD. The Valley defense also wreaked havoc as coming away with five turnovers. Parker Hartman was key on defense with nine nine and 2 interceptions.
The Patriots (9-3) move to on to the state quarterfinals for a rematch with district rival, Happy (9-3), at a time and place to be determined.
Class 1A Division II
Anton, Klondike gains measure of revenge
In a rematch of last year's Class 1A Division II regional semifinal, the Anton Bulldogs exacted some revenge on Follett coming away with a 72-48 in a battle of unbeaten teams on Friday night in Claude.
The Panthers (11-1) and Bulldogs (11-0) had a tight game going with Anton leading 30-24 at the half, with Follett actually taking a third quarter lead, 32-30, after a Shayne Franks touchdown run. Anton stole the momentum right back, and never relinquished the advantage from that point forward as spread back Sergio Champion led the offense on a 22-0 scoring run that gave the Bulldogs breathing room to put the Panthers away.
Champion ended the night throwing for five touchdowns in the game, while Gage Garcia added three TDs on the ground for his Bulldogs.
Playing out in a similar way, the Groom Tigers fell behind early in their Regional Semifinal matchup against Klondike, as the Cougars avenged a loss from last year to down the Tigers, 72-58 on Friday in Dimmitt.
Klondike came out on fire taking a quick 22-0 lead before allowing Groom to get onto the scoreboard early in the second quarter. The Cougars built on their lead extending it out to 50-20 by halftime.
Klondike (11-1) will now meet Anton in a state quarterfinal at a time and place to be determined.