Canadian running back Hayze Hufstedler scores a touchdown against Coahoma during a Class 3A Division II area game in Plainview on Friday night. [Alan Hale/ For Press Pass Sports]
It was a tougher game than maybe some fans expected but Canadian was able to pull away from Coahoma for a 49-14 victory in the Class 3A Division II area round Friday night at Greg Sherwood Memorial Bulldog Stadium in Plainview.
The No. 1-ranked Wildcats remain perfect at 12-0, advancing to the regional semifinals for an eighth straight year.
Canadian advances to face Cisco (10-1) at 2 p.m. Friday in the regional semifinals on Leo Brittain Field at Lions Stadium in Vernon.
The Loboes destroyed Crane, 35-3, in their area round matchup Friday.
Canadian swung the momentum from a pesky Coahoma (9-3) team early in the second quarter. Canadian led 7-0, however, the Bulldogs were threatening to tie the game with the ball at the Wildcats 3-yard line. On a 2nd and goal, quarterback Zack Schneider tried a jump pass but Canadian linebacker Stephen Pulliam played it perfectly deflecting it to himself for an interception in the endzone.
Two plays later, Wildcat quarterback Grant McCook got loose down the sideline on a 57-yard scamper down inside the Coahoma 15-yard line. That set up a Hayze Hufstedler 11-yard touchdown, putting Canadian up 14-0. Hufstedler scored three first half touchdowns and had four for the contest on 130 yards rushing.
McCook ran for 210 yards with a pair of TDs and threw for 109 yards.
Coahoma did cut the lead to 28-14 in the fourth, before the Wildcats closed out the game with 21-unanswered points.
Canadian 49, Coahoma 14
Canadian 7 21 21 — 49
Coahoma 7 7 — 14
Daily leads charge in Lopes rout of Childress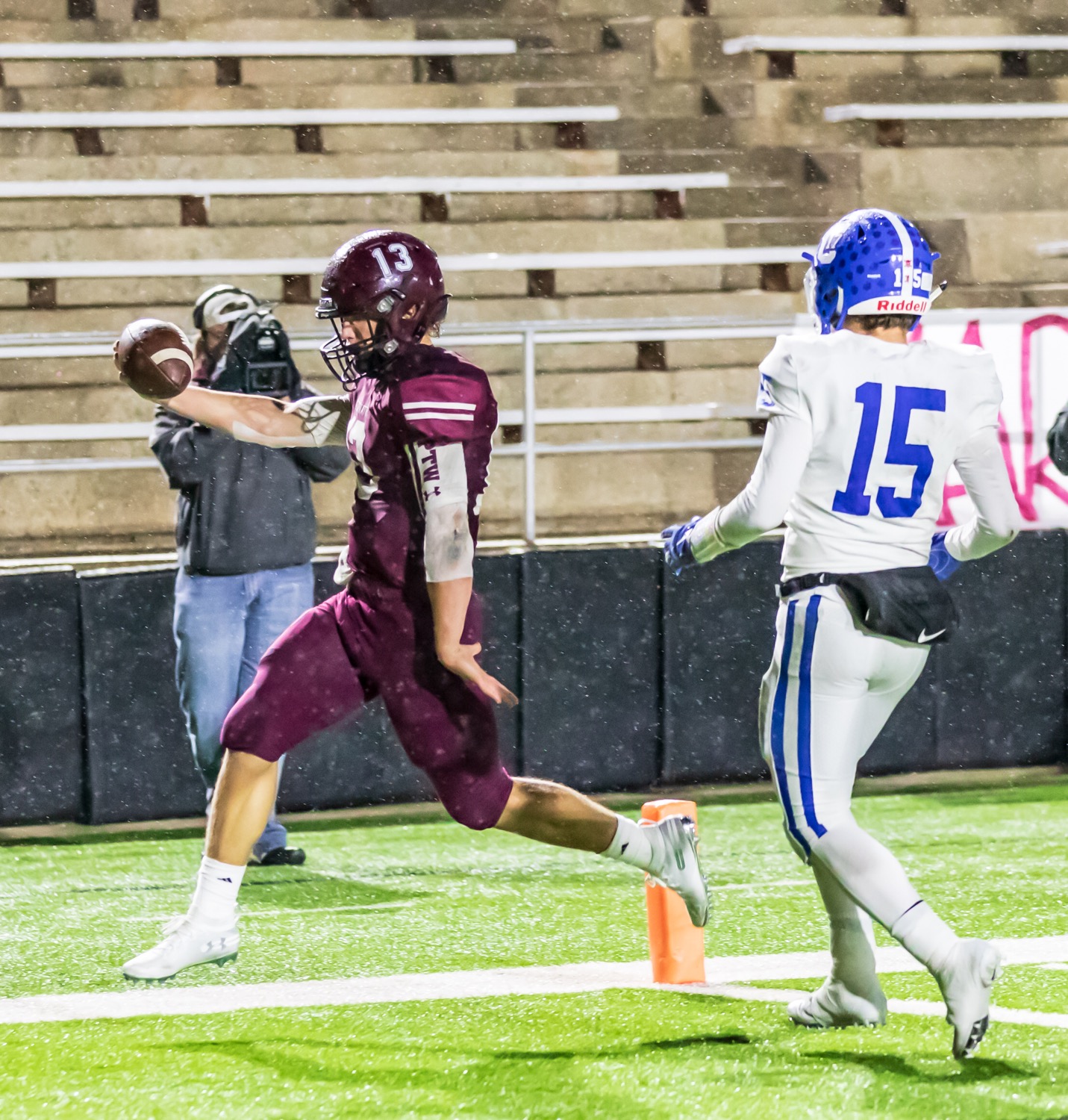 Abernathy quarterback Bryson Daily (13) cruises in for a score against Childress during a Class 3A Division II area game Friday night at Kimbrough Memorial Stadium. [Tom Carver/ Press Pass Sports]
For a second straight year Abernathy has put an end to the Childress Bobcats season.
Quarterback Bryson Daily over powered Childress, leading the Antelopes to a lopsided 50-14 win in a Class 3A Division II area round game at Kimbrough Memorial Stadium on Friday night.
Daily ran wild against Childress, doing as much as he wanted, going for 250 yards with five rushing touchdowns. The Army commit also threw for 110 yards and another score.
Childress, which had won five of six games, ends a solid year at 5-7. The Antelopes (11-1) move on to the regional semifinals to play the Friona-Alpine winner. Those two teams play at 2 p.m. Saturday.
Abernathy slot back Avery Clarkson totaled 109 yards rushing and receiving with a touchdown.
Childress receiver Alex Sauceda made two catches for 91 yards and a touchdown.
Abernathy 50, Childress 14
Childress 8 6 — 14
Abernathy 7 17 7 13 — 50
Bushland downs Whitesboro for area victory
The Bushland Falcons made a long trip to Iowa Park worth it, securing a 34-10 win over upset-minded Whitesboro in a Class 3A Division II area round matchup at Hawks Stadium on Friday night.
The Bearcats, who were hot off an upset of Eastland last week, finish the year at 7-5, while Bushland stays on a season long roll at 12-0.
The Falcons defense was firing on all cylinders as they finished the night forcing four turnovers. Brody Sutterfield was a ball hawk for the Falcons coming away with three interceptions. The Bearcats were stifled for 242 yards of total offense as they couldn't struggled to get any rhythm going.
Bushland quarterback Jared Thomas was impressive once again, throwing for three touchdowns, and rushings for two more TDs. Thomas finished his night completing 16 of 22 passes for 219 yards as he found a different receiver for each of his three touchdown tosses.
As if that wasn't enough the dual-threat signal-caller ran for 55 more yards on the ground.
Bushland look to continue its success when they face the Brock Eagles (10-2) back at Hawks Stadium in Iowa Park for a regional semifinal game at 3 p.m. Friday.
Bushland 34, Whitesboro 10
Bushland 14 7 13 — 34
Whitesboro 3 7 — 10