District 2-3A Division I
Bushland blanks River Road to stay unbeaten
The No.4-ranked Bushland Falcons didn't overlook River Road before next week's clash with Shallowater, blanking the Wildcats 68-0 on Friday night.
The Falcons are a perfect 8-0 overall and now 2-0 in District 2-3A Division I. River Road falls to 2-6 overall and 0-2 in district. The Bushland offense put up 469 yards behind 257 passing to 212 rushing. Running back Ivan Soto once again surpassed the century mark toting the rock seven times for 147 yards with a score and had 84 yards receiving for another TD. AJ Marquez also did work on the ground with 49 yards and a touchdown of his own, and took a 62-yard touchdown pass for another score. Quarterback Dawson Jaco was superb going 16-of-24 for 195 yards with five TD tosses. The Falcons defense handcuffed the Wildcats to 77 total yards.
In the other 2-3A Division I clash, Shallowater won a high scoring contest over Dalhart, 71-39. The Mustangs are now 6-1 overall and 1-0 in district. Dalhart falls to 4-3, 1-1.
District 3-3A Division II 
Childress gets first district win
Childress shrugged off an early 15-0 deficit to score 48 unanswered points to roll over Tulia 48-15 on Friday night at Younger Field in Tulia.
Tulia came out of the gates fast jumping out to a 15-0 lead behind a David Molina 15-yard pass from Daniel Velazquez, followed by a Koein Maeda pick-six. But that was it for the Hornets when it came to scoring. The Bobcats roared back to take the lead by halftime. Trailing 15-7 after the first, Seth Taylor caught a 60-yard scoring pass from Scout Smith cutting the deficit, 15-14. On the next possession it was Isaiah Jalomo hauling in a 20-yard TD pass from Smith to give Childress a 21-15 advantage it wouldn't relinquish. In the second half the Bobcats dominated outscoring Tulia 27-0 in the final 24 minutes. Smith finished the game 8-of-15 for 195 yards with three touchdowns to two interceptions. Lamont Nickleberry had a huge outing snagging seven catches for 122 yards with a pair of TDs, and running back Da'reon Mathis rushed for 114 yards with a score on 20 carries.
Childress improves to 3-4 overall and 1-1 in District 3-3A Division II. Tulia falls to 2-5, 0-1.
Friona drills Dimmitt
In a lopsided contest the Friona Chieftains made quick work of Dimmitt thanks to a 55-14 victory on Friday.
The Chieftains are off to a 2-0 start in District 3-3A Division II and 4-3 overall. Dimmitt is still looking for its first win slipping to 0-7, 0-2. Friona hammered the ball on the ground with the duo of Aaron Rosales and Abisia Torres. Torres chewed up a game-high 165 yards on 16 carries with a pair of touchdowns. Rosales added 116 yards with a score. Martin Godinez, Jose Saucedo and Alexis Rivas also found the end zone.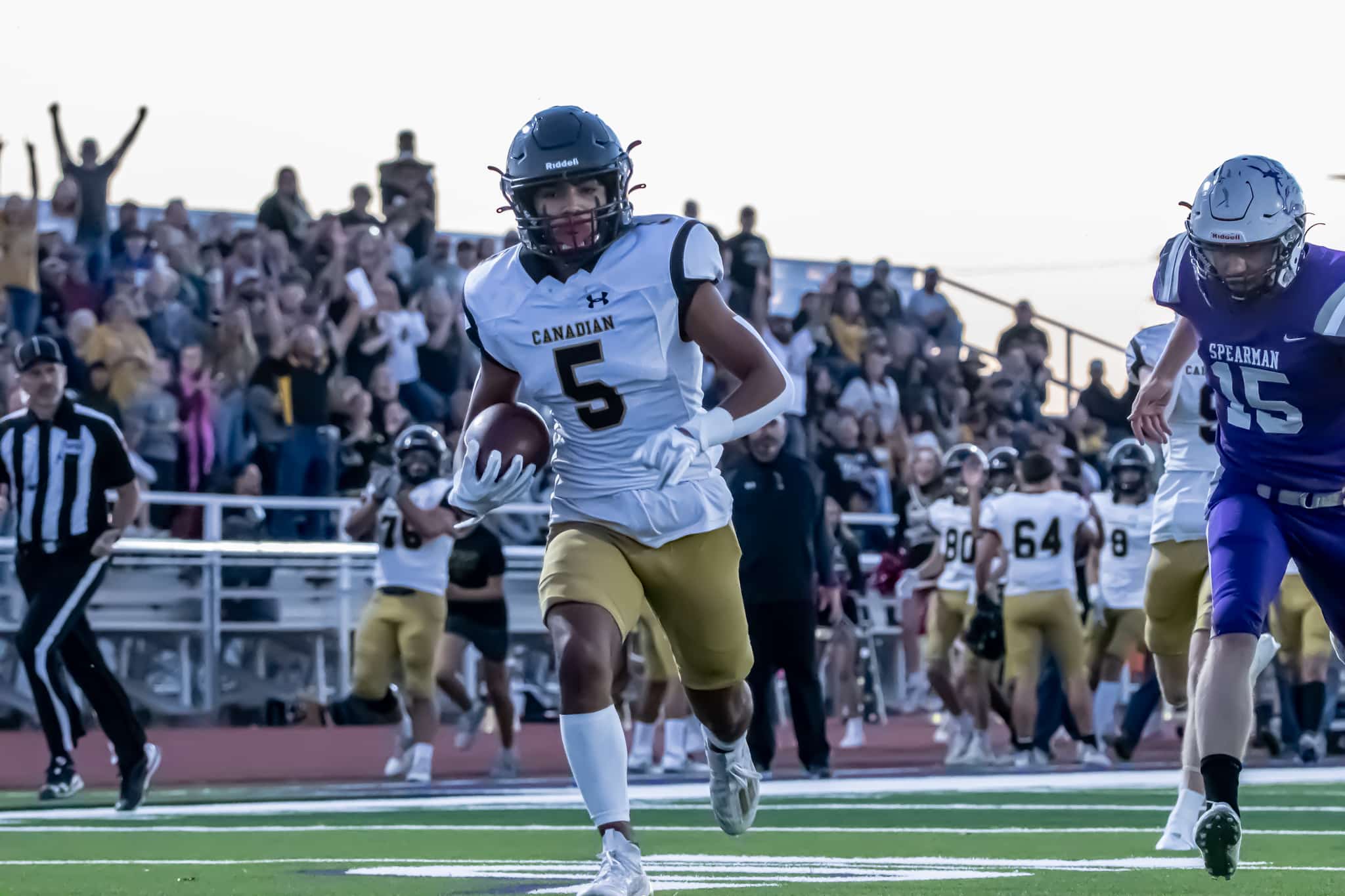 Canadian shuts down Spearman
The No. 4-ranked Canadian Wildcats stayed red hot after handling Spearman 42-3 on Friday night at Lynx Stadium.
After a slow start with Spearman trying to handle time of possession keeping the ball away from the Wildcats, the offense got it going scoring 35 points from the second quarter on. For a fourth straight contest the Canadian offense went over 500 yards of offense totaling 547 against Spearman (2-5, 1-1). Coming off a leg injury, junior running back Luke Flowers made his return for Canadian making the most of his limited snaps. Flowers toted the ball only eight times but still stacked up 115 yards with a touchdown. Quarterback Camren Cavalier led the team with 146 yards rushing and a pair of TDS and running back Kaden Crooks chipped in 94 yards on 14 carries. Canadian moves to 2-0 in district and 5-2 overall.
CLASS 2A
District 1-2A Division I
Highland Park nabs district W
In a key game that could have major emphasis on the postseason it was Highland Park keeping its playoff hopes alive by going on the road and beating West Texas High 31-16 on Friday.
The Hornets improve to 2-5 overall but more importantly 1-1 in District 1-2A Division I. West Texas High is now 3-4, 0-2. Highland Park quarterback Brady Thompson continues to impress as the junior had an efficient night. Thompson threw for 265 yards slinging three touchdowns. He also ran for 41 yards on eight carries. Teammate Tavian Vrede did damage piling up 118 yards on 21 carries for two scores and had 33 yards receiving. Receiver Braylon Norman had 59 yards receiving with a score.
Farwell rolls over Sanford-Fritch
The Farwell Steers bounced back from its first loss of the year with a 46-3 victory over Sanford-Fritch.
The Steers offense stacked up 313 rushing yards while holding the Eagles to 96 total yards and only five first downs. Running back Corey Stancell led the way with 140 yards rushing on six carries with three touchdowns and had an interception on defense. Farwell is 6-1 overall and 1-1 in district. Fritch falls to 1-6, 1-1.
District 1-2A Division II
Vega gets past Gruver
Steady offense and solid defense were enough for the Vega Longhorns to earn a key 21-6 win over Gruver at home on Friday night.
The Longhorns (4-4) put themselves in great position at 2-0 in District 1-2A Division II while Gruver (6-2 overall) falls to 1-1. Vega put up 282 of its 324 yards on the ground led by dual threat quarterback Joaquin Segovia. Segovia torched the Greyhound defense for 210 yards rushing on 25 totes with a touchdown and threw for 42 yards with a score. Jose Silerio added 72 yards on the ground on 16 carries with a touchdown of his own. Vega limited Gruver to 165 total yards with Paxton Green being a big reason why racking up 16 tackles for the Longhorns.
Sunray stacks up points on Boys Ranch
Sunray's air raid attack was too much for Boys Ranch to overcome as the Bobcats blasted the Roughriders 62-22 in a District 1-2A Division II clash on Friday.
Sunray put up an eye-opening 576 yards of offense with 446 of those coming by air. It was another stellar night for Armando Lujan as the sophomore gunslinger diced up the Roughrider secondary going 32-of-46 for 443 yards with seven touchdown tosses. Lujan used his feet to rush for 62 yards as well. Tanner Van Dyk was the go-to receiver snagging four catches for 131 yards with two scores. Kagan Davids had eight catches for 89 yards and a score. Sunray stays in the district hunt at 1-0 while improving to 6-1 overall. Boys Ranch drops to 4-4, 0-2.
District 2-2A Division II
Wellington, Clarendon, Shamrock all cruise
There were no surprises in District 2-2A Division II on Friday night as all three favorites won handily.
The No. 3-ranked Wellington Skyrockets blanked Memphis 50-0. The Skyrockets defense pitch their second straight shutout and haven't allowed a touchdown in the last 10 quarters. Carson Tarver was the key cog on the offensive side throwing for 118 yards and four touchdowns, while rushing for 68 yards and another score. Wellington improves to 2-0 in district and 6-1 overall.
Clarendon kept pace with Wellington with shutting out Quanah 48-6 at home on Friday. Jmaury Davis didn't touch the ball a lot but when he did it was effective. Davis had one carry for a 21-yard touchdown, two catches for 79 yards with two more scores, and added a 65-yard punt return for a TD. Quarterback Harrison Howard had the perfect night throwing the ball three times for 133 yards and three touchdowns. The Broncos (5-2 overall) are 2-0 in district. Quanah slips to 1-6, 0-2.
Shamrock won the 65th meeting of the Battle for Wheeler County in convincing fashion downing the Mustangs 41-7.
It's the second straight year that the Irish have taken down their arch-rival. Shamrock earns its first district win improving to 1-1 and 5-2 overall. Wheeler is now 1-6, 0-2. Shamrock quarterback Kit Macina threw for 175 yards, then rushed for 110 yards for a combined 285 yards of offense totaling two touchdowns.
District 3-2A Division II
Bovina blasts Crosbyton 
The Bovina Mustangs earned their first district win and snapped a four-game losing skid in the process by blasting Crosbyton 63-21 on Friday night.
Bovina is 2-5 overall and now 1-1 in District 3-2A Division II. Crosbyton drops to 1-6, 0-2. The Mustangs took control in the first half going up 28-12 and never looking back. Running back Darian DeLaRosa showed off his speed going for 167 yards on the ground on only 10 carries with two touchdowns. Teammate and quarterback Daniel Herrera was 10-of-12 for 174 yards three touchdown passes and a rushing TD. Receiver Ceasar Amaya made the most of five catches going for 111 yards with two scores.