The Canyon Lady Eagles had a pair of athletes highlight day one of the ever entertaining 67th Amarillo Relays Meet of Champions on Friday afternoon.
Senior Hannah Stuart not only defended her 3200-meter championship but broke a new meet record in the process, while teammate Kashlee Dickinson set a new mark in the pole vault event.
"It's impressive," Canyon girls coach Ray Baca said. "As many years as this meet has been going on it's always special to see a new record being broken. I'm so proud of both of Hannah and Kashlee."
Stuart left the field in the dust running against the clock more than any opponent. Stuart was so dominant that when she crossed the finish line with a 10:58.12 she was 47 seconds better than second place teammate Avery Brown at 11:45.16.
This win was also a little sweeter for Stuart breaking her sister, Breanna's previous meet record of 11:06 just two years ago.
"For a while I was in Breanna's shadow," Stuart said. "That wasn't a bad thing at all, but now I'm making my own name. But I'm proud to break this record because she's my sister and I can go fast like she always does."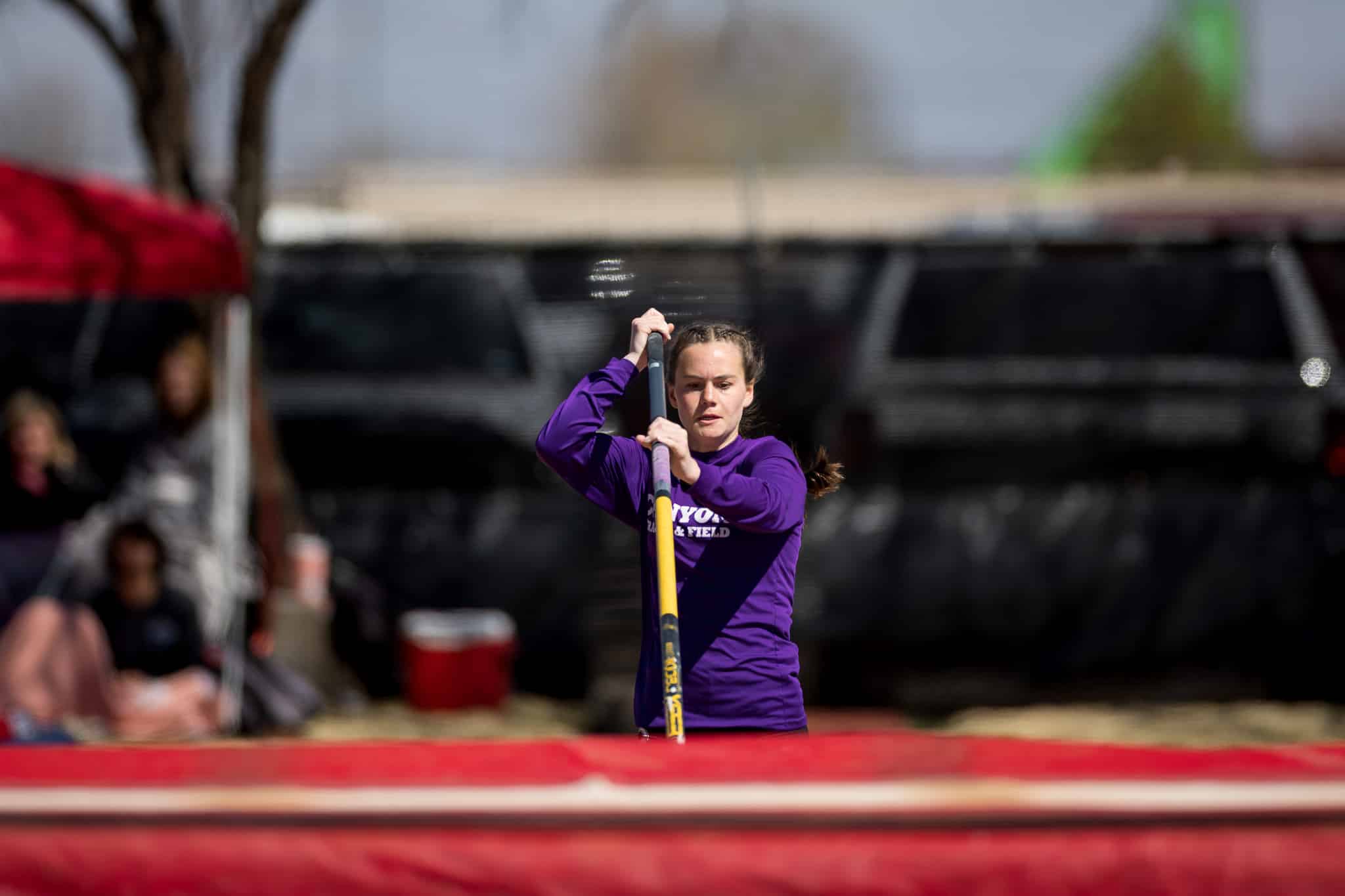 Dickinson entered after every other competitor was done at 11-feet. The senior standout didn't waste any clearing 12-feet-7 inches to not only win the pole vault for the first time at the Amarillo Relays but also break Maren Garnett's record of 12-6 set in 2018.
"I went to the Texas Relays last year, so it was nice be here this year, win, and set a new record," Dickinson said. "I just want to keep improving each week with a goal to get back to state."
Dickinson, who has cleared 13-feet this year, went for 13-feet-1 inches on Friday but came up short on her attempts.
The running finals of the 67th Amarillo Relays Meet of Champions begin at 1:30 p.m. on Saturday.
Day one champions 
Boys
Noah Watt of Amarillo High ran away from the field clocking a time of 9:45.12 to win gold in the 3200 meter race.
Diego Martinez of Vega cleared 6-foot-4 inches to win the high jump event on Friday.
Michael McCloy of Gruver set a new season-best leap of 14-feet-6 inches to win the pole vault event.
Amarillo High's Danny Bentley held off Mathew Bridges of Bushland with a winning throw of 149-feet-2 inches in the discus.
Hereford's Jadyn Fletcher set a new personal best with a toss of 49-feet-1 1/2 inches to claim the shot put championship.
Robert Nora of Clovis popped off a leap of 21-feet-7 inches to take a gold medal home in the long jump.
Girls
Canyon's Taryn Gullick had a winning toss of 124-feet-6 inches to take home the gold medal in the discus event.
Amarillo High's Emmalynn Reilly threw a 36-feet-3 1/2 inches to claim a victory in the shot put.
Lubbock-Cooper's Sofia De Groot was impressive in the long jump earning her a gold medal with a leap of 19-feet 3/4 inches.
Niomi Wines of Lubbock-Cooper had a great outing by clearing 5-foot-8 inches to win the high jump event.