McLean captains, Caden Simpson, from left, Kade Reichman, Dalton Abshire and Ben Crockett have been a formed a close bond during the Tigers run this season. [Charla Schults/ Press Pass Sports]
What a difference a year makes.
Heading into August of 2018, McLean head coach Clint Linman had such a stacked senior class along with powerful junior Ben Crockett that fans, and the media that follow Six-man around Texas had pretty much crowned the Tigers state champions before they took a regular season snap.
The Tigers delivered on those expectations with the greatest season in school history by going 15-0, while bringing home the school's first ever Class 1A Division I state title.
That was then.
Entering 2019, the stigma around McLean had changed.
Sure, Crockett, the Class 1A Player of the Year was back, but who else?
How was Linman going to replace those great seniors — Chism Henderson, Cayden Mann, Bradley Hannon and Kater Tate?
"This year was a lot harder," Linman said. "We're not as deep or as big, but these guys went to work. We gelled as the season went along. We overcame some injuries and just kept fighting every week."
The Tigers did drop their first regular season game since 2017, falling to Balmorhea, 48-35.
But they didn't let that loss ruin the season.
McLean bounced back with 10 straight wins including two blowout wins over rival White Deer, and earned a hard fought 97-81 victory over then No. 1-Rankin in the state semifinals. A game that the Tigers were 22-point underdogs, and also trailed by 15 points at the half.
"That win against Rankin is one I'll never forget," Linman said. "It was emotional. They were extremely fast, but our guys just kept fighting. We wanted it so bad, and in the end we got it done. It was an exhausting game, but such a huge win for us because of how we played as a team."
Crockett, who played 191 snaps and rushed for 483 yards against Rankin, is the glue that makes the Tigers go.
The 6-foot-1, 210 pound bruiser has rushed for 2,750 yards this season with 59 rushing touchdowns. Crockett's thrown for 799 yards with another 23 TDs and made 99 tackles.
As unbelievable as those stats are, Crockett can't do it alone.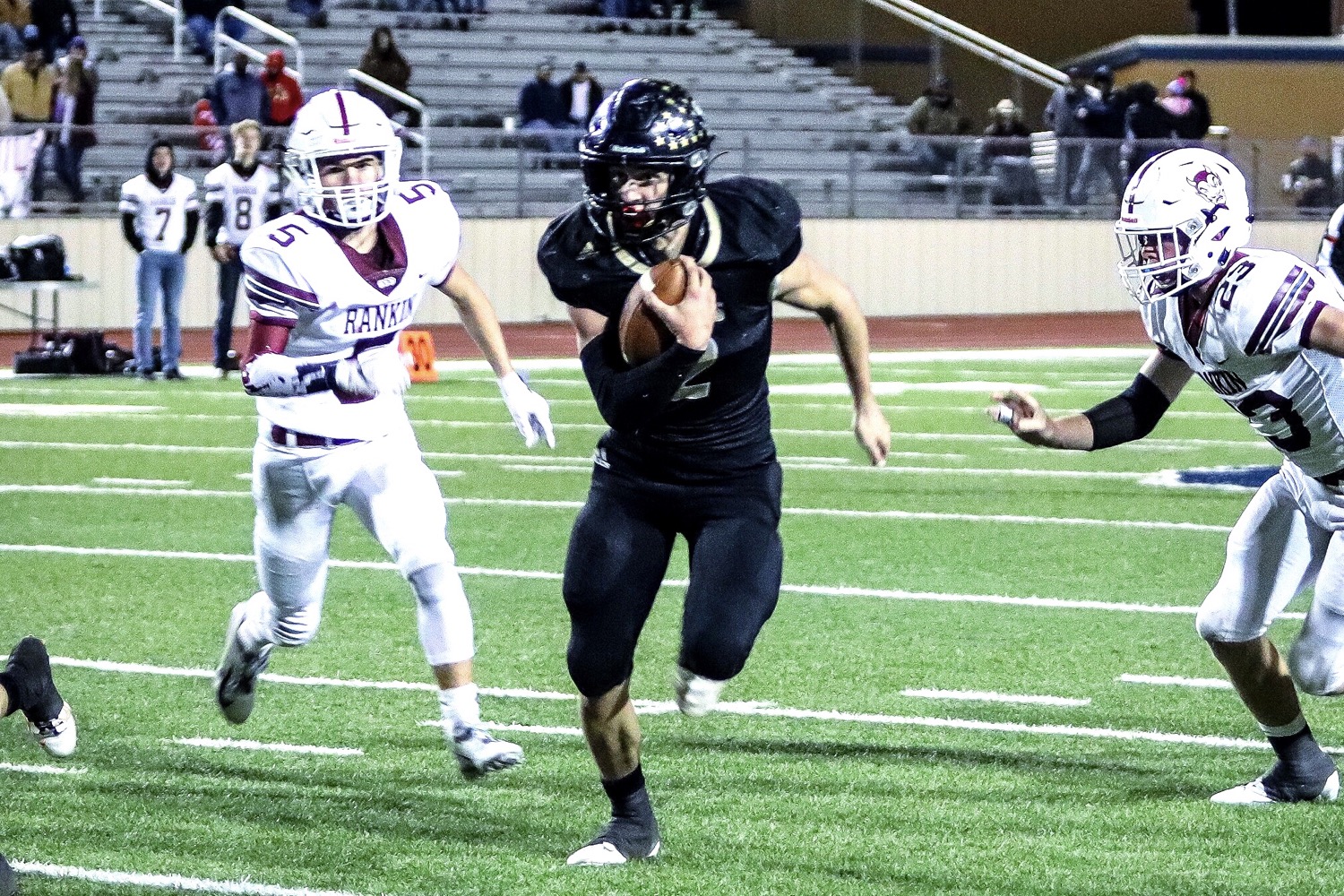 McLean's Dalton Abshire runs through a big hole against Rankin. [Charla Shults/ Press Pass Sports[
He's had players step up around him in the form of seniors Dalton Abshire and Kade Reichman to go with juniors Jacob Watson and Keaton Helton.
"Dalton (Abshire) and Kade Reichman have been great for us all year," Linman said. "Dalton has been a great fullback and defender, and Kade has blocked well. We've turned him from a defensive lineman to a linebacker. Then our juniors have become leaders. Jacob Watson has come in and done a good job at quarterback, and the biggest improvement is Keaton Helton. He is playing where Chism (Henderson) played last year, and has been great."
Crockett agreed with his coaches comment, but adds that the chemistry on the team has come a long way since the summer.
"We graduated a lot," Crockett said. "We've had some adversity, and we've worked ourselves out of some tough spots. But we knew we had to come together. We all started hanging out more, and that brought us together. It's been a fun year."
Thanks to that brotherhood, McLean is 13-1 overall, getting set to play for a second straight Class 1A Division I state title when they take on Blum (12-2) at 11 a.m. Wednesday at AT&T Stadium.