The West Texas A&M football team stands arm and arm before the game to signal unity. [Ben Jenkins/ Press Pass Sports]
A long awaited return to the gridiron was well received as a sense of normalcy came back for the West Texas A&M football team, the students, administers and fans in an uncharacteristic 2020 season opener.
The Buffs made history as the only Division II program to play college football Saturday and they made it worth their while blowing out Oklahoma Panhandle State 58-7 in front of a limited capacity crowd of 4,500 fans at Buffalo Stadium on J-Ferg Field.
The 4,500 in attendance was a sellout of the allotted tickets WT was allow to sell at 50 percent capacity.
"I think if we could have gone 100 percent capacity we may have had 10 to 12,000 in the stands," WT head coach Hunter Hughes said. "People want this right now. They want to return to some kind of normalcy. I saw where Monday there is 75 percent capacity in some places so hopefully we can do that, and hopefully we get tailgating back. It's different walking down tailgate alley and no one is there."
The Buffs opener meant so much to so many Saturday night, as well as giving Hughes and his team a platform to show their unity of the social injustice that has been a main topic in America over the past several months. Over 20 players took a knee during the National Anthem as a way to express their feelings. Following the anthem, Hughes and his team lined up arm and arm at midfield to display a two and a half minute video featuring Buff players from different races talking about unity.
"We had a message to put out there, and I think we put it out there well," Hughes said. "Just getting to watch it with the players was very emotional to me. The players have done a lot for me, and I'm glad it was well received."
Senior linebacker Eric Collins has been very vocal on his social media during these trying times. During the postgame interview Collins was elated with how the message the video portrayed.
"The message was strong and well received," Collins said. "I think it was important to do going forward."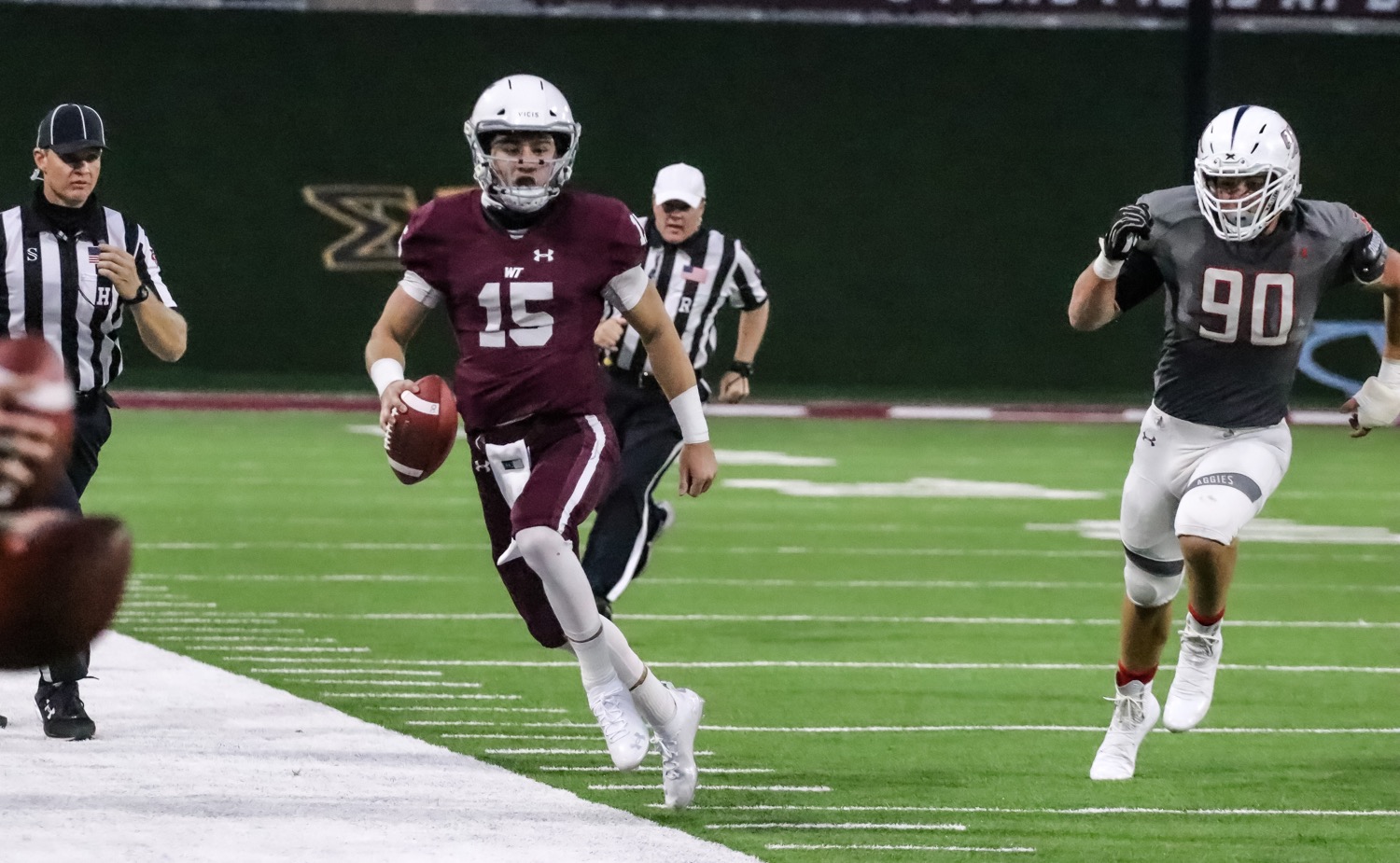 WT quarterback Nick Gerber (15) steps out of bounds after getting a first down against Oklahoma Panhandle State on Saturday night. [Ben Jenkins/ Press Pass Sports]
As for the contest against OPSU, it was never close. WT overpowered the Aggies in every way, opening the flood gates with a 21-point first quarter, on the way to a commanding 35-7 halftime lead.
The Buffs rolled up an eye-opening 663 yards of offense in the victory, with 415 of those yards coming on the ground.
The 600 plus yards was WT's best offense output since beating McMurray 90-57 in 2013.
"We wanted to keep our foot on the gas and do a lot of different things," said Hughes, who is now 18-16 in his fourth season as head coach. "I thought we ran the ball very well, and our offensive line was very physical."
Second-year starting quarterback Nick Gerber was near flawless on the night completing 16-of-17 passes for 187 with three touchdown passes. The junior also rushed for 60 yards on five totes.
Seven different running backs touched the ball for the Buffs led by Brandon Blair's 117 yards on only six carries with a score. Lubbock Coronado grad Jarrod Compton added 55 yards and a TD.
Defensively, WT limited OPSU to 190 yards of offense. Collins made eight tackles including a sack.
"It was great just to be playing football," said Collins, who made his 34th consecutive start at linebacker. "We haven't played in a year so to hit someone else was a great feeling."
The Buffs return to action to face the only other Lone Star Conference team playing fall football in Angelo State in San Angelo at 6 p.m. Saturday.