West Texas A&M running back Brandon Blair celebrates after scoring a touchdown against Western New Mexico during a Lone Star Conference contest at Buffaloes Stadium on Saturday night. [Trevor Fleeman/ Press Pass Sports]
West Texas A&M rebounded in a big way from their loss of the year putting together explosive first and fourth quarters to handle Western New Mexico 42-14 in front of an announced 5,677 fans on Saturday night at Buffaloes Stadium.
"I thought we had a different energy," WT head coach Hunter Hughes said. "There was an excitement, and playing at home does that. I told our guys they needed a sense of urgency, but also needed to have a passion for the game. I think we played like that and it showed."
WT improves to 2-1 overall and 1-1 in the Lone Star Conference. WNM is now 1-2, 0-1.
The Buffs took advantage of a fumbled snap by Mustang punter Thomas Webb taking over their first drive at the WNM 29-yard line. Four plays later quarterback Nick Gerber found Caleb Ollison for a 6-yard scoring pass putting WT in front 7-0.
As the first quarter came to a close, WT added another touchdown when running back Brandon Blair broke loose for a 22-yard scamper extending the lead, 14-0.
WT took a 21-0 lead into halftime, however things slowed down in the third quarter. The WNM defense forced the Buffs off the field, then punched in a TD with 13:57 left in the game cutting the deficit, 21-7.
The Buffs offense responded on the back of Colorado State-Pueblo transfer Marcus Lindsay. Lindsay hadn't seen the field till the final quarter but made a mark in a huge way. His first carry went into Mustang territory on a 15-yard run. Later in the drive Lindsay found a hole over the left side and turned on the jets for a 22-yard touchdown as the Buffs took over from that moment forward up 28-7 with 11:45 to go.
"Western New Mexico had been stacking the box," Hughes said. "We didn't have a lot of holes, but I feel Brandon (Blair) put his head and down and ran hard. We put Marcus (Lindsay) in because he runs downhill. Next thing you know he's moving us down the field. Marcus has been a really good find for us."
Lindsay finished with 53 yards on five carries, scoring two fourth quarter touchdowns. Blair added 44 yards and a score on five carries as well.
"We really wanted to win this game," Blair said. "We showed a lot of energy all week in practice and we executed out there."
For a look at full game stats, please visit https://gobuffsgo.com/sports/football/stats/2021/western-new-mexico/boxscore/8182
West Texas A&M quarterback Nick Gerber scrambles for yards during a Lone Star Conference contest against Western New Mexico at Buffaloes Stadium on Saturday night. [Trevor Fleeman/ Press Pass Sports]
Gerber has career night
Levelland graduate and junior quarterback Nick Gerber became the first WT quarterback to throw for over 300 yards since the 2016 season. Gerber also had his longest touchdown pass of his college career hitting Noah Bogardus for an 82-yard pitch and catch that gave WT a 21-0 second quarter lead. Gerber finished the game going 14-of-23 for 355 yards with three passing touchdowns.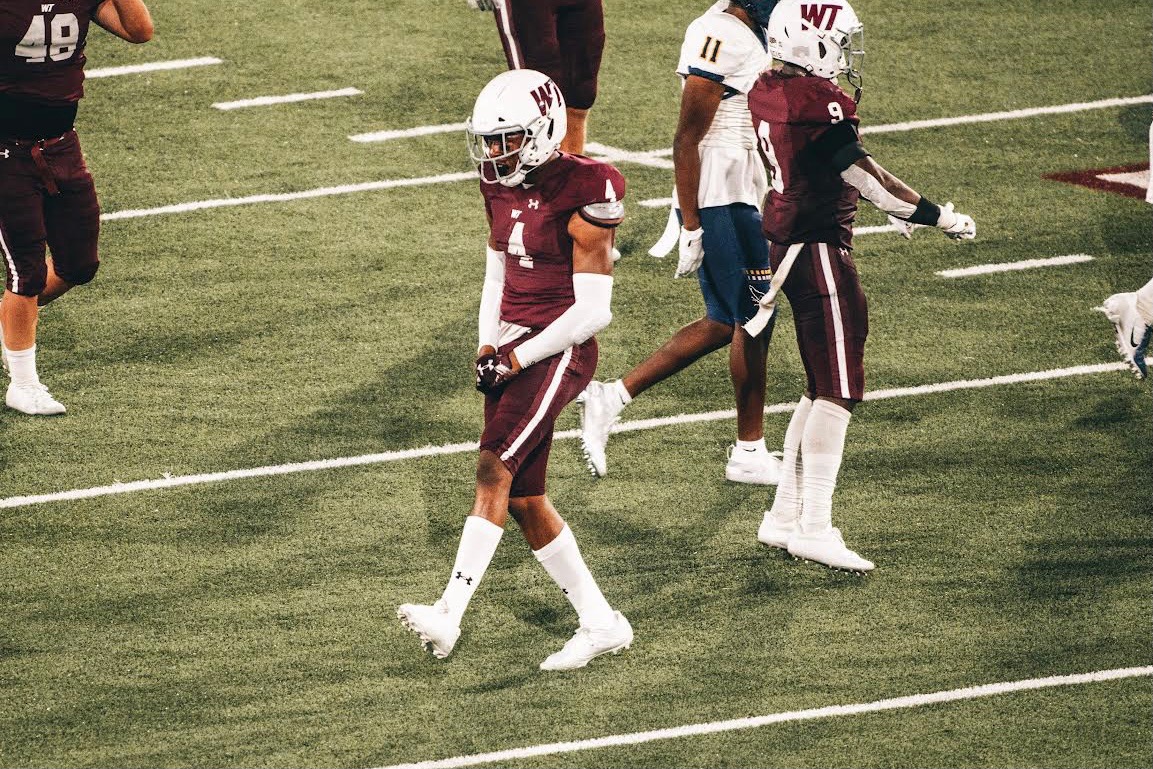 West Texas A&M linebacker Eric Collins celebrates after a sack during a Lone Star Conference contest against Western New Mexico at Buffaloes Stadium on Saturday night. [Trevor Fleeman/ Press Pass Sports]
Bend but don't break
The WT defense allowed 422 total yards to the Mustangs were stingy giving up 14 points. The Buffs held WNM to 2-of-5 in redzone chances and only 53 yards on the ground. Linebacker Eric Collins swarmed all over the field racking up 10 tackles and a sack. Teammate and linebacker JT Cavender led WT with 12 tackles, 10 of which were solo.
"We tackled a lot better in this game," Cavender said. "We practiced all week, and focused on doing are job. We ran through and hit, and made tackles. It was a great effort by the defense."
Hughes echoed Cavender's comments.
"In football you have to cross the goalline," Hughes said. "They can get as many yards as they want, but it's about points on the board. I'm proud of how the defense played."
Next up
The Buffs return to the gridiron when they step out of conference to host No. 7-ranked Colorado Mines (3-0) at 7 p.m., Saturday, Sept. 25, at Buffaloes Stadium.
LSC Week 3 scores
Saturday's games
West Texas A&M 42, W. New Mexico 14
West Florida 35 A&M-Commerce 17
Midwestern State 48, Angelo State 27
A&M-Kingsville 36, E. New Mexico 10
Abilene Christian 34, UT Permian Basin 9