Caprock's Tarik Williams stretches over the pylon for a touchdown on Friday night against Palo Duro. [Ben Jenkins/ Press Pass Sports]
The Caprock Longhorns found the win column for the first time this season, opening District 2-5A Division I play with a dominating 35-14 against rival Palo Duro.
Caprock is 1-4 overall but more importantly 1-0 in district. The Dons fall to 2-3 overall and 0-1.
The Longhorns had struggled, trying to find their way through a challenging nondistrict schedule, but with a brand new district season brought a brand new opportunity.
Caprock's run game was the focus, piling up 239 yards behind a strong effort from Corbin Putmam. Putnam ran the ball 21 times for 83 yards and a score. Quarterback Tarik Williams was efficient through the air, completing 8 of 9 passes for 151 yards with a passing touchdown and two rushing TDs.
Caprock 35, Palo Duro 14
Palo Duro 0 0 0 14 — 14
Caprock 14 7 14 0 — 35
Top performers
Palo Duro
Rushing: Anthony Randle 12-52.
Passing: Dondray DeGrate 7-20-2-95.
Receiving: Israel Guevara 5-60
Caprock
Rushing: Corbin Putman 21-83.
Passing: Tarik Williams 8-9-0-151; T.J. DeLeon 3-4-0-15.
Receiving: Isayah Hernandez 3-56,
Demons rally in second half surge
Dumas erased an early 14-point deficit to Wichita Falls Rider, gutting out a hard fought 47-35 win on Friday night at Memorial Stadium..
Defense has been the bread and butter for the
Dumas' defense had set the tone all season, however, the Demons struggled falling behind 21-7 after the first quarter.
Dumas regained its composure, chipping away at the Raiders lead, cutting the advantage to 21-17 by halftime.
Dumas took full control, dominating Rider in the second half, 32-14.
Demons running back Jacob Mares was the center of the Demons' offensive attack, running the rock 25 times for 230 yards with two touchdowns in the shootout.
After a rough first quarter, the Dumas defense settled down, holding Rider to 376 yards, a 100 yards below its average.
Dumas stays perfect on the year at 5-0 while Wichita Falls Rider drops to 2-3.
Dumas 47, Rider 35
Dumas 7 10 9 21 — 47
Wichita Falls Rider 21 0 7 7 — 35
Top performers
Dumas
Rushing: Jacob Mares 25-230-2
Passing: Spencer Williams 9-12-67-0
Receiving: Kyle Stroebel 3-35
Wichita Falls Rider
Rushing: Tre Byrd 5-28
Passing: Jeremy Rodriguez 17-37-315-2
Receiving: Nick Darcus 5-129-1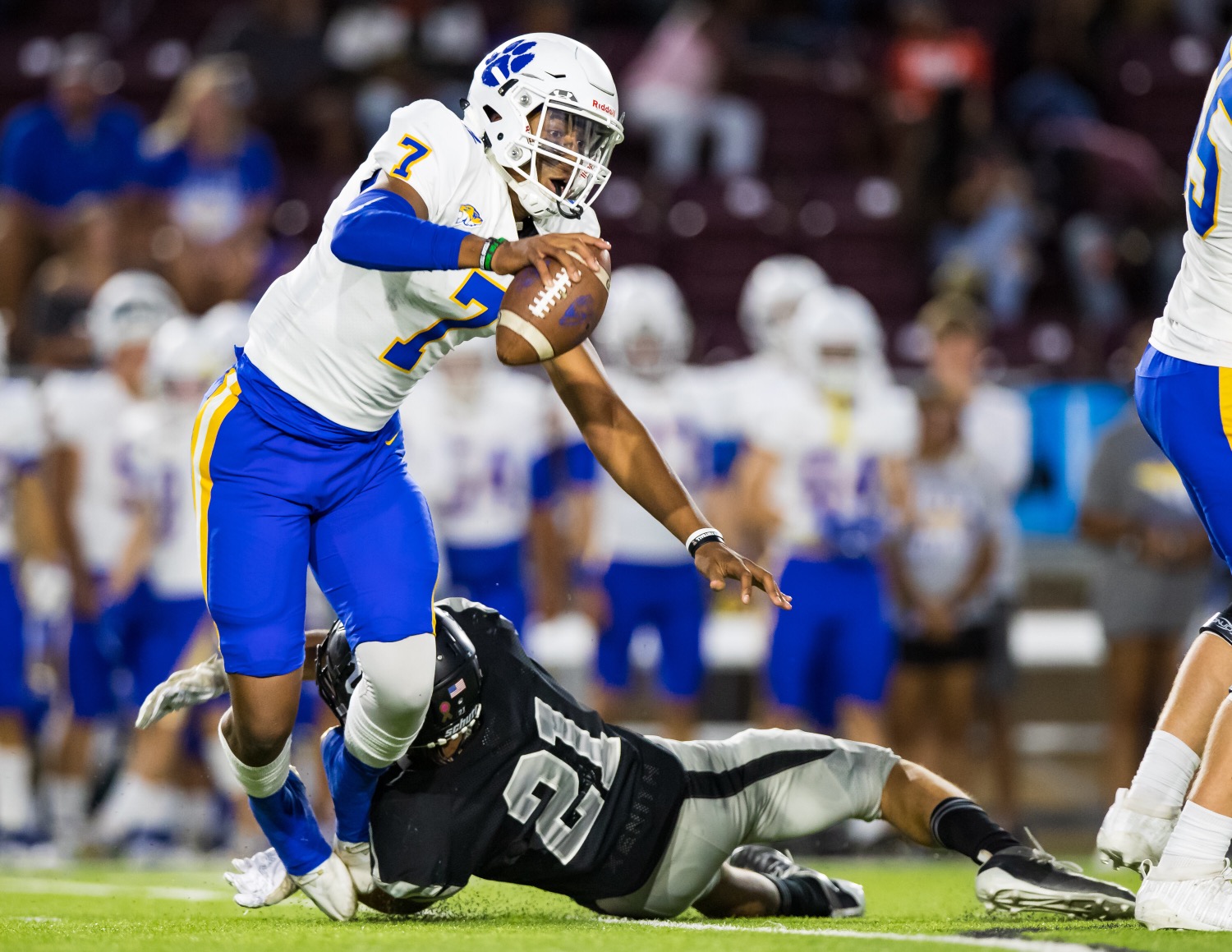 Frenship quarterback Donovan Smith evades a sack against Randall on Friday night at Kimbrough Stadium. [John Moore/ Press Pass Sports]
QUICK HITS
Frenship takes down Randall
The struggles continued for Randall on Friday night in the final game before district play starts on Happy State Bank Field at Kimbrough Memorial Stadium.
Randall fell behind Frenship early and never recovered, falling 35-10.
It was the fourth straight loss for the Raiders after winning their season opener. They have an open week next week before starting District 3-5A Division II play.
Frenship (4-1) never trailed in showing off its offensive firepower. The Tigers led 14-3 at halftime and were in control the whole way.
Randall (1-4) turned in a respectable defensive effort, but was just on the field too long. Brandon Ellison had the lone touchdown for the Raiders on a touchdown pass from Jared Gallegos in the fourth quarter and finished with seven catches for 96 yards.
The biggest problem for the Raiders offensively was rushing for only 68 yards.
Frenship's Drew Hocutt had 10 catches for 114 yards and two touchdowns.
Frenship 35, Randall 10
Frenship 7 7 7 14 — 35
Randall 3 7 — 10
Canyon blasts Borger
Canyon's dynamic offense was too much for Borger as the Eagles left Bulldogs Stadium with a 63-19 win on Friday night.
The victory keeps Canyon perfect at 5-0 while Borger falls to 1-4.
Quarterback Jake Defoor picked a part the Bulldog defense, throwing for 200 yards on 13 of 16 passing.
Aidan Hildinger did the damage on the ground, rushing for 141 yards on 19 carries with two scores.
Pampa running back Cornelius Landers, left, looks for running room against Perryton on Friday. [David Erickson/ Press Pass Sports]
Pampa pounds Perryton
The Pampa Harvesters have now won three straight games thanks to a convincing 40-14 victory at Perryton on Friday night at Rangers Stadium.
Pampa is 4-1 overall on the year. The Rangers are now 1-4.
Sophomore running back Cornelius Landers totaled 102 yards of offense with a touchdown for the Harvesters.
Teammate and quarterback Tucker Bridwell was 19 of 25 for 280 yards with a TD toss.