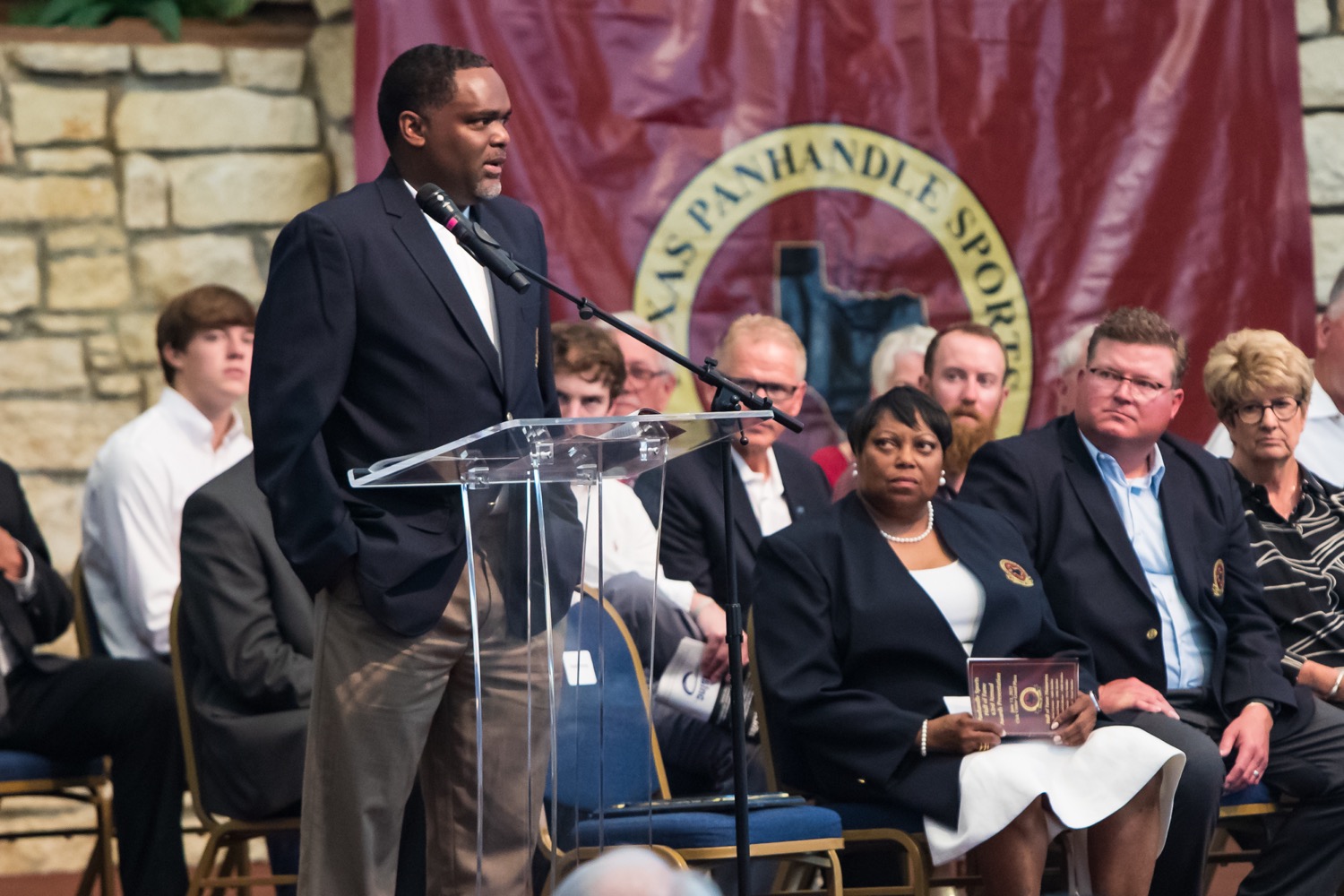 Pampa and Texas Tech basketball standout Rayford Young was inducted as member No. 189 at the 63rd Texas Panhandle Sports Hall of Fame on Sunday at the Amarillo Civic Center. [John Moore/ Press Pass Sports]
Pampa and Texas Tech basketball legend Rayford Young was honored as the 189th member of the 63rd Texas Panhandle Sports Hall of Fame during the official ceremony Sunday afternoon at the Amarillo Civic Center.
Young will never be forgotten in these parts as one of the best players to not only come out of Pampa but the entire Amarillo-area.
"It's truly an honor," Young said. "I don't know how deserving I am of this but I very much appreciate it. So many people helped me get to this point. My parents, my high school basketball coach Robert Hale, to my teammates I stay in touch with. Words can't express what an honor this is."
Though deemed as "undersized", standing at 5-foot-11, that never stopped Young from his passion at being the best. Young led a tradition-rich Harvesters program to an incredible run to a Class 5A state championship in 1996.
He went on to play 108 games at Texas Tech as one of the best to ever where a Red Raiders uniform. During his career he was twice second-team All-Big 12. His 1,525 career points are 16th all-time and he finished fourth all-time in both assists (407) and steals (173).
Even seeing how his playing career laid out, coming from being a teenager in Pampa there's no way Young could've pictured how his life is today. Young married his high school sweetheart, Candice, and their oldest son Trae is known as one of the top players in the NBA currently leading the Atlanta Hawks in the Eastern Conference semifinals of the playoffs.
Young is extremely proud of that fact, and Trae's biggest supporter.
Young and Trae's lifestyles have not mirrored each other. Young worked at Dos Caballeros, a Mexican food restaurant in Pampa to have some money in his pocket during the summers, and played basketball in his neighborhood or the Harvesters McNeely Field house.
Learning what it took to be great from his years on the hardwood, Young raised Trae in a completely different environment during time in Norman, Okla. Young involved the now NBA All-Star into a much more prolific world of summer basketball on a national level from the time he could dribble.
"Growing up in Pampa our biggest weekend was going to Amarillo and the Westgate Mall," Young said. "I can't explain how much I've been blessed. I always wanted to play for coach Tom Penders at Texas. But I then got the opportunity to play for James Dickey at Texas Tech and that was like New York City to me.
"I'd never been many places. So to see how much my life has changed from Texas Tech, to playing ball in Europe, to having a son in the NBA is incredible."
Young always had a motivated drive and utilizing that drive into making Trae one of the top talents growing up was his main goal.
"There were so many great players to come from Pampa, and I'm related to some of them," Young said. "I've watched what they did good and what they did bad. I was able to have success and learn, and I knew what to keep Trae away from.
"But growing up, we thought nothing existed outside of Pampa. If you were the best player in Pampa that was it. That's what you strived for. But for Trae, I taught him to be the best in his school, in his region, in the state, and in the country. There was always that extra push. It wasn't easy. My wife and I had a lot of arguments about how hard I pushed him, but that's what he wanted. The biggest difference from me is Trae went to camps and played all over the country."
So in a span of 22 years, Young went from a humble kid from Pampa to Harvester legend, to now "Trae's dad." That's more than fine for Young, and more importantly he's proud of the relationship between himself and Trae.
"As a family we've been so lucky to see what Trae has been able to accomplish," said Young, who now manages two foundations associated with the family. " Trae still goes to Pampa and sees his grandparents, and his cousins. He's worked hard and it's been fun to watch his career grow. I still have one leg up on him as far as a state championship, but he's been proud of me. He's grateful. He's a good kid."