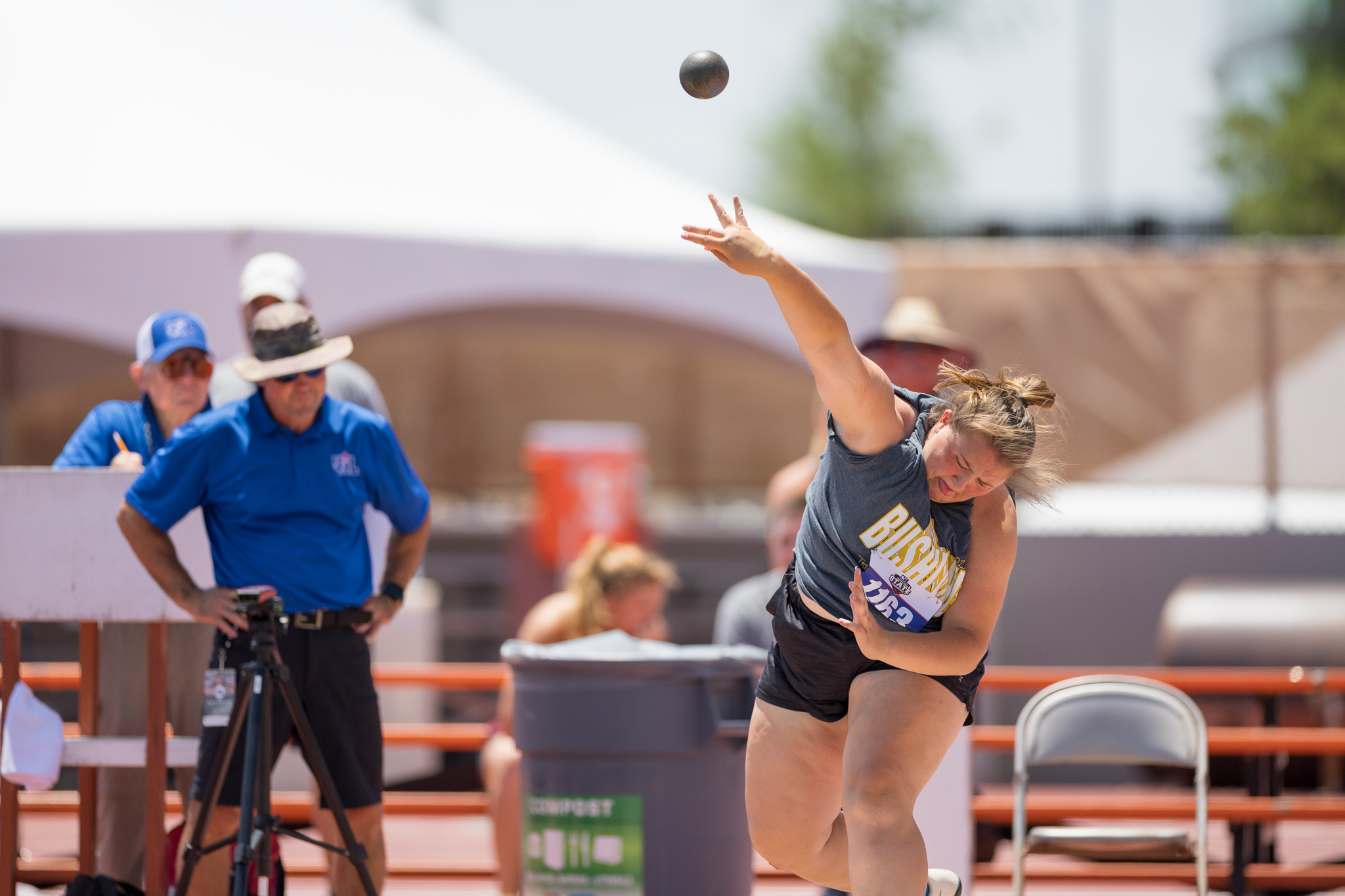 Austin- The Texas Panhandle saw 18 medal winners, including seven gold medal championships during the UIL Class 4A-3A State Track and Field Meet at Mike A. Myers on Thursday.
GOLD MEDALS
Canyon 1600 meter relay
Team: Thalia Solis, So., Brooklyn Kinsey, Fr., Whitney Willeford, Sr., Abree Winfrey, Jr.
Performance: The Lady Eagles showed pure grit to win their second UIL Class 4A gold medal in one of the toughest races. Needing to solidify a state championship, the team of Thalia Solis, Brooklyn Kinsey, Whitney Willeford, and Abree Winfrey, put a stamp on the team state title by winning the relay with a time of 3:56.05.
Quoting Willeford: It's an awesome feeling. This is what we've been working for all season. We all wanted this and worked hard to get it. That's what is so great about this team. Everyone works so hard and does their part."
Eric Grassel, Bushland
Year: Senior
Event: Pole Vault
Performance: Grassel made his first ever trip to Austin count in a major winning claiming the UIL Class 3A gold medal in the pole vault. Grassel avoided a scare clearing 15-feet-9 inches on his final attempt after two misses. He then won the event at 16-feet. Grassel went on to make 16-feet-6 inches before missing at a new personal-best attempt of 17-feet. 
Quoting Grassel: "I've been working so hard for this. I've been working for four years for this. I was pretty nervous, but after I hit 15-9, I started to calm down. This was a great season overall. I worked through the season, and it all paid off."
Jillian Howell, Bushland
Year: Senior
Event: Shot put
Performance: Howell is now a two-time state champion after defending her shot put crown on Thursday afternoon. Howell held off Canadian's Mattie Boyd with a toss of 41-9 ½ on her third toss to claim her second straight gold medal. 
Quoting Howell: "It's an amazing feeling. I'm proud of myself, and so appreciative of those who support me. The competition is always tough, but I love getting pushed."
Brenen Thompson, Spearman
Year: Senior
Events: 100 and 200 meter dash
Performance: Thompson went out in record-setting style leaving his magical footprints on the same campus he hopes magic soon happens earing the burnt orange. Thompson won two gold medals sprinting to a 10.24 in the 100 meter dash, followed by a new UIL Class 3A record time of 20.73 in the 200 meter. Thompson's 20.73 broke Sindey Garton's previous record of 20.94 set in 1958.
Quoting Thompson: "It was an amazing day. I knew that was a record that was beatable coming in. I just focused in and went for it. I wanted to leave a mark on this track that I'll hopefully spend four years at, so that's what I did."
Abree Winfrey, Canyon
Year: Junior
Events: 800 meter run, 300-meter hurdles , 1600 relay
Performance: Winfrey's amazing effort helped the Canyon Lady Eagles win the UIL Class 4A state championship. For a second straight year the decorated Winfrey took over the competition winning two gold medals in the 800 meter run with a time of 2:14.42, as well as a part of the 1600 meter relay clocking a 3:56.05. Winfrey also won a silver in the 300-meter hurdles while setting a new personal-best 44.10.
Quoting Winfrey: "I wasn't happy getting that silver medal. That drove me to help my team in the 1600 meter relay. But what was most important is that we won a state championship as a team. Everyone knew what they had to do coming in and we all did the job. It was an amazing night."
SILVER MEDALS
Mattie Boyd, Canadian
Year: Senior
Event: Shot put
Performance: The Canadian senior ended her illustrious career in a Lady Cat uniform with a UIL Class 3A silver medal. Boyd, who scored over 2,000 career points on the basketball court, broke her own school-record set at the regional with a toss of 40-10. This is Boyd's second medal at state after earning a bronze in the discus last season. 
Quoting Boyd: "This medal means so much. I love getting downto state one more time and ending my career like this. Being a Canadian Lady Cat has meant so much to me. The community is here for me, and they've always supported me. I'm going to miss it, but I couldn't be more thankful to be at such a special place."
Kashlee Dickinson, Canyon
Year: Junior
Event: Pole vault
Performance: Dickinson cleared 13-feet to earn a silver medal in the pole vault event. Dickinson was the defending state championship and is the Texas Panhandle record holder clearing 13-feet-6 inches during the season.
Quoting Dickinson: "It wasn't the result I wanted, but I did jump 13-feet. I had some really good competition this time around. I had a rough start but, in the end, I was glad to help my team get points to win the state championship."
Dumas 1600 meter relay
Team: Emmanual Ibanez, Jr., Brayden Boggs-Rushing, Sr., Juan Romero, Sr., Oliver Ortiz, Jr.
Performance: As they have all year, the Demons had another outstanding showing running a time of 3:19.53 to nab a silver medal in the 1600 meter relay. Oliver Ortiz pushed Dumas into third place during his run as the anchor leg.
Quoting Ortiz: "It felt great. We had a team that stepped up and guys that truly believed. Not many people can say they can they medal at the state meet. We did that."
Crawford Kiser, River Road
Year: Senior
Event: 3200 meter run
Performance: The River Road senior earned his first ever medal at the UIL Class 3A State Track and Field Championships setting a new personal-best time of 9:17.41 for a second place finish.
Quoting Kiser: "It feels good to finally get a track medal. I had the lead at a mile, but wasn't able to hold on to the lead, but I'll look back and know that silver was good. I know I left everything on the track, and I'm proud of that."
Braylen Lusby
Year: Sophomore
Event: 800 meter run
Performance: Lusby found the medal stand for a second straight year getting a silver in the 800 meter run clocking a time of 2:19.48.
Quoting Lusby: It was great just to be here and being able to medal is such an accomplishment. It's just such an honor to be here and run at the state meet. This atmosphere is tremendous. Seeing your friends and family, and all the fans here to watch makes it so electric."
Hannah Stuart, Canyon
Year: Sophomore
Event: 3200 meter run, 1600 meter run
Performance: Stuart earned a pair of silver medals running her best time of the year clocking a 10:51.17 in the 3200 meter run, followed by a 4:59.47 in the 1600 meter. 
Quoting Stuart: "I had trouble sleeping. I had to get a good game-plan together. I think that helped me run my best time yet. I'm just happy I could come out and run two new season-best times, and help get points for my team to win a state championship."
BRONZE MEDALS
Bushland 1600 meter relay
Team: Josclin Watson, So., Kenley King, Fr., Sloane Hale, So., Ellie Frye, Sr.
Performance: The Bushland Lady Falcons ran a season-best time of 3:58.11 to hold off Tatum to grab a bronze medal. Senior Ellie Frye passed Tatum's anchor leg Makensi Greenwood in the final 100 meters to secure third place and get the Lady Falcons on the medal stand.
Quoting Frye: "We had to be confident coming in. We had never run at the state track meet so being a senior was big to help lead this young team. We all did this together like we have all year."
Jeb Garnett, Spearman
Year: Junior
Event: 110-meter hurdles
Performance: Garnett hustled through the final two hurdles to pull down a time of 14.83 to get on the medal stand with a bronze.
Quoting Garnett: "My goal was to come get a medal and I did that. It was a tough race. I had no idea what place I was. I noticed on the board I got third, and I was just so excited. It shows that your hard work pays off."
Daniel Sianez, Muleshoe
Year: Sophomore
Event: 400 meter run
Performance: Sianez came in clutch down the stretch to pull into third place and get a bronze medal with a time of 49.47.
Quoting Sianez: "It felt good though I know I could have done better. But I'm excited to be able to get a medal. I was nervous at the start, but I just started smiling and tried to run with confidence.'