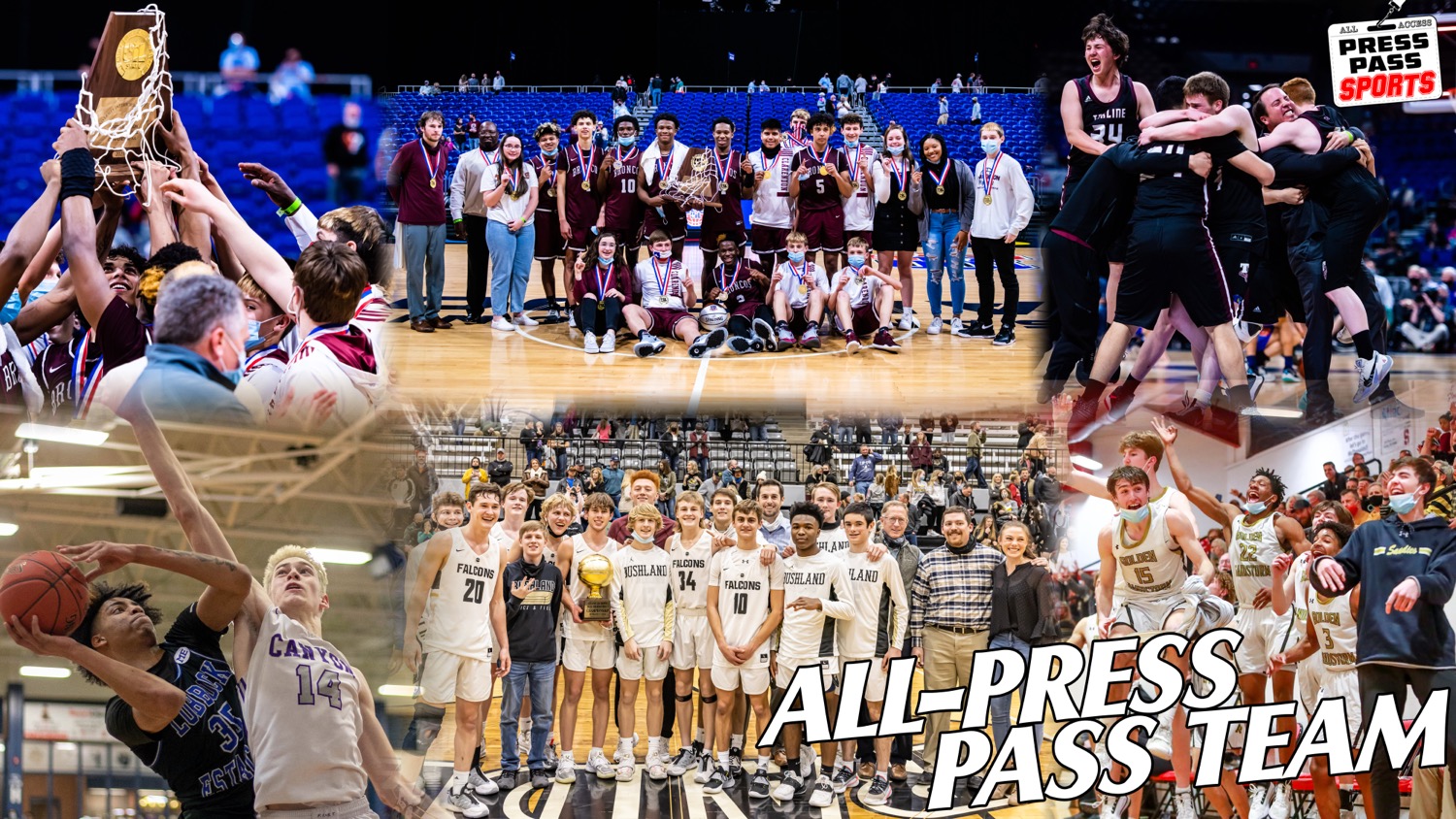 Graphic by Brent Seals/ All photos by Tom Carver, Richard Cleaver, Ben Jenkins, John Moore and Matt Smith/ For Press Pass Sports]
Co-Coach of the Year: Boston Hudson, Clarendon
At only 25-years old, Boston Hudson, not only became one of the youngest basketball coaches to win a University Interscholastic League state championship, but he'll forever live in Clarendon history as the first head coach to lead the school to its first ever state championship in any sport.
The 2021 Press Pass Sports Co-Coach of the Year and his Broncos stampeded their way through the Class 2A playoffs before a thrilling ending against Grapeland that resulted in a 64-62 state championship victory.
"It's starting to sink in," Hudson said, whose team finished 26-4 overall. "It really does when I look back and think of a lot of great coaches out there that I learned from that never got to feel this. I see our guys everyday and they are still so excited. What a year it was, and I'm so proud of this team."
Hudson left Wheeler to take the Clarendon position last summer. No doubt Hudson knew the talent returning for the Broncos, but he also knew all that talent had to translate to the floor.
It didn't take long for Clarendon to gel under the charismatic Hudson. The Broncos last loss came on Dec. 30, 2020 to Canyon, but never fell to defeat again closing the year on an 18-game winning streak.
"I like to look back at the first day of practice," Hudson said. "I like to see how far these guys came. I knew if we just did a few things right it'd all come together and it did."
Clarendon athletic director and head football coach Clink Conkin served as the Broncos basketball coach the past two seasons. Conkin was confident with Hudson's mix of youth and aggressive style of coaching was the chemistry Clarendon needed for success.
"Boston's a great coach," Conkin said. "He's young, and that related well to our players. Boston was a great player in high school at Canadian. His dad, Johnny, is one of the best there is, and taught Boston the game. Game management, practices, he was just perfect for us all the way around."
Co-Coach of the Year: Coby Beckner, Texline
In his fifth year leading the Texline's boys basketball program, Coby Beckner took the Tornadoes on a whirlwind of a ride through the UIL Class 1A playoffs, all the way to the pinnacle when his team captured their second state championship in six years.
Beckner will be forever grateful for junior William Luther, who knocked down a shot that will live in Texline's record books for decades to come. Luther played the hero when he drilled a step-back 3-pointer with under 10 seconds to play that lifted the Tornadoes past Slidell for the state title, 54-53.
However, it was by no means an easy trip to San Antonio's Alamodome. Texline was challenged time and time again during the postseason.
The Tornadoes held off Jayton, 57-55, in a regional semifinal. Pulled away from a talented Paducah squad, 72-57, to earn the Region I-1A crown. At a state semifinal in Denver City, Beckner and his boys found magic once again, sneaking past Eula, 58-56, despite going 5-of-15 in the fourth quarter.
"Looking back, it was such a magical ride," said Beckner, whose team finished 26-4 overall. "We showed maturity in a very short time. We lost to Nazareth at home during district, and then we responded well. We made steady progress, we got tougher, and closed out games."
Knowing his team was a favorite to win the entire thing by many out there, the 2021 Press Pass Sports Co-Coach of the Year, used the "one game at a time philosophy to keep his team grounded.
"We knew it was going to be a tough run in the playoffs," Beckner said. "So I put 0-0 record on the board at start of playoffs. I told our guys we haven't done anything yet, and there are 28 days left to state title game. We would win, we'd start over on the board. We only focused in on what was in front of us."
What made it even more enjoyable for Beckner was seeing the community and Texas Panhandle rally around his team.
"I cant say enough of community school board, or the Texline community," Beckner said. "They were a big part of this special season. Also the surrounding communities. Dalhart, Clayton N.M., Boise City, Okla., and just the entire Texas Panhandle was behind this team. It was a neat thing to see.
Beckner wrapped up his fifth season at Texline, and his 23rd year as a head basketball coach overall. During his two plus decades Beckner has amassed an overall record of 408-237.
Player of Year, Brendan Hausen, Amarillo High, Guard, 6-4, Jr.
By Lance Lahnert
Amarillo High boys basketball coach Jason Pillion played his high school hoops at Abilene Cooper, spent his college years hooping it up at West Texas A&M and has 30 years of basketball coaching experience.
"Never," Pillion says. "Never have I seen a player put in more time to get better than Brendan. And I've seen some committed players."
Brendan is Brendan Hausen, a 6-3 junior point guard playing a starring role on Pillion's outstanding 2020-21 AHS Class 5A state semifinal team, which rolled to a 24-4 record.
Although Hausen has another year of high school eligibility, the sharp-shooting guard is already the all-time leading scorer in AHS boys history with 1,512 points, is known for his incredible daily workout routine, and is being sought after by Division I programs like few ever have in Amarillo city history (at least 13 DI offers, including Texas Tech).
During the Sandies run to the state semis the 6-foot, 3-inch Hausen averaged 17.6 points per game, made 90 3-pointers while dishing out 96 assists and putting up a stout 2.04 assist to turnover ratio. He also produced at the line making 81-of-88 free throw attempts (91 percent).
Hausen was named District 3-5A most valuable player, all-region and all-state in Class 5A.
For Hausen's outstanding junior season, which included a leadership role on the talented Sandie squad, he is named the 2021 Press Pass Sports Boys Basketball Player of the Year.
Hausen's daily routine means getting to the Verdure gym in Amarillo by 6 a.m. and making 250 shots before school starts. With COVID allowing schooling from home, he would do homework and class work until just before noon. Then it was off to the AHS gym where he would put up another 500 shots. Following that time in the gym he would go through Pillion's practice with the Sandies, go home and eat and many evenings return to the gym for another 200-300 shots.
"My goal is to make 500 a day," said Hausen, who many times eclipses that mark by 100-200 makes. "I really love it. It's what I have to do if I want to fulfill my dreams."
Pillion says he's never seen anything like Hausen's commitment and has only heard of a few willing to match it.
"I have kids who have played college ball and come back in the summer at 21, 22 years old because they are an adult and understand what commitment really means," Pillion said. "To have a 16-17-year-old understand what commitment means is kind of incredible and it's not even close of the time he puts in from anybody I've ever seen.
"Even talking with college guys who have played, there are probably a small group of college players who even put in his commitment level. His is the top of the top anywhere."
Pillion said Hausen's work has a produced a player who college scouts rave about.
"First, they say he's day-one ready to shoot the basketball," Pillion said. "What college coaches tell me is even if he didn't get better at everything else like strength, athleticism and off the bounce – and he will – he's still can play at a high level simply because he is a shotmaker.
"They also understand his high basketball IQ and he's just a complete player, not just a shooter. He handles the ball very, very well. He understands the game and I think that sets him apart from a lot of players in the country."
Pillion has a shooting drill during practice for his AHS players where you shoot three-pointers from five spots on the floor. Two spots from the corners, two spots from the wings and one spot at the top of the key area.
The drill is a player has to make 9-of-10 threes before moving to the next spot.
"Accomplishing one spot is a pretty big deal," Pillion said. "You make nine threes in a row and miss one, that's really tough."
Pillion said during one AHS practice Hausen not only completed the five spots, but pulled it off in back-to-back attempts.
"So that means within 10-12 minutes Brendan makes like 90 shots out of 100 in a pressure drill. From three," Pillion said. "Days like that he gets going and he just doesn't miss. When he has an open look and misses we are all a little surprised. It's funny but I heard a kid on the bench during a game after Brendan missed a shot and we got an offensive rebound. We threw it right back to him. He's loaded up ready to go and the kid on the bench says 'he don't miss two in a row.' And Brendan makes it. Obviously, it's ridiculous how good he shoots."
Randall High veteran coach Leslie Broadhurst met up with AHS twice during district play and gave the Sandies a strong challenge in the second of the two meetings.
Randall's zone defense was geared to stop Hausen.
"Amarillo High had a very good team with a number of good players who played together really well," Broadhurst said, his Raiders strong as well finishing 22-4. "I thought Brendan was their best shooter and so we really tried to cheat toward him. But he was unselfish enough to find the open man and that made Amarillo High difficult to defend. I think he is a very good all-around player with a great basketball IQ and a very, very good shot. He is deserving of the all the honors he received."
While Pillion is a fan of Hausen's on-the-court play, his true fandom for Hausen arrives from how is guard is off the court.
"Brendan handles all the attention and publicity like a champ," Pillion said. "The way he handles all the attention is with humility. As many wonderful qualities he has, his heart is tops. I mean you talk about an athlete having heart, but what I'm talking about is his kindness. Everybody wants a piece of him and he is giving of his time to kids who want his picture and to talk, or a manager who needs a ride home, he does layups drills with fifth grade sister, he just has a heart for people and makes them feel important. He does things a typical 17-year-old doesn't have time for."
Pillion said Hausen is no prima donna and proves it time and time again
"He and his dad (Benji, an AHS assistant coach) are called all the time about joining those elite teams like the Nike AAU circuit," Pillion said. "It blows their minds when he says no thank you because they don't get turned down. And they say why? And Brendan tells them because 'I want to win a state championship. I want to play with my teammates in the spring and summer.' The NIKE guys don't get it, but it's real.
"Look, he's just a great teammate. He takes guys along with him. He's just one of the guys in the lockerroom who can be jokingly picked on like everybody else. He just wants to win."
And, gets his 1,000 shots up every day.
First team
Chris Dees, Amarillo High, Guard, 6-0, Sr.
On a team with several talented underclassmen, Dees provided glue for the Sandies with his senior leadership in the backcourt. He averaged 10.3 points a game, shooting 44 percent from 3-point range and led the team with 45 steals. Dees was a first-team All-District 3-5A pick as well as being an Texas Association of Basketball all-region selection.
Nathan Welch, Bushland, Guard, 6-0, Sr.
The District 1-3A MVP and Falcons captain had an unbelievable season. Welch played a massive role leading Bushland (19-5 overall) to a district championship, and a run to the Class 3A area round. Thanks to his stellar shooting from the perimeter the senior poured in 18.1 points a night, shot 40.1 percent from 3-point land, and averaged four 3-pointers a game.
Welch was rewarded as a TABC all-region selection for his season.
William Luther, Texline, Guard, 6-5, Jr.
Luther was the only Class 1A player to make the Press Pass Sports Top 10 players to watch back in January. The slick-shooting guard sure backed his status up us as one of the best players in the Amarillo-area with an incredible year. The junior helped Texline to the school's second state championship in heroic fashion knocking down a game-winning step-back 3-pointer with under 10 seconds left to beat Slidell, 54-53, on the way to 21 points, and state MVP honors. Luther, the District 3-1A MVP, TABC all-state and all region selection, ended his season pouring in 19.5 ppg, pulling down 9.3 rbg, with 3.3 assists.
Jmaury Davis, Clarendon, Post, 6-2, So.
Last year's Press Pass Sports Newcomer of the Year, had a breakout sophomore campaign helping lead the Clarendon Broncos to the school's first ever UIL Class 2A state championship. Davis was dominant from his mid-range jumper to working inside the paint, averaging 19 points to go with nine rebounds per game. Davis was named the District 2-2A MVP, and was honored as a TABC all-state and all-region selection.
Damonze Woods, Amarillo High, Forward, 6-6, Jr.
Perhaps the best all-around athlete on a team full of high-flyers, Woods made for a dynamic finishing duo with Hausen. He averaged 10.4 points a game and led the Sandies with 6.8 rebounds a game. Woods was a first-team 3-5A and Region I selection, along with being named to the Texas Association of Basketball Coaches Class 5A all-state team along with Hausen.
Kemper Jones, Canyon, Post, 6-5, So.
Though the 6-foot-5 post made an impact as a freshman, an injury sidelined him in 2020 before he could fully contribute in district. Being healthy this season, however, Jones, contributed and then some for Canyon (18-7 overall) that won the district champion, and made a regional quarterfinal appearance.
Jones torched opponents inside scoring 19 points a game, while pulling down nine boards a contest. The powerful post was recognized for his efforts being name the District 4-4A MVP, as well as a TABC all-region selection.
"Kemper is a natural scorer," Canyon head coach Travis Schulte said. "He's also one of the most coachable kids I've ever been around. He loves the game, he loves to work, and the best part is we get him back for two more years."
Second team
Aaron Ovalle, Randall, Guard 6-2, Sr.
Randall got massive offensive production from the perimeter, and Ovalle was a key reason why. The senior standout couldn't miss from the field shooting an incredible 68.5 percent from the floor. Averaging 19.8 points a night, Ovalle was just as good at reading the floor when he couldn't find his shot getting off 4.3 assists a game. For his tremendous efforts guiding the Raiders a 22-4 record and an area round appearance, Ovalle made it as a first-team District 3-5A selection, as well as a TABC all-region selection.
Jelani Mohamed, Palo Duro, Guard, 6-1, Sr.
The Fort Lewis College signee, and two-time recipient on the Press Pass Sports Boys Basketball Team, had a superb senior year for the Dons. Battling injury, Mohamed, didn't miss from the outside making 47.5 percent from 3-point land this season. His 18.8 points per game garnered him first-team all-district honors, and helped him lead the Dons to a first round victory against Lubbock Cooper in the bi-district round.
Zion Mercer, Panhandle, Guard, 5-10, Sr.
Mercer was the catalyst for a Panhandle team finished 20-6, and reached the Class 2A regional semifinals in 2021. The multi-talented Mercer, who's signed to play college football at Southwestern Oklahoma State, ended his fantastic season averaging 15.1 ppg, nabbing an impressive 4.2 steals a game, pulled down five rpg, and dished out 5.4 assists.
Mercer was the District 2-2A Offensive MVP, as well as gaining TABC all-state and all-region honors. He was also recently chosen to play in the TABC All-Star Game this summer.
Donovan Thompson, Guard, Clarendon, 6-3, Sr.
Thompson left his mark in a tremendous way for a Broncos team that made a historic run to claiming the school's first ever state championship. Throughout the postseason, Thompson was a go-to weapon for head coach Boston Hudson. Thompson poured in a career-high 37 points against Wink in the Region I-2A finals. He stepped up once again on the grand stage of the Alamodome to earn MVP honors with 21 points in the state win against Grapeland. Thompson, one of Clarendon's few seniors, finished the year scoring 17.3 ppg, as well as being named a TABC all-state and all-region selection.
Cade Hornecker, Amarillo High, Post, 6-11, Jr.
Amarillo High's big man in the middle began living up to his enormous size and potential this season for a Sandies team that finished 24-4, and earned a trip to the Class 5A state semifinals. Hornecker averaged 8.9 points and 5.8 rebounds a game while averaging a blocked a shot a game in being named a first-team 3-5A selection, as well as a TABC Region I selection.
Honorable mention
Acqtavian Baty, Dimmitt, Forward, 6-3, Sr.
Cutter Camp, Palo Duro, Guard, 5-10, Jr.
Kaden Cleavinger, Nazareth, Forward, 6-7, Sr.
Swayde Cleavinger, Wildorado, Forward, 6-2 Fr.
Reagan Cochran, Canadian, Forward, 6-3, Sr.
Landyn Hack, Panhandle, Post, 6-4, So.
Noel Lozano, Texline, Post, 6-7, So.
Colton Millsap, Gruver, Guard, 6-2, Jr.
Lamarcus Penigar, Clarendon, Guard, 5-9, So.
Joe Shaw, Canyon, Canyon, Guard, 5-11, Sr.
Brody Sutterfield, Bushland, Forward, 6-1, Sr.
Kainan Thomas, Randall, Guard, 6-2, Sr.
Josh Tucker, Childress, Guard, 5-11, Sr.
Blake Walker, Hereford, Guard, 5–10, Sr.
Contributors
Tommy King
Lance Lahnert
Lee Passmore