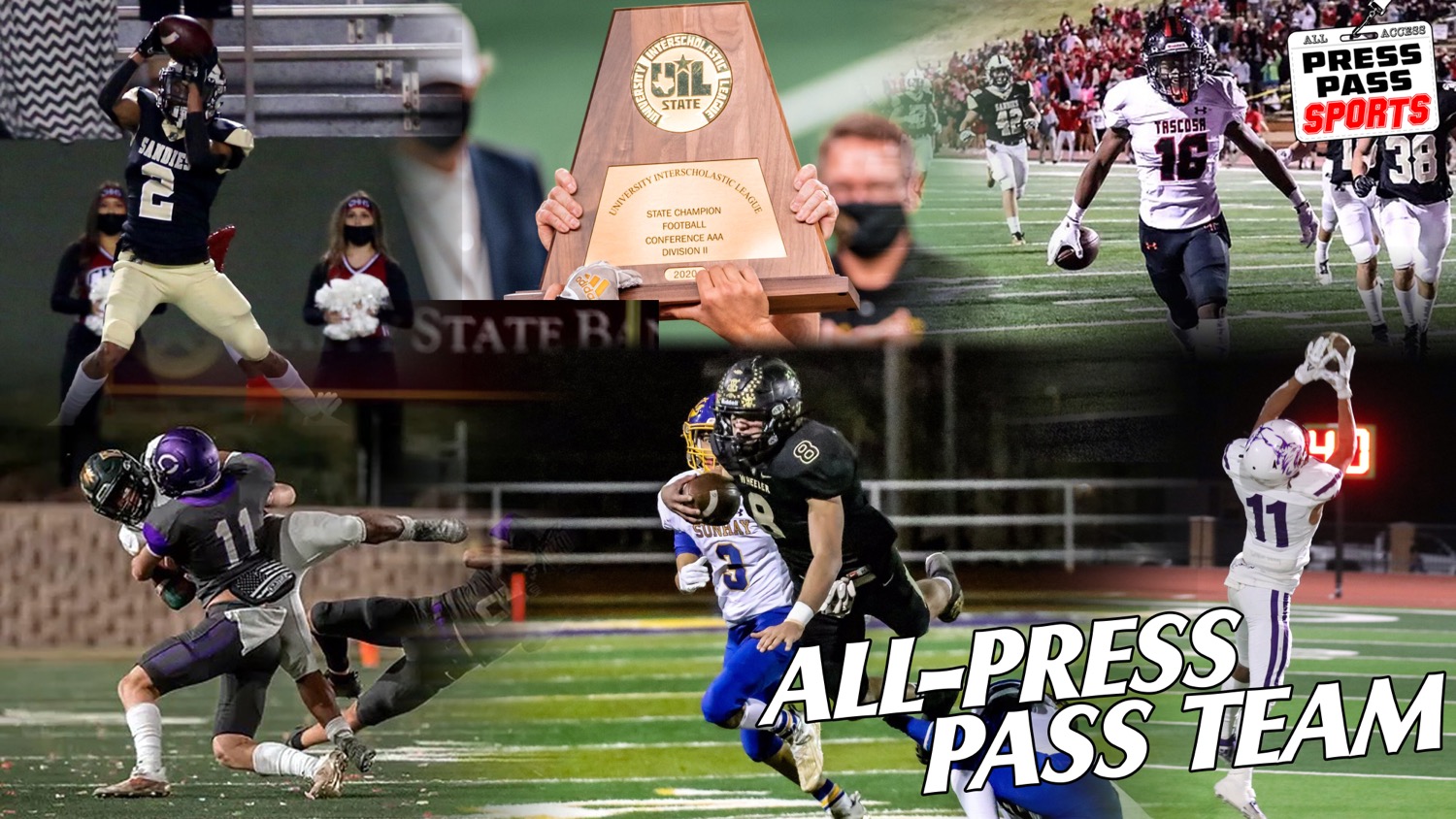 [Graphic by Brent Seals]
OFFENSE
QUARTERBACK
[Photo by John Moore]
Spencer Williams, Dumas, 5-11, 180, Sr.
There hasn't been a more prolific or successful quarterback for Dumas than Williams. The three-year starter, and District 3-4A D-I Offensive MVP ended his stellar career winning more games than any quarterback in program history with a 32-6 all-time record. Williams ended his senior campaign throwing for 2,388 yards with 27 touchdowns, adding 660 yards rushing with nine more TDs.
RUNNING BACKS
[Photo by Ben Jenkins]
Marc Ramirez, Wellington, 5-10, 180, Jr.
The heart and soul of Wellington left it all on the field for a Skyrockets team that went 13-1 overall in 2020 that included a run to the Class 2A Division II state semifinals. The District 4-2A D-II MVP led the Texas Panhandle in rushing yards with 2,542 yards to go with 30 touchdowns.
[Photo by David Erickson]
Major Everhart, Tascosa, 5-10, 170, Jr.
Everhart was a highlight reel waiting to happen each time he touched the ball in the Rebs triple option offense. The D-I prospect averaged an eye-opening 12 yards per carry on 70 totes, finishing with 839 yards and eight touchdowns. He added two catches for 45 yards and a TD.
WIDE RECEIVERS
[Photo by Trevor Fleeman]
Jack McKay, Canyon, 6-3, 188, Sr.
McKay makes his second appearance on the All-Press Pass Team. The game-breaking receiver played in an impressive 48 games on varsity from his freshman season to his senior year. McKay was more than reliable during Canyon's 12-2 run to the Class 4A D-I state semi's this season, finishing the year with 66 receptions for 1,325 yards and 16 touchdowns.
[Photo by John Moore]
Juan Romero, Dumas, 5-11, 165, Jr.
It was a breakout year for Romero who came into his own for the Demons on the outside. One of Williams best weapons showed off his talent snagging a team-best 58 catches for 969 yards with 12 touchdown catches.
[Photo by Tom Carver]
Zion Mercer, Panhandle, 5-10, 170, Sr.
The uber talented receiver and District 1-2A Division I Co-Offensive MVP racked up impressive numbers in Panhandle's high-flying offense. Mercer showed off his fly-paper hands all year pulling in 79 receptions for 1,434 yards and 20 touchdowns on the year.
OFFENSIVE LINE
[Photo by John Moore]
Gavin Wood, Wellington, 6-3, 225, Sr.
The senior was a monster up front for a dominant Skyrockets run game that averaged 350 yards per contest. Playing in all 14 games for Wellington in 2020, the two-time unanimous all-district selection graded out at 98 percent with 43 pancakes and 27 knockdowns.
[Photo by David Erickson]
Ollie Swope, Tascosa, 6-4, 341, Sr.
Swope is off to Eastern New Mexico and will be right at home with a running team. At guard, Swope played a key role as part of the most physical Texas Panhandle o-line, keying the Rebs triple-option success. Swope graded out 92 percent, had 42 pancakes and allowed one sack.
[Photo by Alan Hale]
Jorge Dominguez, Canadian, 5-9, 185, Sr.
The anchor of Canadian's offensive line made up for his size with his heart and extreme smarts. Dominguez was a staple for the state champion Wildcats playing both ways in all 16 games. On the O-line he graded out at 97 percent with eight pancakes.
[Photo by Jose Contreras]
Gabe Cassles, Canyon, 6-1, 282, Sr.
Cassles, a second-team 3-4A Division I All-District guard, dominated opponents with a physical and nasty style of play registering 103 pancakes on the season without allowing a sack, while grading out at 92.8 percent on the season.
[Photo by Kathey Shockey]
Karlos Sanchez, Dumas, 5-11, 245, Sr.
The three-year starter was a part of record-setting program that went 32-6 over the past three years. In 2020, Sanchez did his part once again up front for the physical Demon offense grading out at 87 percent with 32 pancake blocks.
UTILITY PLAYER
[Photo by Ben Jenkins]
Hesston Marshall, Wheeler, 6-foot, 180 pound, Sr.
Recognizing how special a player Marshall was, head coach Chris Evans made sure to put the ball was in his hands at all times this past year. The Mustangs standout played all over the field rushing for 1,860 yards, throwing for 891 yards for a combined 34 TDs. Defensively, he also made 88 tackles, five sacks and added three defensive scores. Marshall wraps up one of the more special four-careers in the Amarillo-area rushing for a total of 6,373 yards on only 792 carries.
DEFENSE
LINEMAN
[Photo by Tom Carver]
Erik Gray, Amarillo High, 6-4, 285, Jr.
Gray pulled of the rare feat at 5A these days impacting games as a two-way player on the Amarillo o-line and d-line. At 6-4, 285 he was a dominate blocker on offense, while defense finishing with 28 tackles, 4.5 sacks, and 2 pass breakups. He went viral with a 79-yard TD catch.
[Photo by David Erickson]
Avion Carter, Tascosa, 6-4, 245, Soph.
When watching the Rebs defense this year it was hard to believe No. 91 at defensive end was JUST a sophomore. The 6-4 Carter played like a vet for the Rebs ranking first in sacks with 10 and second in tackles with 67. Thirty of his tackles were solo stops and 18 were for losses.
[Photo by Trevor Fleeman]
Colton Cooper, Canadian, 6-0, 190, Sr.
Quick off the edge, Cooper was an unstoppable force for the Class 3A Division II state champions. The all-district selection led the Texas Panhandle with an impressive 15 sacks, 37 tackles for a loss to go with 121 total tackles.
LINEBACKERS
[Photo by Ben Jenkins]
Cade Cox, Dumas, 6-1, 205, Sr.
A three-year starter for Dumas, Cox made his name best as a linebacker that could get to the ball based on his flat out speed. In 2020 the senior made 82 tackles, as he finished his amazing career with 233 tackles during the Demons historic run.
[Photo by Trevor Fleeman]
Braden Beck, Randall, 6-1, 195, Sr.
Beck spearheaded a very stout Raiders defense that led Randall to the Class 5A Division II regional semifinals for a third straight year. The hard-nosed linebacker registered 105 tackles, 16 tackles for loss, six forced fumbles and three fumble recoveries with one sack.
[Photo by Trevor Fleeman]
Darius Sanders, Tascosa, 6-2, 210, Sr.
Sanders has size and speed, add to that his ability to blitz, cover the pass or play the run brought much versatility to a very talented Rebs team. In 11 games, the Incarnate Word commit finished the year with 45 tackles, five for a loss with four sacks.
[Photo by Trevor Fleeman]
Kyler Cook, Pampa, 5-10, 185 pounds, Sr.
The unanimous District 3-4A Division I All-District selection was the heart and soul of the Harvesters defense. Cook was all over the field for in 2020 tallying 98 tackles, five sacks, five forced fumbles and one interception.
[Photo by Alan Hale]
Reagan Cochran, Canadian, 6-3, 205, Sr.
The District 1-3A Defensive MVP had a fantastic season on both sides of ball, but especially shined on the defensive side. Playing all over the field, Cochran racked up 129 total tackles, 16 for a loss with two interceptions and eight pass breakups.
DEFENSIVE BACKS
[Photo by David Erickson]
Brenen Thompson, Spearman, 5-10, 160, Jr.
Thompson garners the most attention on this team thanks to his incredible 34 Division I offers that include Alabama, Clemson, and Oklahoma to name a few. His extreme speed played dividends locking down defenders snagging three interceptions to go with 46 tackles and three defensive TDs.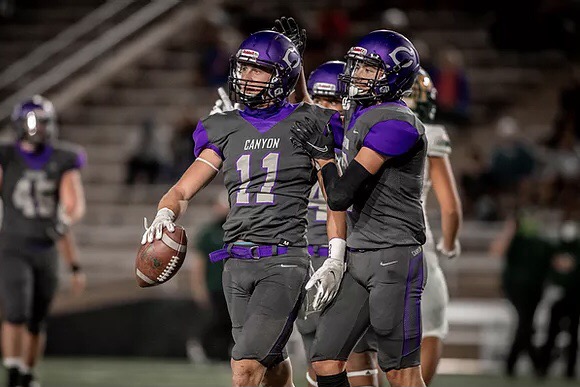 [Photo by Trevor Fleeman]
Jett Meek, Canyon, 6-1, 186 pounds, Sr.
A unanimous 3-4A Division I All-District selection, Meek was a missile from his safety spot for the state semifinalist racking up 82 tackles, 34 assisted tackles, three interceptions, 11 pass break ups and six big hits.
[Photo by Tom Carver]
Brody Sutterfield, Bushland, 6-1, 180, Sr.
Sutterfield earned the District 2-3A Division I overall MVP thanks to an incredible senior season. No one left it on the field like the 6-foot-1 senior after game, finishing his senior year with 135 tackles and six pass breakups.
SPECIAL TEAMS
RETURNER
[Photo by Tom Carver]
Davin Lemmons, Amarillo High, 5-10, 175, Sr.
Lemmons quickness and speed made sleepless nights for defensive coordinators/special teams coaches playing AHS. Lemmons, who played in 36 career games for the Sandies, caught 35 passes for 570 yards and seven touchdowns, while returning two of his 12 kickoff returns for TDs. The DI prospect added a pick 6 at cornerback.
KICKER
[Photo by Trevor Fleeman]
Edgar Salazar, Canadian, 5-9, 195, Sr.
It was a record-breaking season in more ways than one for Canadian's outstanding kicker. Not only did he hit the game-winning extra-point to secure the Wildcats fifth state championship against Franklin, but he also set the UIL state record for extra-points in a career with an eye-opening 340. On the season, Salazar was near automatic going 109-of-115 on point after attempts.
PUNTER
[Photo by Trevor Fleeman]
Ah Lee Yart, Dumas, 5-9, 155, Sr.
Yart's been the steady foot for Dumas the past three years, as well as one of the top kickers in the Amarillo-area. The do-it-all player had a
great senior year punting the ball averaging close to 40 yards a punt with 18 inside the 20-yard line. He also had 40 touchbacks on kickoffs.
Contributors
Lance Lahnert
Craig Sperry
Kale Steed