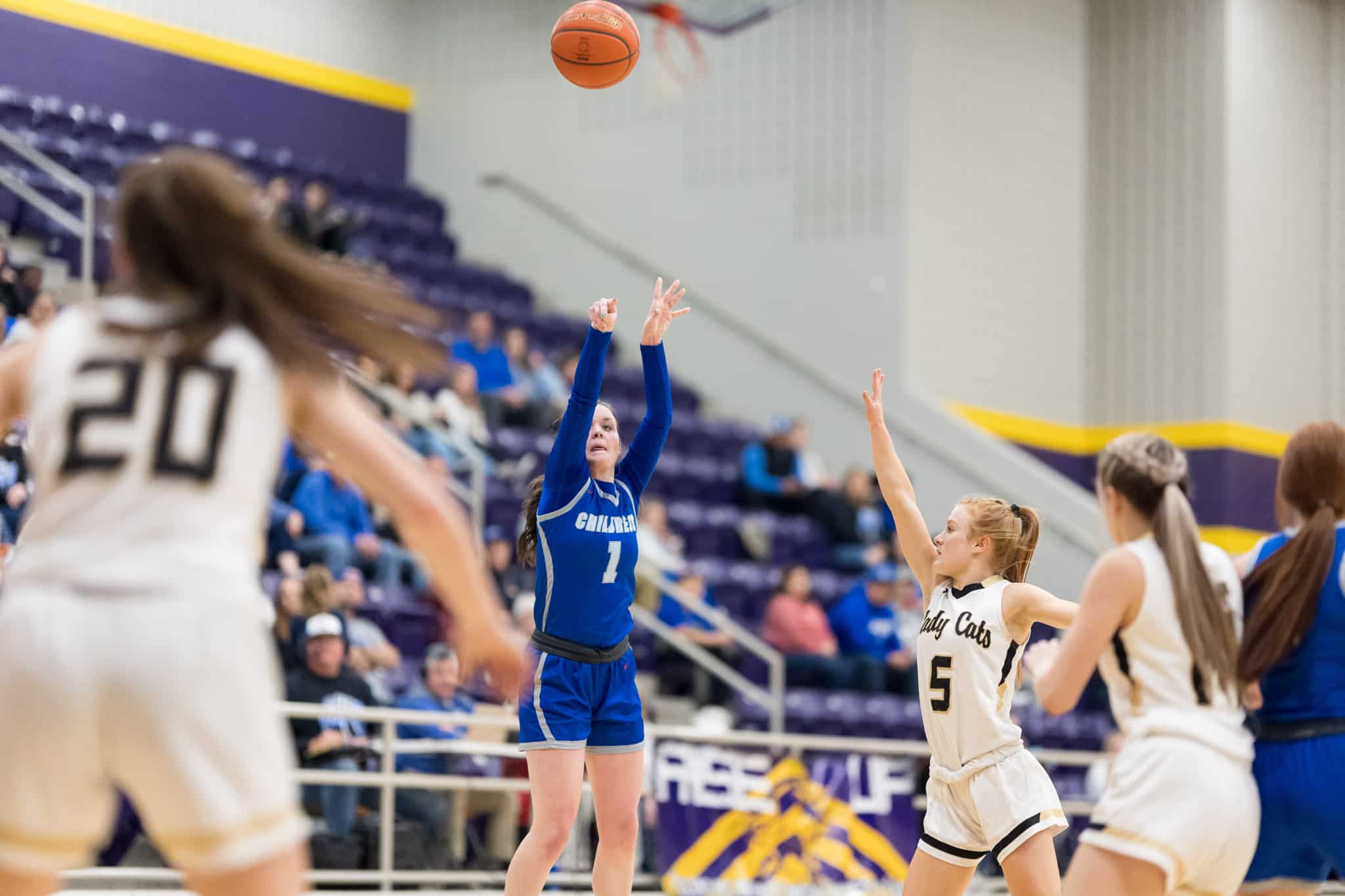 PANHANDLE – The records didn't lie when Childress and Canadian's girls squared off in a Class 3A bi-district playoff game Monday night.
In the end, the score didn't either, but Childress had the truth on its side.
Befitting a playoff game between teams with identical records, neither team held a double-digit lead. Midway through the fourth quarter, Childress reclaimed the lead for the first time in the second half and held on for a 53-48 victory.
It was almost unfortunate that these two teams met in the first round of the postseason since Childress (24-9) and Canadian (23-11) both had records which signaled potentially long playoff runs.
"I knew both teams were going to be physical, and I knew both teams try to do the same thing," Childress coach Shannon Fisher said. "They play pressure defense and attack the basket offensively. Overall, the girls battled in the second half and found a way to win."
The biggest lead of the game came when Childress pulled out of the blocks fast to take a 10-1 lead, with five players scoring in the first quarter. Canadian chipped away and eventually took the lead, scoring the last seven points of the first half to take a 28-22 halftime lead.
That six-point margin was never exceeded by either team in the second half. Canadian led 40-37 at the end of the third quarter.
It seemed fairly clear that neither team was going to be able to coast into the area round. The win was there for the taking, it was just a matter of who was going to step up and take it.
"In one of those timeouts, I told the girls we either go out there and finish this because we want to win this thing or we're going to get beat because we don't want to win it enough," Fisher said. "The girls responded and got some big defensive stops."
Childress took the lead for good when Chloe Teichelman scored on a layup following a steal to give the Lady Bobcats a 45-44 lead which they never relinquished. Teichelman, a senior, stepped up big in the fourth quarter, when she scored seven of her 17 points to lead Childress.
"Oh my goodness, it was insane," Teichelman said. "We punched first in the first quarter and the second quarter wasn't so great. It was our last game and we wanted it super bad. In the fourth quarter we were drilling it in our head we had to play smart and play with urgency and play like this is our last game."
In a statistical oddity, Childress won despite shooting a woeful 6-of-17 from the free throw line, and that was only because Teichelman made all five of her attempts. They made all the difference in the game.
Meanwhile, Canadian lost despite shooting a stellar 15-of-19 from the line.
"For a first round game this is about as competitive a matchup as there is in the state and we knew it was going to be a battle," Canadian coach Aaron Marks said. "If we play that game 10 times we could have many, many different results, but (Childress) just made a few more plays than us tonight. It was two evenly matched teams, and it could have gone either way depending on the night."
Adah Henderson was a major inside presence for Childress at both ends of the floor and finished with 16 points. Canadian's Samantha Krehbiel scored a game-high 18 points and Chanlee Adcock came off the bench to score 11.
Childress will play Littlefield in the area round at a date, time and place to be determined.
Childress  16  22  37  53
Canadian  12  28  40  48
Chil– Chloe Teichelman 17, Adah Henderson 16. Can– Samantha Krehbiel 18, Chanlee Adcock 11. Records: Childress 24-9; Canadian 23-11.