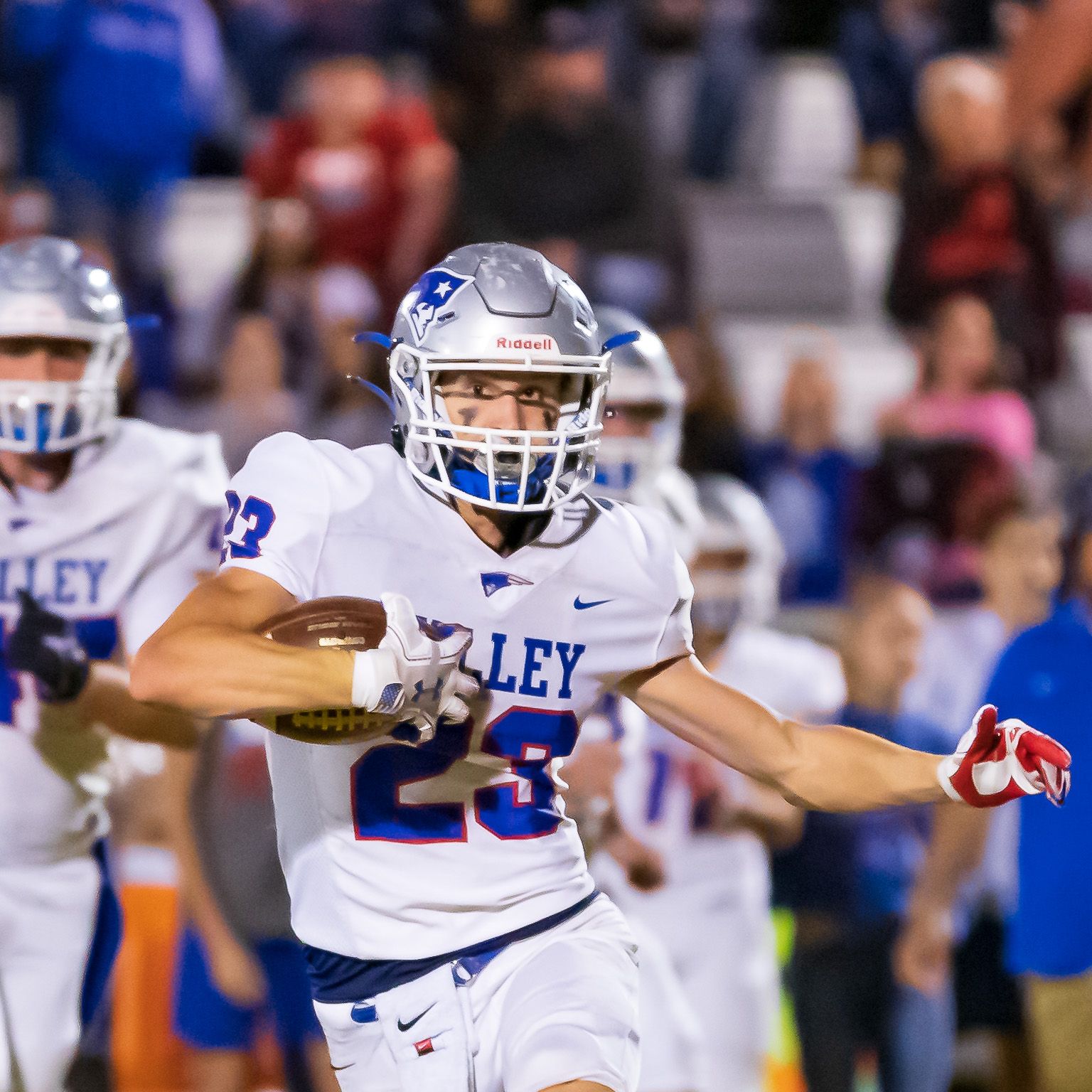 The regular season kickoffs on Aug. 25, as Six-man teams across the Amarillo-area get ready for an exciting 2022 season. Here's 10 Six-man football players to watch that will make a major impact in the Texas Panhandle.
Blake Beard, Valley, RB-LB, 5-9, 155-pound, Sr.
Despite suffering a tragic leg injury during a scrimmage in Jayton on Aug. 12, Beard was looked at as arguably the best Six-Man player in the Amarillo-area. Beard's speed is what makes him scary for the opposition, and last season proved it as he rushed for 1,840 yards with 30 touchdowns. Beard's leg injury will keep him out eight to 12 weeks.
Kyton Johnson, Happy, TE-DL, 6-2, 190-pound, Sr.
Johnson will be a critical component to the success of the Cowboys in 2022. The All-State tight end hauled in 29 receptions for 554 yards and 12 touchdowns while sealing the edge for a team that rushed for over 2,700 yards. He also registered 63 tackles last year in helping Happy to a state semifinal appearance.
Parker Hartman, Valley, WR-DB, 6-3, 173-pound, Sr.
Hartman is an impact player on both sides of the ball for the Patriots. From his wide out spot Hartman uses his speed and athleticism to high point balls and strike fear into opposing defenses. On the defensive side those same traits led to Hartman hauling in 11 interceptions converting two of those for touchdowns last year.
Camden Sperry, Happy, QB-LB, 5-9, 170-pound, Sr.
Sperry had a tremendous junior season keeping defenses off balance with his ability to put the ball in the air. The All-State quarterback helped lead the Cowboys to the Class 1A Division I state semifinals tossing a school-record 41 touchdowns on top of 1,753 yards.
Luke Schulte, Nazareth, RB-LB, 6-2, 170-pound, Sr.
Schulte is the bell cow for head coach Tyler Goodwin's offense. Schulte is a do-it-all type player that amassed 1,289 yards and 24 touchdowns on the ground on 237 carries last year despite some injury issues. Schulte will be counted on again this year to shoulder the load as the Swifts look to make a deep run in the playoffs.
Shayne Franks, Follett, RB-LB, 5-11, 165-pound, Sr.
An impact player on both sides of the ball for the Panthers, Franks ran for 1,320 yards and 38 touchdowns last year on only 124 carries while anchoring a stout defense with 105 tackles from his linebacker position. Making the move up to Division I, Follett will rely heavily on Franks to continue its playoff prowess.
Stephen Kuehler, Groom, RB-LB, 5-7, 150-pound, Sr.
Despite his small stature Kuehler has a large impact on the field for the Tigers as evidenced by his numbers last season. The honorable mention All-State performer passed for 1,559 yards, rushed for 1,951 yards, combining for 64 touchdowns. Kuehler also garnered All-Region honors from his linebacker position.
Haiden Thompson, Miami, SB-DB, 6-2, 175-pound, Jr.
The Warriors offense will run through Thompson once again this year. The dual-threat signal caller threw for 1,535 yards, rushed for 1,058 yards, totaling 40 touchdowns. Additionally, his impact on defense can't be overlooked as Thompson totaled 78 tackles, four interceptions and two forced fumbles.
Sawyer Francis, Silverton, RB-LB, 6-3, 175-pound, Jr.
The Owls will have a legitimate shot to make the playoffs this year and Francis may be the key to that success. An impressive looking athlete who gained over 2,500 all-purpose yards last year will also anchor the defense from his linebacker spot.
Josh Booth, Hedley, SB-LB, 6-2, 170-pound, Sr.
Booth was a huge reason the Owls had one of the best seasons in school history in 2021 going 8-2 overall. Booth is a year older, quicker, and brings great leadership to his Hedley team. First-year head coach Todd Lawdermilk is looking for an amazing year from his senior.